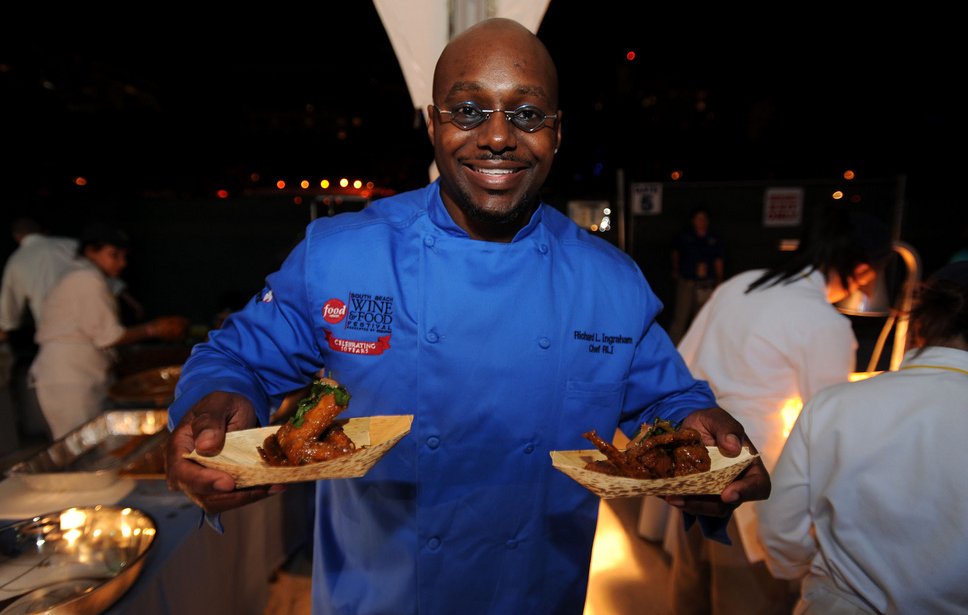 These three words have an emotional affect on most of us year-in… year-out. Our disappointments of the previous twelve months are often relieved with an innate hope that the oncoming year will be different and redemption will be a sure thing.  Most of us, hope to start with a clean slate on January 1st.  But, what do these words mean to you? Will you save more money?  Will you be nicer to your mother-in law? Will you finally start that new diet? Or, will you finally pick up that cookbook and learn how to cook?
On what I call a routine run to the grocery store, I ran into what appeared to be a distinguished lady, who had just picked up a prickly pear. I knew it was a pear, but I'm not so sure she did. I tried not to be nosy… really I did, but I was intrigued by the way she was exploring what I consider a delicious fruit.
I soon realized she had no clue what she was holding. It could have been a vegetable for all she knew. She might have noticed me staring or maybe it was my chef coat, but within seconds she walked up to me and asked me how people eat pears. After clearing my throat and giving her my best Alton Brown (Food Network Personality) impression she finally understood the many ways people enjoy eating pears. She then explained to me why she had picked up the pear in the first place.
She explained that in the Jewish community while observing Tu B'Shevat (Arbor Day), it is customary to try a new fruit and plant a tree. The tradition is in observance of the Jewish people returning to Palestine and reclaiming the barren land. As you can tell, I was really listening.
The real take-away from this conversation for me as a Chef wasn't the great story or the lesson… it was why do we need a special day to try something new?
So with that, I have a question for you. Why wait for a special day to try a new food? There are those of us that don't eat certain things not because we are allergic to them but simply because we have never experienced them before. How can you say you don't like something, when you have never tried it? You owe it to yourself to try new flavors and expand your palate!
I can't imagine not eating sweet plump scallops or tasting the buttery melt in your mouth of Chilean Seabass. Or, how about roasted asparagus drizzled with olive oil, fresh cracked pepper and shaved asiago cheese?
What I have noticed, is that most of the time it's not the food item itself, but how it's prepared that will entice you to try it. If you've had less than memorable experiences with a certain food… don't give up on it. Try it prepared in a different way: sautéed, braised, broiled, roasted, or a la plancha (ok I was showing off with that one).
With food you're able to travel all over the world. At your dining room table you can go to Central Spain and try roast meat and cocidos (stews) or North Africa and try Moroccan tagine (a slow cooked stew cooked in a conical-shaped ceramic pot) just to name a few. Every day is a special day to explore a new food item. So, get up, get out and get to eating!
Try This Recipe! Grilled Asparagus with Tamarind-Orange Dressing
Ingredients:
4 tablespoons tamarind paste
1/2 cup rice wine vinegar
1/2 cup freshly squeezed orange juice
2 tablespoons fresh orange zest
1 1/4 teaspoon Dijon mustard
Salt and freshly ground pepper
1/2 cup canola oil
2 tablespoons canola oil
2 pounds fresh asparagus trimmed
Combine tamarind, vinegar, orange juice, mustard, oil, and salt and pepper in a blender and blend until smooth. Adjust seasoning and stir in zest.
Heat the grill to high.
Toss asparagus with the canola oil and season with salt and pepper. Grill until tender, about 5 to 7 minutes.
Place grilled asparagus on a platter and drizzle the dressing over the top.
Like Haute Living Miami? Join our Facebook page or follow us on Twitter @HauteLivingFL. Want Haute Living Miami delivered to your inbox once a week? Sign up for our newsletter.
Chef  Richard L. Ingraham was trained at the Culinary Institute of Atlanta and served as a Sous Chef of Executive Chef Matthew Rosekrans in the opening of The Bubble Room Champagne and Wine Bar. He moved on to become Executive Pastry Chef and Executive Sous Chef at Insignia Restaurant and in 1999, prepared meals under the guidance of Executive Chef Pete Pavisec. Chef Ingraham now holds the  position of Private Chef for The Miami Heat's Dwyane Wade. ww.chefrli.com
Subscribe to discover the best kept secrets in your city