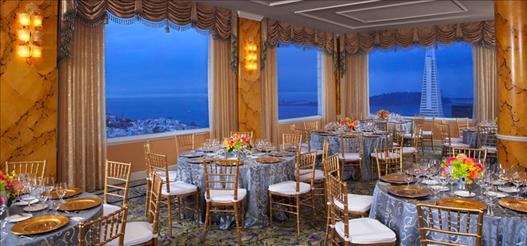 Haute Hotel Network member The Fairmont San Francisco invites you to start 2012 in style, with three options to choose from.
The Crown Room
With unrivaled views of the entire San Francisco Bay Area, the legendary Crown Room is the perfect venue for this black-tie party.
Dine in style: guests enjoy a seven-course menu paired with fine wines ($299 plus tax and service). Later, live music by the Manhattan Towers and a full bar sets the stage for a night of dancing. Guests celebrate 2012 with a balloon drop at midnight and are invited to continue the festivities until 1 am.
Couples can reserve "A New Year's Eve To Remember" package, including access to the bash and post-party accommodations.
Laurel Court Restaurant and Bar
A hotel rich with history, the Fairmont San Francisco has been the venue for many New Years parties past. Enjoy the legendary hotel at its best in the Lauren Court Restaurant and Bar.
Dinner is a savory six courses ($139 per person) with a glass of champagne for toasting at midnight. This is an affair for all ages: dinner is $69.50 per child under 12; there is no charge for children under 5. Eric and the In Crowd are set to provide the jazz soundtrack until 1:00am. Reserve your table between 6:00-10:00 pm.
Tonga Room and Hurricane Bar
After decades of hosting haute parties, Tonga Room and Hurricane Bar is still the model place for celebration. Dinner and dancing is tropical here, from the menu to the music.
A luau buffet with fresh seafood and noodle carts compliments the main dish: the Hawaiian tradition of roasted Butter Fish. For entertainment, the fun Island Groove band will provide live music. Bring the family: $169 per adult and $84.50 for children under 12 years.
Guests are invited to dance the year away at the Tiki Lounge from 7:00pm to 1:00am at $50 per person, including party favors and a champagne toast when the clock hits 12.
Call the Fairmont San Francisco's Food and Beverage office at 415-772-5204 for more information.