The show is a collection of contemporary Arab and Iranian art by over a dozen influential artists from the Near East. Curated by distinguished art historian, Karin von Roques, Written Images investigates the relationship between modern Middle Eastern consciousness and traditional Islamic calligraphy and symbols.
A distinguished authority in the world of Middle East Art, von Roques has served as the director for the Hermann Hesse Museum in Lugano, Switzerland and she has curated Arab-related art exhibitions at Institut du Monde Arabe in Paris and the Cultural Foundation in Abu Dhabi. Aside from consulting private Arab art collections, von Roques works as an advisor for the modern and contemporary Arab and Iranian art department at Sotheby's London. "Written Images," von Roques says, "presents a selection of the most important contemporary artists from the Middle East, who are well established on the international art market and who are increasingly in demand at international auctions but still gaining recognition in the United States.  The current exhibition is a rare opportunity to see such high-caliber contemporary artists from the Middle East. For example, one of Ahmed Moustafa's artworks (from Egypt), who is part of the New York exhibit, sold at a Christie's auction in Dubai for $657,000 USD."
A full range of artists from Arab nations are represented in the show, including: Hassan Massoudy (Iraq), Nja Mahdaoui (Tunisia), Yousef Ahmad (Qatar), Lulwah Al-Homoud (Saudi Arabia), Khaled Al-Saa'i (Syria), Chaouki Chamoun (Lebanon), Golnaz Fathi (Iran), Hakim Ghazali (Morocco), Ali Hassan (Qatar), Rachid Koraïchi (Algeria), Ahmed Mater (Saudi Arabia), Ahmad Moualla (Syria), and Ahmed Moustafa (Egypt).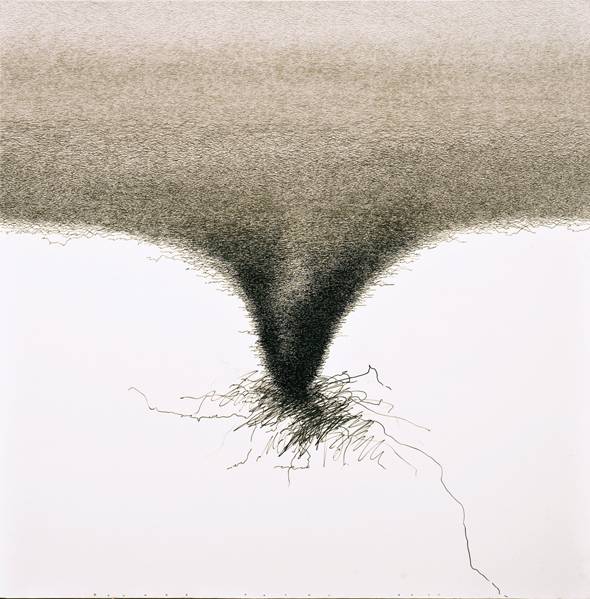 Artist Golnaz Fathi, who lives in Tehran, states, "I am trained as a calligrapher, but after eight years of practicing I decided to use calligraphy in my own way and not in a traditional discipline. The root of my inspiration comes from calligraphy, but I don't write anything, because I want my viewer to connect purely with the forms, not the literal meaning.  This artwork is my writing in no particular language, but on the other hand it is a multi-language writing because no matter your nationality you can relate to the work."
Written Images chases the success of Signs: Contemporary Arab Art, also curated by Karin von Roques, which was mounted at Sundaram Tagore New York in 2009 and Sundaram Tagore Beverly Hills in 2010.
The gallery explains: "Rather than singling out Arab culture as 'other,' [Written Images] aims to further intercultural dialogue between the Arab world and the West. Arabic calligraphy, in all its aesthetic and linguistic complexity, is little understood in the West and often regarded as an art form belonging to the classic Islamic arts and, therefore, to the past. In fact, it plays an important role in contemporary Arab and Iranian art. For centuries, the written word has been at the center of Islamic visual culture— a legacy that persists even today."
The show is a formidable expansion of the gallery's mission, as Sundaram Tagore was an original New York-pioneer of globalization in the art world. Written Images: Contemporary Calligraphy From The Middle East runs through December 3. Artwork from the show ranges from $8,500 to $200,000.
After New York, Written Images will travel to Sundaram Tagore Gallery Beverly Hills (16 February – 17 March 2012) and then onto Sundaram Tagore Gallery Hong Kong (3 May – 17 June).
[custom_field field="h1_photographer" limit="1″ between=", " /]
New York
547 West 27th Street
New York, NY 10001
Like Haute Living New York? Join our Facebook page or follow us on Twitter @HauteLivingNY. Want Haute Living New York delivered to your in box once a week? Sign up for our newsletter.
Subscribe to discover the best kept secrets in your city