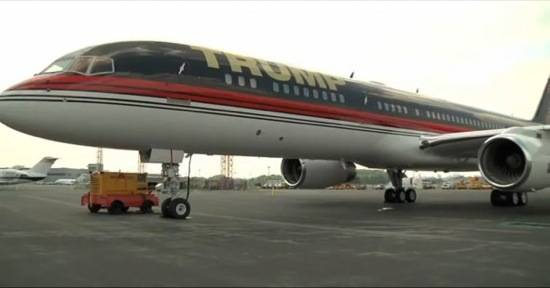 Donald Trump recently purchased a 757 private jet from Microsoft co-founder Paul Allen for $100 million – and proceeded to coat many of its features in gold, Trump-style. The lavish new jet has been customized since its purchase to the Donald's liking, including some super-luxe touches befitting of the mogul.
The plane boasts a dining room, main lounge area, VIP area, guest bedroom, and a personal master bedroom and bathroom for Trump. The Rolls-Royce engines have the jet able to reach up to 500 mph while its luxurious interior is capable of holding up to 43 passengers.
In true Trump fashion, there are 24k gold touches everywhere, right down to the gold-plated seat belts. Additionally, each seat is equipped with its own audio-visual system and, should passengers want a bigger screen for their entertainment pleasure, they can head on over to the main lounge, which features a 57-inch TV and state-of-the-art sound system with interactive touch screen controls (and a "T" shortcut button for Trump's favorite movies).
For accommodations, the wood-wrapped guest room is equipped with its own home theater system and lavish Mohair couch that coverts into a full-sized bed. The master bedroom boasts walls lined with luxurious gold silk, a custom headboard, pillows adorned with the Trump crest, and an additional personal theater. The master bathroom is spacious, with a shower and 24-karat gold-plated sink, of course.
See the video tour of the magnificent jet here (via YouTube) as guided by Amanda Miller from Trump's reality show, The Apprentice.
Our Haute 100 list details the accomplishments of the most influential people in each of our markets. To see the entire Haute 100 Miami list, click here.
and-heres-trumps-personal-bathroom-complete-with-a-shower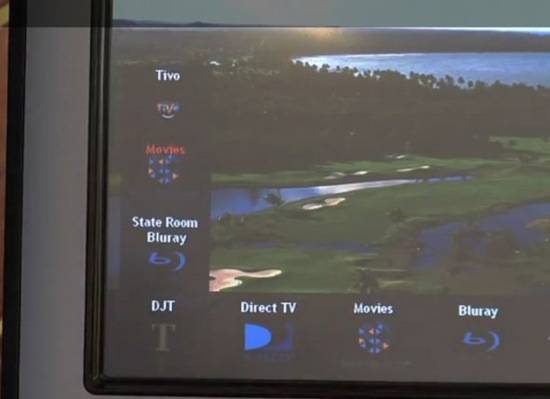 check-out-the-golf-course-background-on-the-remote-the-t-button-is-a-shortcut-to-trumps-favorite-movies
even-the-faucets-are-gold-plated
heres-trumps-bedroom-the-pillow-is-embroidered-with-the-family-crest-as-are-most-of-the-other-pillows-on-board-the-jet
personal-tv-screens-for-every-seat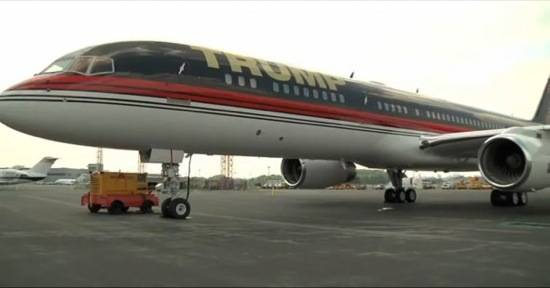 the-boeing-757-seats-43-and-reaches-speeds-of-up-to-500-mph
the-galley-is-wood-paneled
this-is-the-guest-room-the-couches-convert-into-a-bed
this-is-the-multiplex-movie-system-it-holds-1000-movies-and-2500-cds
this-long-table-is-great-for-mile-high-board-meetings
those-are-rolls-royce-engines
Subscribe to discover the best kept secrets in your city