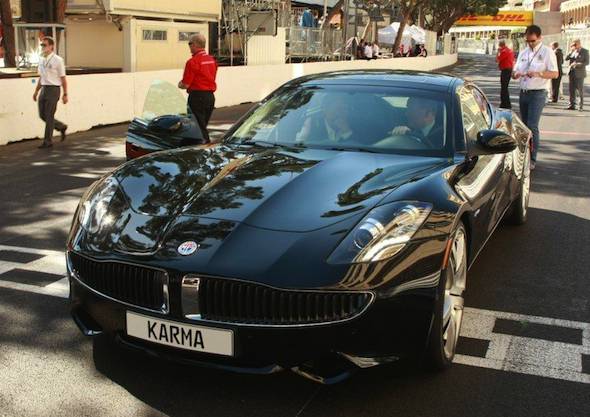 There's nothing like a little dose of good karma.  Just ask Henrik Fisker.  The Danish-born automotive designer, once best known for the BMW Z8 and the Aston Martin DB9, has taken some shots over the last few years with the development of his eponymous California-based car company.  Fisker Automotive's signature product, the electric-powered Karma, has somewhat limped to market since appearing in concept form to much acclaim in early 2008.  Since then, Fisker has endured a lawsuit with competitor Tesla (in which he was ultimately exonerated), farmed out production of the Karma to a Finnish facility (not such a popular decision in the current American job market), and seen his unique publicity dwindle in the face of similar emerging products from the major manufacturers.  So it must have been quite a boon to his Karma (and his karma) to have the endorsement of the world's hautest Prince last weekend.
His Serene Highness, the Sovereign Prince Albert II of Monaco, took a few laps last Saturday in the first production example of the Karma before qualifying began for the Formula One Monaco Grand Prix, often considered the preeminent Grand Prix of the F1 circuit.  With Henrik Fisker joining him in the passenger seat (as pictured above), Prince Albert got to finally experience one of his own longstanding visions, an energy-efficient luxury sedan.
"The Fisker Karma project has a distinct Monaco link," explained Henrik Fisker in a press release.  "Prince Albert was one of the people who inspired me to create the Fisker Karma. When I met him at the Top Marques Show in Monaco in 2006 he commented that he would love to see a fuel-efficient luxury car, and from that small seed grew the concept of what became Fisker Automotive and our focus on premium EVer cars that deliver pure driving passion."  EVer is Fisker Automotive's trademarked name for its powertrain system, which, according to its publicity materials, "was derived from a high performance stealth vehicle created for the U.S. military special operations."
With a design mandate described as Responsible Luxury, the aluminum-built Karma is driven by two rear-mounted electric motors that are powered by a lithium-ion battery pack.  Despite the car's green design brief (which includes the use of reclaimed wood and synthetic leather for cabin trim), it offers stylish and luxurious standard features, like 22" aluminum wheels and two different driving modes.  When the Karma is in Stealth mode, the batteries give the car a range of 50 miles before a gasoline-powered generator offers electrical support.  In Sport mode, the internal combustion unit more generously supplies electrical current for a total horsepower rating of 403 hp, which is sufficient to launch the car from 0 – 60 mph in 5.9 seconds and provide top speeds of up to 125 mph.
After several production delays and announcements of increased pricing, Fisker now maintains that it will deliver Karmas to all current deposit holders by the end of this year.  Priced between $95,900 and $108,900, the Karma will qualify for a $7,500 federal income tax credit and is the only production car to feature a solar panel roof that stores energy, an option that surely solidifies the car's guiding philosophy of Responsible Luxury.