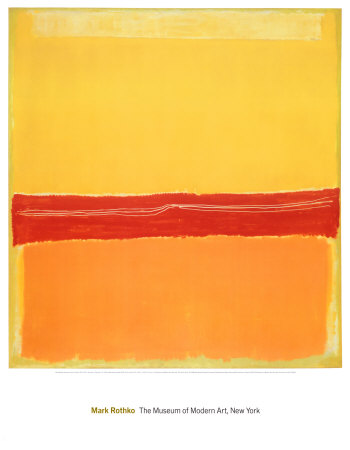 Monday was unseasonably warm here in New York—with the promise of more warm weather later this week—and whenever I feel the tempting approach of spring from what has proved to be an arduous winter, I think of Mark Rothko. Yes, you're correct in thinking that's a strange association, but on those first days when the warmth of the sun is welcomed on your skin with something like a dire thirst, I can't help but recall the image of Mark Rothko's No. 5 with its effusively sumptuous blocks of bright yellow, orange, and red, which suggest sun, horizon, and land all in a hazy instant. The painting is like a memory we all immediately recognize, whatever that may be, without actually being anything.
Luckily, No. 5 is currently on display at The Museum of Modern Art as part of the exhibit Abstract Expressionist New York: The Big Picture, which was exclusively curated with MoMA holdings, and highlights the generation of artists that famously stole the art world from Paris to New York. Primarily focusing on the decade from the mid 1940s to the mid 1950s, this retrospective exhibit traces the development of each major artist of the period, like Willem De Kooning, Jackson Pollock, Mark Rothko, Barnett Newman, and Lee Krasner, among others, from their early, more primordial abstractions that had symbolist leanings, to full-fledged Abstract Expressionism. The expansive exhibit fills out the entire fourth floor of the museum, as well as galleries on the second and third floor.
For New Yorkers wishing to gain a better cultural history of their city, MoMA has also released documentary and archival material that links Abstract Expressionism, the museum, and New York in an effort to contextualize the influence and development of our perceptions of art and the city today.
The Museum of Modern Art is located at 11 W. 53rd Street. Abstract Expressionist New York: The Big Picture runs through April 25th. For more information visit: www.moma.org
Like Haute Living New York? Join our Facebook page or follow us on Twitter @HauteLivingNY. Want Haute Living New York delivered to your in box once a week? Sign up for our newsletter