While American Idol season 8 runner-up Adam Lambert held a concert at Mandalay Bay, across the Strip Aerosmith frontman held an epic after-party at MGM Grand's Studio 54 amid rumors he'll be a judge on the next season of the Fox reality show. Rock icon Steven Tyler provided the thousands of guests at Studio 54 a night they will never forget as he performed and posed with fans early on the morning of Aug. 1.
His night at Studio 54 began following Aerosmith's concert at MGM Grand Garden Arena, where Tyler and his bandmates played for their legion of followers. Shortly after midnight and a quick costume change, Tyler hit the red carpet with girlfriend Erin Brady, clad in a white dress with sequined flowers and tan heels. Tyler sported a tan vest and white button-down paired with animal print pants and sneakers.
While on the carpet, Tyler talked about Aerosmith's Cocked, Locked, Ready to Rock tour. Raving about the great venues they have played, Tyler said, "Every night the band never played better. I don't know how it's possible, but it's just true."
Immediately after the carpet, Tyler made his way into the legendary Studio 54 where he was met with a huge ovation from the party-goers who were electrified by his presence. After making his way to his skybox, Tyler took the mic and cued DJ Skribble to play "Walk This Way." Looking as young and energetic as he did in the 1980s, Tyler treated the crowd to an impromptu concert, belting out the legendary song while hanging over the railing of his second-level skybox. The crowd below jumped and danced with excitement that only the iconic rocker could bring.
Not satisfied to just perform for the clubbers at Studio 54, Tyler then walked the perimeter of his skybox to interact with the hundreds of fans that followed him upstairs. Posing for pictures and signing body parts, including a fair amount of cleavage, Tyler gave back to his fans for their years of adoration. Tyler finally settled in for a night of relaxation with former Aerosmith guitarist Ray Tabano and crew members of his tour.
Steven Tyler poses with fans
Steven Tyler poses with fans.
Steven Tyler in Studio 54
Steven Tyler hosted a night at Studio 54 after Aerosmith played the MGM Grand Garden Arena.
Steven Tyler singing
Steven Tyler sings to his fans at Studio 54 at the MGM Grand.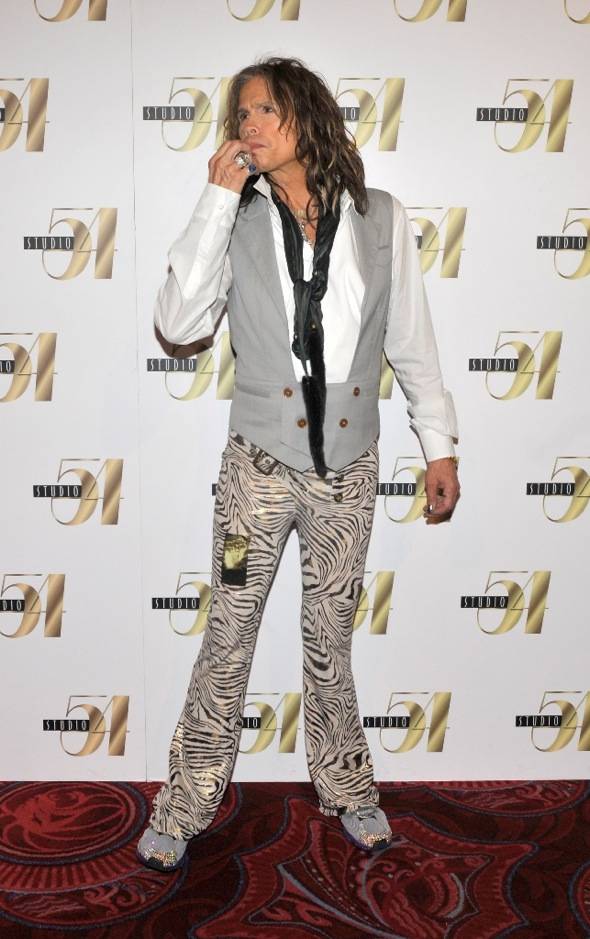 Steven Tyler on the red carpet
Steven Tyler poses on the red carpet outside Studio 54.
Steven Tyler and Erin Brady
Erin Brady and Steven Tyler pose on the red carpet outside Studio 54.
Steven Tyler lounges at Studio 54
Steven Tyler lounges in a skybox at Studio 54.
Subscribe to discover the best kept secrets in your city