Miami's premier Miami Spice Kickoff Event & Fundraiser, which will become an annual event, left guests satiated last weekend. The celebration, put together by the Greater Miami Convention & Visitors Bureau (GMCVB), took place at the Miami Beach Convention Center, attracting 3,000 guests to kick off the 9th Annual Miami Spice Restaurant Program.
VIP attendees indulged in an exclusive reception beforehand, where hors d'oeuvres and cocktails were served, compliments of Moët Hennessy USA and Stella Artois.
When the main event was served, Michelle Bernstein popped things off with a little bubbly.
All guests were offered an array of cuisine options from more than 35 of Miami Spice's participating restaurants. Guests also enjoyed celebrity chef book signings, culinary demos, and a raffle drawing, which was emceed by GMCVB chairman Steve Haas.
The fund-raiser helped benefit Share Our Strength and Madison's Wish.
1327-Chef Michelle Bernstein sabers champagne bottle to get festivities popping
3147-Philanthropists, Dolores &amp_ Dr.Sanford Ziff
1055- Y-100's Chris Cruz &amp_ Mirella Ortiz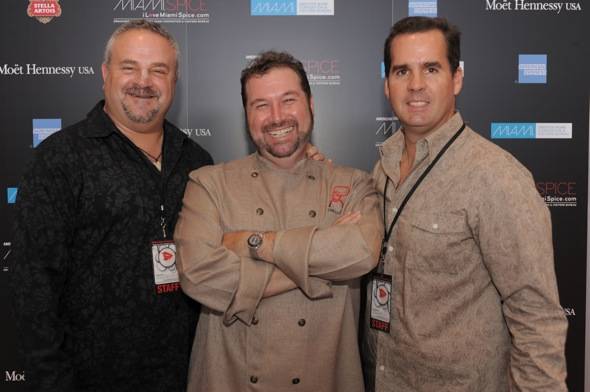 1037-GMCVB Chair,Steve Haas,Chef Allen Susser, &amp_ Rolando Aedo of the GMCVB
3097-Mabelle Gonzalez,Juan J. Cordero, &amp_ Christina Lopez
Subscribe to discover the best kept secrets in your city