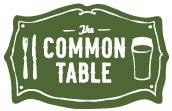 I can't sit in a pub for long. The smoke, the smell of stale beer, the blinking Coors light signs and the clacking of pool balls somehow puts me off my pint. Luckily, the brains behind some of Dallas's best restaurants have concocted The Common Table, which hosted its opening night VIP party last night on Fairmount Avenue in the old Lola space.
Brian Twomey, owner of Loft 610, along with partner Corey Pond spent the last year conjuring up this concept, bringing in Matt Ellis from Nick & Sam's Grill as general manager of the "Modern American Tavern." It's a quaint little house, detailed in London phone booth-red with a patio offering covered seating as well as wooden booths along the perimeter, a la Park. The interior is modernly designed, with bulbous chrome lanterns over the bar which offers 22 draft beers along with a wide assortment of bottles. Looking for Coors Light on tap? Go down the street. Here you'll enjoy a 10 or 20 ounce pint of Fireman's 4 or Hoegaarden Ale, or perhaps a nice cold pear cidar in this summer heat.
The menu is reasonably priced and quite fashionable, created by Ben Ackland, a real-life Londoner who was senior chef at The Ivy and is now heading up the Loft 610 in Omaha. Pulled pork spring rolls, a crispy duck salad and a  honey glazed filet are just a few of the highlights from the only-dinner menu. Twomey said the idea was to create a place for groups of people to relax and enjoy food and drinks, which may explain the smaller, more affordable portions as well as pitchers of Long Island Iced Teas. Happy Hour, anyone?
Subscribe to discover the best kept secrets in your city