As the summer heat approaches, many of us wonder how we will bear to go outside and face the sweat-fest even for our daily jogging ritual. Temperatures can easily rise up to 120 degrees on Dubai's worst summer days, meaning that you must plan when you step outdoors. Even so, personal trainers still recommend that jogging outdoors is better than the treadmill. What is important to keep in mind is when and where you exercise. Jogging during the morning between 7 and 8 a.m. and evening hours around 9 p.m. are highly advised. As for location, stay clear of the congested areas such as Sheikh Zayed Road, Karama, Bur Dubai and Al Quoz. Dubai has quite a few nice parks and beach fronts which are listed below as the best places to go jogging not only for their lovely ambiance but for your health.
JBR Walk
An all-time Dubai favorite for jogs by the beach is the JBR Walk. Located along one of the last natural beach fronts in Dubai and overlooking the Arabian Gulf, the JBR walk is a city treasure and a pleasant place to jog. Beautiful natural landscape is coupled with a jostling string of cafes and restaurants embedded into a unique architectural complex combining local with Mediterranean style. Disciplined joggers are found at all times of year.
Creekside Park
Beautiful botanical gardens, fishing piers, and jogging tracks are found in the Creekside Park making it simply one of the best parks in town. There is even a maze of beaten paths recalling Central Park. Open from 8 a.m. to 11 p.m. daily and on Wednesdays for women and children only.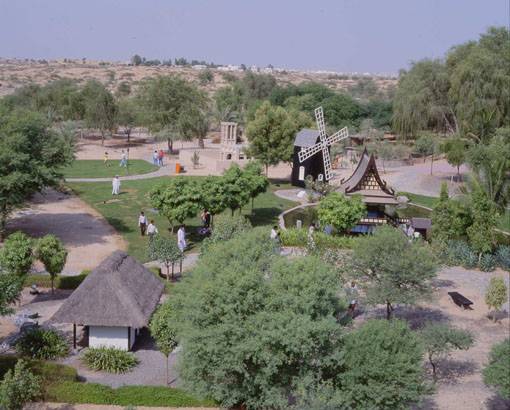 Mushrif Park
A desert park located about nine kilometers from Dubai now developed to include an extensive road system and leisure facilities for children and adults, Mushrif Park has a stunning landscape that is worth trying if you'd like to get away for a weekend. It is also known for its international Garden Area that features miniature houses from a variety of countries. Open from 8:30 a.m. to 10:30 p.m. daily and Thursdays and Fridays until 11 p.m. Saturday is for women and children only.
Safa Park
Perhaps one of the best places to jog in Dubai, Safa Park reinstates Dubai's heritage. Opened in 1975 on one side of Sheikh Zayed Road encompassing 64 hectares, it now includes an indoor playground and several modern-recreational and service facilities. There is also an area of lakes and waterfalls with bridges allowing the visitor easy access to the other side. The race track is located just outside of the park which means you can begin running whenever you wish. Open daily from 8 a.m. to 11 p.m. Tuesdays are for women and children.
Al Mamzar Park
Located in Deira, Al Mamzar Beach Park has four beaches and plenty of greenery making it the perfect place to escape from the city center for a nice run. There is a large amphitheater located near the entrance as well as children's playgrounds, kiosks, and changing areas. Wednesday is open for women and children only.
Subscribe to discover the best kept secrets in your city