While being dubbed the Entertainment Capital of the World, Las Vegas isn't known as a hub for high-brow culture. But hidden within the neon and glitz of the Las Vegas Strip you can find works of art, theater and dance all worthy of the international stage.
Even though visitors don't flock to Sin City to take in these cultural attractions like they do shows such as "The Lion King" or Cirque du Soleil's "Ka," these institutions keep the culture in Las Vegas.
In 2012, you can add the Smith Center for the Performing Arts to the list of cultural institutions. The downtown facility will include four theaters in two buildings when completed. In the meantime, here's a look at the Haute 5 cultural institutions in Las Vegas.
Springs Preserve
Just three miles to the west of The Strip sits the Las Vegas Springs Preserve, a 180-acre site dedicated to nature walks and displays. Built on the original water source for Las Vegas, called the Las Vegas Springs (Las Vegas is Spanish for The Meadows), the Springs Preserve includes colorful desert botanical gardens, museums, an outdoor concert venue and indoor theater, photo galleries depicting the history of Las Vegas and meandering trails that showcase wetlands. Just about every weekend, you can find events going on at the Springs Preserve that reveal everything from sustainability practices that fight for the future and historic events that show off the past.
The Springs Preserve is located at 333 S. Valley View Blvd. For more information, call 702.822.7700 or visit www.springspreserve.org.
Bellagio Gallery of Fine Art
Downtown Las Vegas may be home to the arts district and the infamous First Friday events, but the Bellagio is home to galleries dedicated to famous works of art worthy of a museum. Since opening in 1998, the gallery has presented exhibitions of artworks and objects drawn from internationally acclaimed museums and private collections, including "Classic Contemporary," "American Modernism," "The Impressionist Landscape: From Corot to Van Gogh," "Fabergé: Treasures from the Kremlin" and "Picasso Ceramics."
Beginning May 1, the gallery features "Figuratively Speaking: A Survey of the Human Form" with works by such artists as Pierre-August Renoir, Pablo Picasso, Alberto Giacometti, Joseph Cornell, Roy Lichtenstein, David Hockney, Judith Shea, Bill Viola, Yoshitomo Nara, Vanessa Beecroft and many others. More than 30 paintings, photographs and sculpture along with video installations by 26 artists whose traditional and contemporary perspectives on figurative art helped to define the genre in the late 19th, 20th and early 21st centuries go on display.
The exhibition will be on view through Jan. 9, 2011. The gallery is open Sunday through Tuesday and Thursday from 10 a.m. to 6 p.m., and Wednesday, Friday and Saturday from 10 a.m. to 7 p.m. Tickets are $15 for general admission, $12 for Nevada residents and seniors 65 and older, $10 for students, teachers and military with valid ID. Children 12 and younger are free. Tickets and information are available by calling 702-693-7871.
We'd be remiss not to mention the artwork showcased at CityCenter. "The CityCenter Fine Art Collection is the first initiative of its kind to merge public and corporate interests on this grand scale," says Jim Murren, chairman and CEO of MGM Mirage. Artists such as Maya Lin, Jenny Holzer, Nancy Rubins, Claes Oldenburg and Coosje van Bruggen, Frank Stella, Henry Moore, Richard Long, François-Xavier Lalanne and Isa Genzken, among others have sculptures, paintings and other works of art including large-scale installations in both interior and exterior locations throughout the 67 acres of CityCenter.
Nevada Ballet Theatre
It's a classic case of Vegas show becomes cultural icon. Vassili Sulich, then the principal dancer with the Tropicana's famed "Folies Bergere," gathered a group of ballet dancers from Las Vegas shows and presented a series of dance concerts at UNLV's Judy Bayley Theatre, thus starting the Nevada Ballet Theatre in 1972. Now in its 38th season, Nevada Ballet Theatre performs throughout the year on the Strip and at UNLV while teaching children at its headquarters in Summerlin.
The ballet's repertoire includes acclaimed 20th century master works from famous choreographers such as George Balanchine, Sir Frederick Ashton and Twyla Tharp, as well as contemporary choreographers Peter Anastos, Val Caniparoli, Bruce Steivel and James Canfield.
This weekend, the Nevada Ballet Theatre teams up with Cirque du Soleil to present their 3rd annual "A Choreographers' Showcase: A Project Designed to Stimulate and Encourage Artistic Growth" on Sunday at 1 p.m. at the Mystere Theare at Treasure Island. The production includes 11 originally choreographed works by artists from the various resident Cirque du Soleil shows as well as dancers from Nevada Ballet Theatre.
Ticket prices start at $20, while premium tickets go for $40, and include a student in Clark County to attend a special matinee performance. Tickets can be purchased by calling the Treasure Island Box Office at 1-800-392-1999. For more information, visit www.nevadaballet.com.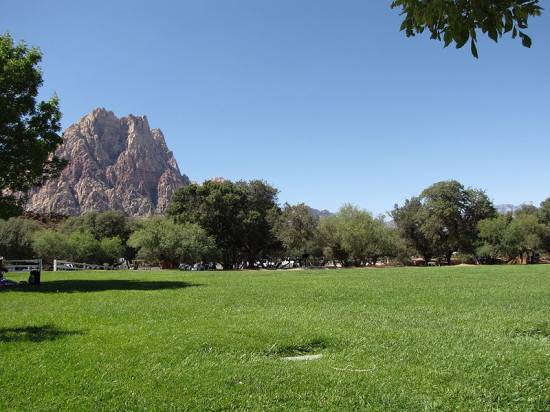 Spring Mountain Ranch Super Summer Theatre
When Las Vegans want some theater, they wait for summer and the Super Summer Theatre at Spring Mountain Ranch near Red Rock National Conservation Area. The theater opened its curtains for the first time in 1976, just two years after the Spring Mountain Ranch became a state park.
This June, July and August, shows go on under the stars. You can bring your own picnic dinner and chairs to create a romantic evening. The parking lot opens around 5 p.m., and seating opens in the meadow at 6 p.m. Beginning June 6, the Super Summer Theatre presents Roald Dahl's "Willy Wonka," performing Wednesdays through Saturdays through the end of the month. Tickets are $12.
For tickets, visit www.supersummertheatre.com/Tickets/Tickets.html.
Spring Mountain Ranch, 6375 State Hwy. 159, Blue Diamond, Nevada. For information, call 702.875.4141.
Las Vegas Philharmonic
Ever since the Fourth of July in 1998, the Las Vegas Philharmonic has filled the city with a classical music presence and a new cultural dimension. While the philharmonic has filled a variety of venues, the music holds the group together.
Every year, the philharmonic performs the Classical Series featuring some of the best touring artists in the world; a Connoisseur Series that presents top soloists performing in some of the city's most luxurious homes; a Pops Concert Series; and the ever-popular Fourth of July "Star Spangled Spectacular" concert. Since 2007, the philharmonic has been directed by music director and conductor David Itkin.
Beginning May 8, the Las Vegas Philharmonic presents "Masterworks V: A Night at the Opera (For People Who Think They Hate Opera)." Four vocalists perform favorites from the greatest operas of all time such as "Nessun Dorma" from "Puccini's Turandot," "Celeste Aida" and "Sempre Libera" by Verdi, the "Toreador Song" from "Carmen," "Vesti la Giubba" from Pagliacci, and more music by Bernstein, Rossini and others.
The philharmonic performs at the Artemus W. Ham Hall on the UNLV campus. The show starts at 8 p.m. with doors opening at 7 p.m. For more information, visit www.lvphil.com.
Subscribe to discover the best kept secrets in your city