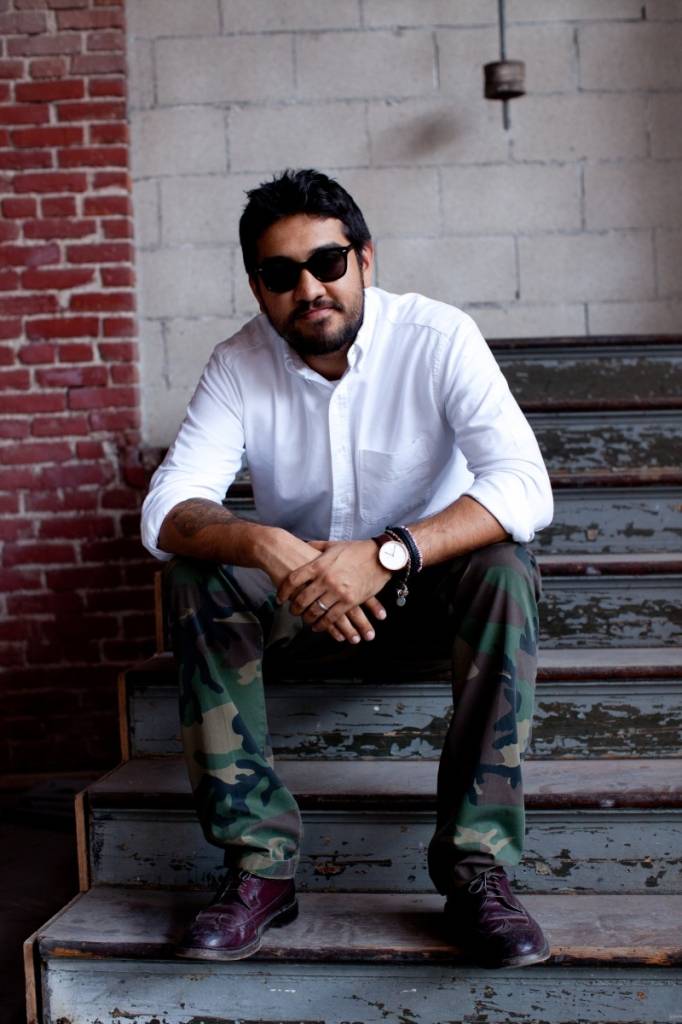 This week we've featured the haute secrets of eyewear guru Garrett Leight, a man who has a high-end pedigree in the eyewear industry: his father is Oliver Peoples founder and designer Larry Leight.
In 2006, Garrett went to work for Oliver Peoples after studying Journalism on the central coast of California. During his time at Oliver Peoples, Leight focused on design and eyewear development as well as marketing as it pertained to brand development for Oliver Peoples more youthful collection Mosley Tribes. In 2008, Leight left wholesale to help launch the opening of the Oliver Peoples Malibu store.
In 2009 Leight independently opened his first eyewear concept store, A. Kinney Court in Venice, Ca. Shortly after opening, Leight launched his first eyewear collection in his own namesake that featured hand finished acetate and metal frames. The idea was to create a more valuable collection by offering classic styles with an original point of view at the best possible price point.
Leight resides in Venice, CA and draws inspiration from the variety of characters that he encounters, as well as interesting individuals from the past, and fuses that with the California lifestyle. Here is his insider's guide to the City of Angels.
Like Haute Living Los Angeles? Join our Facebook page or follow us on Twitter @HauteLivingMag.
Where were you born ?
I was born at St. Johns Hospital in the City of Orange. My parents were living in Laguna Beach when I was born, but moved to Los Angeles before I was two
How long in Los angeles:
Basically my whole life. I actually don't count Orange County as Los Angeles. So I guess 28 years in Los Angeles
Neighborhood:
Always on the westside. I currently live in Venice. But my family has lived everywhere from Santa Monica to the Palisades
Occupation:
I am the Creative Director and CEO of Garrett Leight California Optical.
Favorite Restaurant:
Gjelina on Abbot Kinney in Venice. In my opinion its just most accurately suits what I like. My mouth waters talking about it
Best Sushi:
I have to go with Sushi House formally known as Reggae Sushi on Pico and Bundy. The fish is always fresh and their Truffle Oil Seared Scallops are phenomenal
Best Italian:
I'm going to continue with the West L.A. themed answers here and go with two, Casa Ado for classic Italian food with a modern twist and Bruno's Kitchen for Italian dishes made by your Italian grandfather you never had
Best dessert:
Gjelina wins here again. Butterscoth Pot De Crème, Warm Strawberry Rhubarb, Banana & Chocolate Bread Pudding, Homemade Gelato…is your mouth watering yet?
Best place for a romantic date:
There are many restaurants along PCH that can be followed up with a nice walk on the sand. I'm going to go with Giorgio Baldi as my number one choice for a romantic date
Best Sunday brunch:
If you want to go absolutely decadent then 26 Beach is a great choice. They have 20 different kinds of french toasts that are all amazing in their own way. Breakfast is probably my favorite meal, so I really could name so many, but since you said Brunch, I figured I'd choose the most decadent one
Best place for a power business meeting:
Yikes, power business meetings should be held in private if you take yourself seriously. So, I'd prefer to have it in either my conference room or theirs. But if you have to go public, then I'd say a coffee shop like Zinque or Intelligentsia. I know I'm supposed to say Soho House or something like that
If you have out of town guests, which hotel would you recommend?
It's got to be the Beverly Hills Hotel. Old Hollywood class all the way. I'm a sucker for the vintage Los Angeles vibe, and BHH does it to perfection
Favorite shopping venue/boutique:
Abbot Kinney has the best options for me
Best place to buy Jewelry/Watches:
A+R has a store on Abbot Kinney and La Brea as well as online, I like what they carry and I like the price point
Best Spa:
You really have to leave L.A. and go to Palm Springs. The Parker has one of the best Spa's I've ever been to.
Favorite Charity Event:
My wife always supports the Red Cross event every year, so I'd have to go with that one
Favorite Cultural Event:
Anything that takes place on Cinco De Mayo, being that I'm half mexican and from Los Angeles, I've got to show my love. Summer concerts on the pier is a close second
Favorite Cultural Institution:
Is In N Out a cultural institution? If not I like the train station in downtown as well as the public library in downtown, both beautiful
Best Steakhouse:
Morton's is a staple, but I more often find myself at the Palm in downtown LA before Los Angeles Kings games
Best Pizza:
So easy. Don Vito's on La Cienega all the way, do yourself a favor and go get a slice from Mr. Don Vito
Best Lunch:
Taco Truck. There are many that I love, but 100% the best one is La Isla Bonita on Rose
Best Gym/Athletic Facility:
I love the Los Angeles Athletic Club in Downtown L.A. Its definitely not new and fancy, but it has everything and more
Best Massage:
Just go to almost any thai massage spot in Los Angeles and pay $30. Most of the ones on Westwood blvd are great. If you don't want to do that, Beverly Hills Hotel has the most talented masseuse's money can buy
Best Limousine/Driving Service:
I mean, Uber at this point483159
Best Museum/Exhibit:
LACMA all the way
Favorite historic/legendary place to see or explore:
Griffith Park for the views
Describe your city in three words:
It's The Best
All-around favorite locale in Los Angeles, whether a neighborhood, restaurant, venue, or other
Venice Beach, hands down. I don't ever want to leave, so it has to be my favorite
Best aspect of Los Angeles
The lifestyle which heavily involves the perfect weather and care-free attitude of most of the people. Its easy to avoid anything you don't like and not hard to find the things you do like
MORE HAUTE SECRETS

Fatal error: Call to undefined function related_posts() in /home/hautel5/public_html/wp-content/themes/haute-living-2014/single-haute-secrets.php on line 83