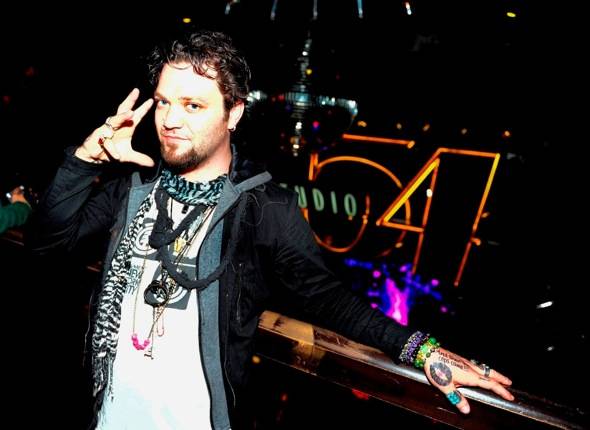 The MGM Grand was bustling outside Studio 54 as an energetic crowd awaited the arrival of "Jackass" star Bam Margera, who was celebrating his 32nd birthday with parents Phil and April Margera at the popular nightclub last night.
Ecstatic fans cheered for Margera as he arrived on the red carpet looking contemporary-cool in his leather jacket, black sneakers and scarf and channeled his inner rock star with multiple bracelets, necklaces and rings. The infamous daredevil posed playfully with his folks for cameras, making funny faces and occasionally pushing Phil out of the shot.
As Margera stepped inside the club, Lil Wayne's hopping song featuring Rick Ross "John" blasted overhead, pumping up the TV star for what would be a fun-filled night. Fans continuously swarmed Margera, as he graciously took pictures with and signed autographs for anyone who asked, including signing one adoring fan's bare stomach.
To everyone's surprise, Margera jumped on Studio 54's stage to greet the excited crowd and handed the mic over to his mom. "We're here [at Studio 54] to celebrate Bam's birthday!" shouted April as the crowd went wild with cheers. His mom continued to fire up the crowd, and as any loving mother would, she gleefully said, "Everyone wish Bam a happy birthday! Yay Bam!"
The trio then made their way up to their exclusive VIP table overlooking the entire nightclub, including the bumping dance floor grooving to the beats of DJ Crooked. Studio 54 delivered an intricate two-tiered birthday cake to Margera's table, complete with an edible skateboard and Margera's signature heartagram symbol. "Of course Phil wants cake," said the jokester as he pushed his dad's face close into the cake to take the first bite, minus plate and fork. Phil gave the thumbs up approval, and all three blew out the candles together. Margera passed out plates to all surrounding guests and began slicing his own cake before finally allowing the server to take over. Margera and his parents continued to mingle with friends and fans as they partied the night away in celebration of another successful year.
Actress Meagan Good also was in attendance at the legendary nightclub. The sexy starlet donned black kitten ears, knee high boots and a Michael Kors handbag and was spotted dancing with close friends.
Click on the photos below to enlarge.
Like Haute Living Las Vegas? Join our Facebook page or follow us on Twitter. Want Haute Living Las Vegas delivered to your in box once a week? Sign up for our newsletter.