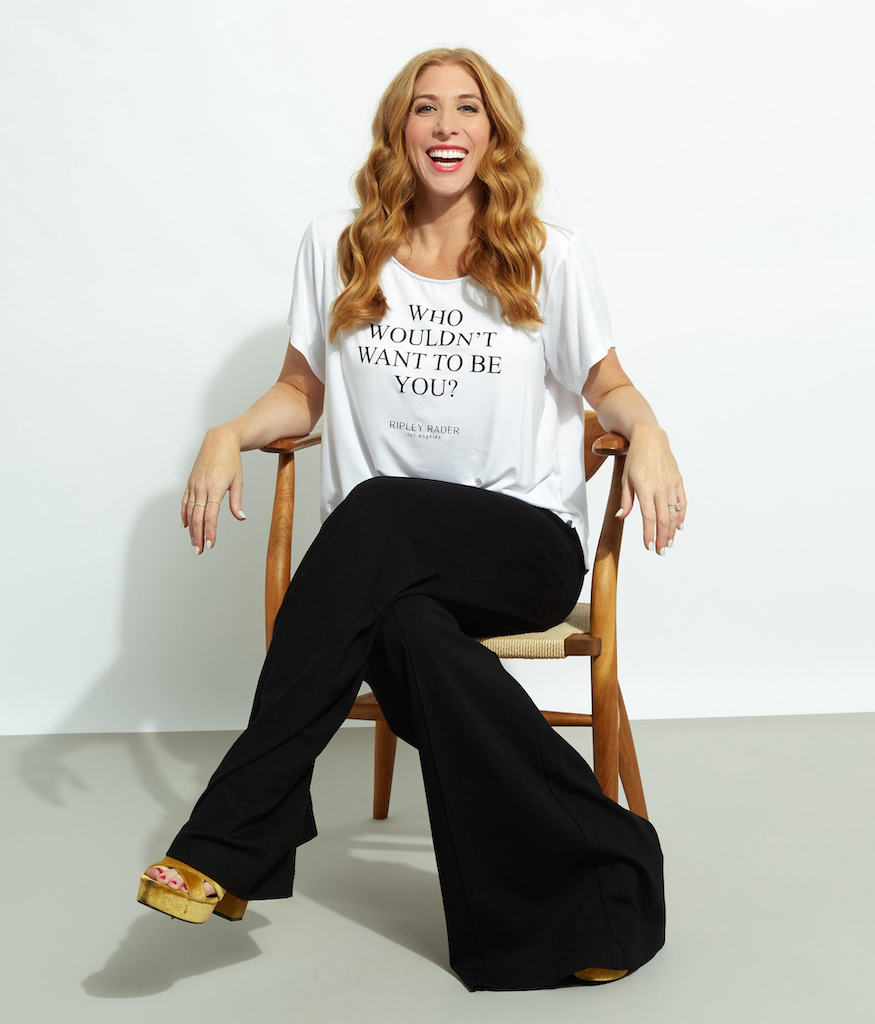 For many popular fashion brands, the concept of inclusive sizing can feel a bit calculated or trendy. But for fashion designer Ripley Rader, designing for women of every shape and size has always been at the root of her mission. Making all women feel their absolute best has been the motivation behind the fashion brand Ripley Rader from day one.
A proud feminist, Ripley Rader designs with the intention of celebrating women's bodies rather than trying to change them. As Rader says, "Hot is hot. I don't care what size you are." This mentality is reflected in the fashion brand's inclusive sizing, which offers its core collection up to a size 3X, and has been embraced by women of all sizes since their early days.
DRESSING EVERY BODY
The philosophy behind Rader's LA-based fashion brand is the key to dressing such a wide range of body types. She believes clothing should hug a woman's body in all the right places, but never be compressive or restrictive. It's easy to see this approach in action in the brand's most popular pieces; such as the wide-legged pant, which beautifully hugs and lengthens every body type.
The success of the brand's pieces on so many different types of women's bodies is a direct reflection of Rader's belief in the power of clothes. As Rader says, "I have no desire to change or hide a woman's body. I want to embrace and flaunt them, curves and all." She believes that the reason her clothes create such long lines and gorgeous shapes on every body is because the proportions are immaculate– and that's something that Rader spent years tweaking and honing in her designs.
GENERATIONS OF STRONG WOMEN
Growing up in a small town in West Virginia, Ripley feels lucky to have been raised by two strong female role models. It was the hours spent in her mother's textile shop that first piqued Rader's interest in fashion, collecting discarded scraps of fabric that she'd use to create her own designs. Meanwhile, it was her grandmother, who lived next door, who taught Rader how to sew. They'd spend lazy afternoons sewing together; her grandma quilting blankets and Rader creating everything from crop tops to her unique prom dress.
It was the influence of these strong, independent women that shaped Ripley not only as a person but as a designer. Her mother, an artist, taught her to cultivate her creativity and to always follow her dreams– and though sewing was Rader's favorite hobby as a girl, her first passion was dance.
It was this passion that took her to NYU, where she studied musical theater, and later on national tours with productions like "Joseph and the Amazing Technicolor Dreamcoat". Rader loved the stage and was a born performer, but she never stopped creating clothes for herself. Ultimately, it was this fun hobby that became the calling she didn't realize she had.
A CHANCE DISCOVERY
It's no surprise that the person who recognized Rader's talent for design was a female buyer, Joi, who she now considers a good friend. Having just finished a tour, Rader moved to LA to pursue a career on stage. But when, on a whim, she created a jumpsuit for herself to wear to a concert one night, this pursuit shifted course.
Joi told Ripley that if she created more of these fabulous jumpsuits, she would sell them at Fred Segal. This launched what has now become the ever-growing, popular fashion brand, Ripley Rader. When the brand got surprisingly quick press and celebrity attention, Rader made the choice to dive headfirst into building her business. This choice shifted her life forever, but it also made her appreciate not only the practical tools that her mother and grandmother had given her but most importantly, the sense of self and confidence they'd instilled in her. It is this inner knowing and purpose that drives Ripley Rader and has made it a brand that is for all women.
Written in partnership with Two Comma PR
Subscribe to discover the best kept secrets in your city