Photo Credit: Eric Garault
THREE MICHELIN STAR CHEF PIERRE GAGNAIRE HAS BEEN HUNGRY FOR THE BIG APPLE FOR YEARS. NOW, HE'S FINALLY ABOUT TO BE SATIATED.
BY LAURA SCHREFFLER
PHOTOGRAPHY ERIC GARAULT
GROOMING GAUTHIER JOSEPH
SHOT ON LOCATION AT FOUQUET'S PARIS
Photo Credit: Eric Garault
PIERRE GAGNAIRE IS RAVENOUS. One might think, 'he's a three star Michelin chef. Couldn't he just make himself something?' But no. This kind of hunger is different — it's a long-lived, deep-seated hankering to take a bite of the Big Apple. And while he's finally sating that craving now — the impetus for our chat, as it were — he had almost fulfilled that need twenty years ago. But then, tragedy struck.

The now 72-year-old chef takes me back in time to 2001. He had just signed a deal that would make his dream of operating a restaurant in New York City a reality. With the ink still figuratively wet on his contract, he flew back to Paris, full of hope and excitement. The following day was September 11th. 

"I was planning to open a restaurant with Ritz-Carlton Group. The deal was made on the 9th of September. I came back to Paris on the 10th, and then 9/11 happened. Everything stopped at this moment," he says.

Admittedly, I was initially puzzled as to why a man with such an obvious affection for Manhattan would choose to open his first American eatery anywhere else (gourmands will fondly remember his first stateside venture, Twist, a fine dining establishment at the now-shuttered Mandarin Oriental Las Vegas). But all becomes crystal clear during our August Zoom chat.

It's a somber conversation to have, especially as Gagnaire's excitement is so palpable. But nothing keeps him down for long and now, though it's late in Paris and he's been working all day, he bounces back quickly. With a twinkle in his periwinkle eyes, he says, "But now, with this project, I finally have the opportunity to come to the best city in the world!"

The project he's referring to is the reason for our conversation: the very first Brasserie Fouquet's in the States, the upscale French bistro he operates globally for the Barrière Hotel brand, both of which are opening in TriBeCa this fall.

And obviously, he couldn't be more excited. "New York is special," he continues to enthuse. "The music, the museums. It is the city that makes you dream. It is the melting pot of this new world that emerged not so long ago. It is undoubtedly the most important city in terms of creativity of all kinds. The energy that this city gives off is unique. And to make it in New York, you must be strong."
Photo Credit: Eric Garault
Not that he's worried. He says with a smile, "As a chef, I am strong." 

That's putting it mildly. Gagnaire, who currently holds a whopping 12 Michelin stars for globally lauded spots such as London's Sketch and his eponymous fine dining eatery in Paris, has helmed the Fouquet's brand for Barrière since 2014 — one year before being named best chef in the world by his 2-and-3-Michelin-starred brethren. It's a decision he's never regretted, and this is especially true now, on the eve of executing his dream deferred. But he's proverbially put his blood, sweat, and tears into restoring Fouquet's to its former century-plus-old glory; this long-awaited opening, here in the juicy epicenter of America, is the icing on the cake.

"My mission when I signed with Barrière was to rebuild the spirit of this brand, which is a joyful one. Outside on the Champs Elysées [where Parisian flagship Le Fouquet's opened in 1899], you have the worlds of cinema, stars, and music, and it was important that we rebuild the spirit of its food, too. Now, that is done."

The Parisian eatery, centrally located at the corner of Avenue George V and the Champs-Elysées, fully embraces the essence of the City of Lights with its classic traditional brasserie décor, infamous red awning, and two sumptuous terraces. It's where, each year, France's prestigious César Awards are held, with beautiful and famous faces bathed in the glow of pale yellow light beneath golden chandeliers.

In New York, Gagnaire is setting his intentions high and hoping for the success he's enjoyed not only at home in Paris, but in an ever-expanding empire of eateries that currently includes Cannes, Toulouse, Courchevel, La Baule, and Enghien-les-Bains in France, as well as Switzerland, Morocco, and the United Arab Emirates. And here on Greenwich St., his newest restaurant remains simpatico with its sister eateries thanks to Art-Deco-inspired red and black décor, Toile de Jouy wallpaper, wood paneling, and Harcourts Studio portraits dotting the walls. It's warm and welcoming, with a lively atmosphere, the kind of place you could sit and drink carafes of Chateauneuf-du-Pape all night, blissfully unaware of the hour.

"My job was to create something easy, without pretension," Gagnaire says, and while I'm thinking He nailed it, he notes purposefully, "But it is not McDonald's. It is a concept, one that offers something very French, but also touches upon the spirit of the city we are in."

Okay, first, golden arches and Pierre Gagnaire do not belong in the same sentence, but his statement does prompt me to wonder what he thinks New Yorkers do crave, and how, specifically, he's planning on sating them. "New York is a cosmopolitan city that is open to the world and influences from all continents. I know that in New York, people love their meat, so I have this. They love their crab, I think, so I have this. And of course, today, we have to adapt to new trends, mainly vegetarianism, so we'll cater to that, too. But in France and London, for example, it is totally different. There they like their tartare, black salmon, snails," he explains.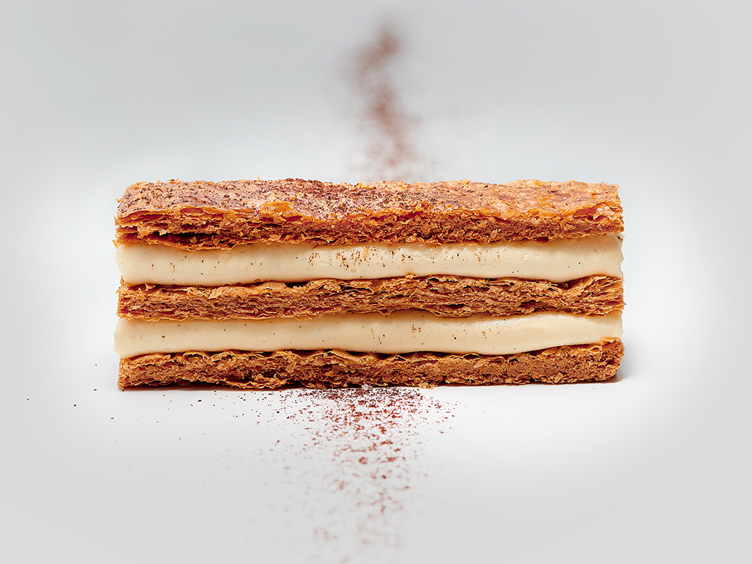 Photo Credit: Laurent Fau Studio
Photo Credit: Laurent Fau Studio
Meaning: he'll have a little bit of everything on his "carte" in the ways of French gastronomy. Escargot, foie gras, sole meunière, beef tartare, blanquette, onion soup, stew, and grilled meats, you name it — all served à la française. There's also a decadent dessert trolley, laden with dainty French pâtisseries and petit fours.

Alas, Gagnaire can't be all places at once (although that would be nice for him and for everyone else in the world, too, come to think of it) — in addition to the Fouquet's franchise, he's responsible for the three Michelin star Pierre Gagnaire, one star Gaya, and Pierott in Paris; one Michelin star Duende and L'Impe in Nimes; Seaside Kitchen in Chatelaillon; Japan's two Michelin star Pierre Gagnaire in Tokyo; one Michelin star Pierre Gagnaire in Seoul; as well as Choice Pastry TT, Restaurant by Pierre, one Michelin star Le Comptoir de Pierre Gagnaire in Shanghai; and Pierre's Bistro in Dubai — and so an executive chef is to be his eyes, ears, and hands in Manhattan, just as he has in his other restaurants, as well. And for Gagnaire, having clear and concise communication is essential for those he hands the reins to.

"This for me is so important, because being a great chef isn't just about food — it's also finding a way to communicate, to create a story, the telling of a place." He pauses. "I know it's difficult in New York, because everything has been done before, and people will say that, too. But I think if you wait, you will see that we have the possibility of offering a different way to experience this city. I know it won't be easy. I know it will be extremely difficult to create emotion through food here, because it is a very straight-forward, tough city, but that is my goal. We must find the heart of the chef on the plate, and create art on the plate. That is my ambition." 

Photo Credit: Eric Garault Gagnaire would rather pour his heart into every dish a la Like Water for Chocolate than he would create an empire, despite the fact that (woe is him!) he has one. But he's exceedingly humble, and that's a beautiful thing given his level of success. He says, "I love my work, I love my job. It's my passion. This is my life. It's not about the money: I'm not a businessman. I'm a chef, and I want to stay a chef."
This is surprising and unsurprising in equal parts. Many of his peers are opening hotels, acting as the face of their brands, but rarely cook. This is not Gagnaire, who has been surrounded and consumed by cuisine since birth in Apinac, a village in France's Loire Valley, to two restaurateur parents. His career trajectory is as storied as they come, starting as an intern of legendary chef Paul Bocuse at age 15, followed by an apprenticeship at 24 with chef Alain Sendernes of Paris' Lucas Carton. Two years of hitchhiking from Quebec to Acapulco later, he returned to his family's restaurant, Le Clos Fleuri, near Saint Etienne, and took over the kitchen, earning his first Michelin star in 1976, and later, two Michelin stars for his first solo venture in 1981, and three Michelin stars in 1992 for his second restaurant.

Yes, his pedigree is truly exceptional. But then, Gagnaire was one of the first chefs in the world to embrace the idea of food as art, even collaborating with French chemist and professor Hervé This (a founding father of molecular gastronomy) to co-found the fine dining experience known as "Note à Note," which was billed as the world's first dish made entirely of pure compounds.
It is innovations like this that earned Gagnaire the title of "World's Best Chef" in 2015, an epithet he harumphs at now. "You are never the best chef!" he poo-poos. "I have had three Michelin stars in many restaurants around the world, from Paris and Tokyo to Seoul and Shanghai. But just because I have these stars doesn't mean I stop trying. You must work. If you don't work, you are dead."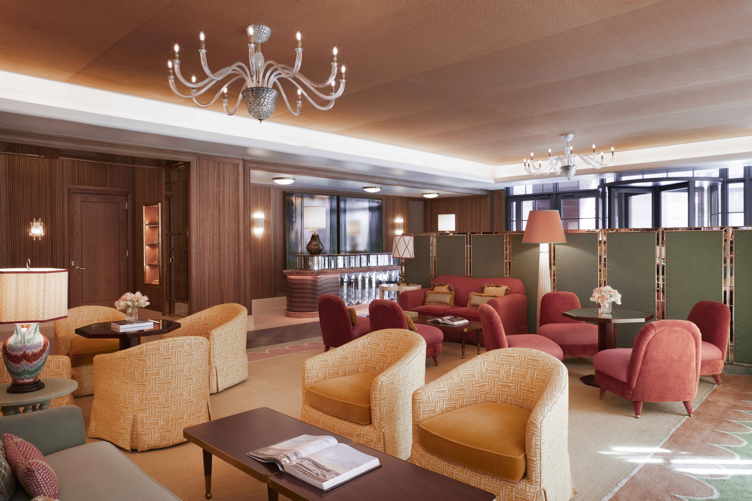 Photo Credit: Fouquet's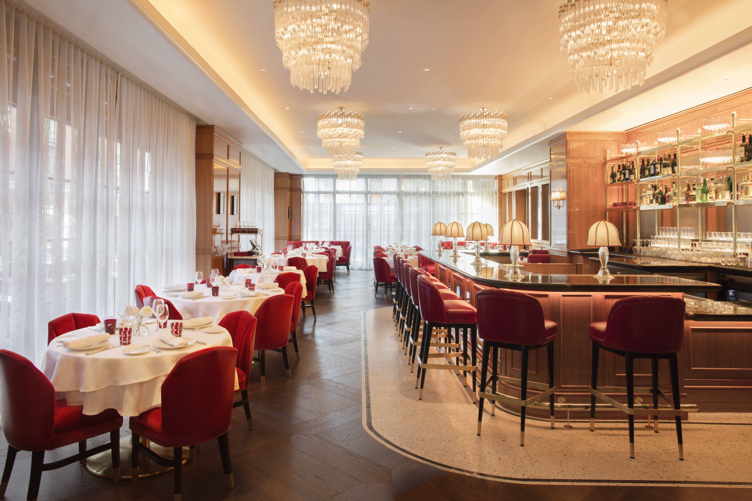 Photo Credit: Fouquet's

That explains why he continues to work so very, very much, roving around the world to help his culinary families excel. But when you're born to do something, it's not work, right? It's effortless. He says as much now.

"My system is easy," he swears. "I'm very involved in the kitchen. I write all the menus, and try to control everything that is done. I can't be in every kitchen because it is impossible, but each chef must explain to me how he thinks, how he makes things. For me, when you work, you are never alone. It is a family, a team. We work honestly and passionately, and know that it is okay to make mistakes. My phone is always on. They can call me when they want; I'm here. And I do think the key to my credibility is the connection I have with my chefs."

But the key to his creativity? That's a different story. "Silence," he says. "That's what I crave, and it's a luxury because it's so hard for me to be alone, to be creative, when I'm surrounded by noise."

That being said, "quiet" is a word that certainly does not apply to New York. Still, it's his happy place, and who am I to question happiness? (Especially when his happiness is so precise: peace, quiet, and a glass of Bourgogne aligoté from Jean-Marc Roulot.)

Still, New York is his dream, and his dream has finally become a reality. There's beauty in that. Which is why, when he says, "I feel privileged to participate in this adventure," I understand him completely.

And noise be damned. 
Photo Credit: Eric Garault
Subscribe to discover the best kept secrets in your city