Luxury floral and production company Birch Event Design has taken New York City by storm. And if you're an event or wedding junkie, there's no chance you haven't scrolled past some of their stunning work on Instagram.
From creating gorgeous weddings and lavish soirees to beautiful corporate affairs, the design and production team continues to transform some of NYC's most iconic and eclectic venues into truly memorable experiences. Birch's work has gained recognition across the city (and beyond) leading the team to partner with the city's most notable including Norma Cohen Productions, LLG Events, Premini Events, and Ceci New York to name a few.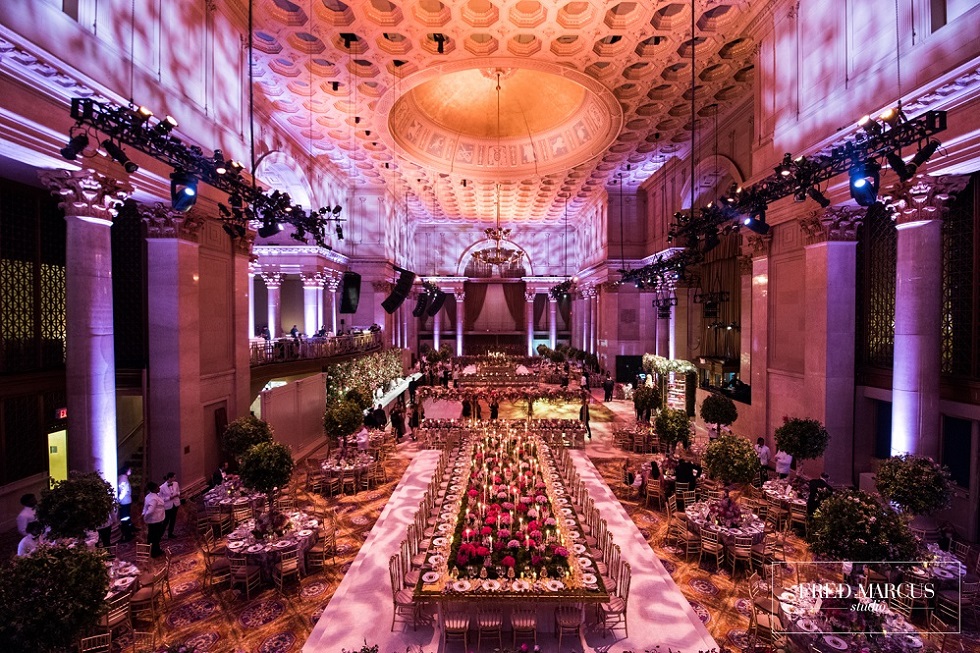 Photo Credit: Fred Marcus Studio
While designing flowers may be what you see at first, Birch Event Design goes well beyond that with services expanding to event design, full-scale production, floor plan layouts, custom built furniture, video mapping, and more. With events taking place at Gotham Hall, Cipriani Wall Street, Cipriani 42nd Street, The Pierre New York – A Taj Hotel, The St. Regis New York, Barclay International, Ziegfeld Ballroom, Pier 60, and The Mandarin Oriental – Birch Event Design has pretty much worked with every prestigious venue in New York City.
Photo Credit: Birch Event Design
With New York Fashion Week in full swing, we knew this would be the perfect time to catch up with President and Creative Director Josh Spiegel to pick his brain about everything that goes into throwing a truly memorable affair.
1. How did you first get your start and how did you know this was your calling?
I got married very young, with no degree and needed to make money. I used to buy my girlfriend (now wife) beautiful flowers every single weekend. After seeing the arrangements I would bring home, my mother-in-law suggested I look into arranging and selling flowers. I started selling flowers out of my father's balloon shop in Brooklyn, whose motto was to come into work every day and play. He told me that, just like art, some people would get it and some people wouldn't. He gave me the confidence I needed to push me to pursue my passion.
I was young and eager to please. This lead me to find my way into some of the most affluent homes in the neighborhood and beyond. I was given the chance to fill these expensive vases that homeowners were too scared to touch with beautiful, fresh flowers. This became my niche. After hanging out in peoples kitchens for over a year and a half, you start to become good friends with the families. Those families gave me opportunities to work on family weddings, bar mitzvahs, and any other type of celebratory event. I organically grew the company out of these amazing relationships.
When I realized it wasn't just about the creativity but also about the experience, we decided to build our company with that being the fundamental idea.
Photo Credit: Birch Event Design
2. What is your process like from start to finish?
We typically sit with a prospective client for about an hour during which we get to know them, We want to get beyond specific decor but instead get an understanding of their vibes, likes, dislikes – and that is what we build from. We take about two weeks to fully design and curate a detailed proposal for them so that they can understand our entire vision. From there, they decide if we are the right fit. Once that decision is made, we create a sample of the exact tablescapes for the day of their event to finalize the design.. and comes the fun part: the production.
Photo Credit: Fred Marcus Studio
3. What separates Birch Event Design from other event production companies?
What separates us from others is our process. It's not just about design, flowers, and production. We really love to connect and laugh with our clients, and infuse passion and excitement throughout the process. We pride ourselves in creating a memorable experience which is just as important to our team as the end product.
Naturally, our aesthetic is one of the things that draw people in and is what separates us. We seek to combine traditional floral arrangements with current and relevant elements. We introduce architectural materials and details. But it's never just about the vessel or the table cloth – it's about the overall feeling created in a space–that is the most challenging piece as it requires everything to come together as one in harmony.
We make sure we achieve this as we attend all of our events; our clients become family to us. We love to share the magic of the experience with the hosts and guests as they walk through the doors. These shared moments are the reason we don't stop, the reason we work tirelessly to get everything right.
Photo Credit: Birch Event Design
4. What is your favorite part about event design and production?
My favorite part is having our clients and their guests see our vision come to life. We thoroughly enjoy the design process throughout the whole production period but seeing our clients react to the space we created for them to host their event is the biggest validation a design team can ask for.
Photo Credit: Fred Marcus Studio
5. What three things would you say are the key components of throwing a memorable affair?
First, have a great team. The right vendors will set the tone at any event. Second, create specific memorable moments whether that be through a central bar, an innovative floor plan, a ceiling installation, an awesome photo wall, a cool dessert parade or even adding a whimsical element to the waiters outfit. Look to add something that is slightly out of the norm because that is always something people will remember Lastly, a cool take away or gift that guests can home with that says "we thought of you too".
Photo Credit: Fred Marcus Studio
6. What did you wish a client/people knew when planning an event?
Planning an event is more about trust and connection than it is about creating the very best business deal. This industry is driven by passion and personal integrity, so the more connected a client is with their vendor or in our case, their event design company, the better their results will be.
Be sure to follow @bircheventdesign as they continue to create all over New York and beyond.
Photo Credit: Birch Event Design
Subscribe to discover the best kept secrets in your city