Restaurateur Costas Spiliadis has been steadily building his Grecian food empire over the past 40 years and he won't be hitting the brakes anytime soon.
Over the next year, Spiliadis will open another restaurant in the famous New York real estate development Hudson Yards as well as one in Dubai. He's also working on two more projects that he'll announce publicly in the next few months.
Since introducing high-end food from the islands of Greece at his first Estiatorio Milos in Montreal in 1979, his fine Greek restaurant collection has grown to include New York, Athens, Miami, London and Las Vegas. He resides in Montreal, but sees very little of his home since he's almost always traveling between his different restaurants, or as he affectionately calls them, his "babies." Each is considered to be among the finest Mediterranean seafood restaurants in the world, and that is an honor that the acclaimed chef doesn't take lightly.
"Everybody will say after so many years I should slow down," says Spiliadis. "It's the opposite. I work harder and harder and harder."
During a telephone interview with Haute Living, Spiliadis shared the key to his global success and what he considers special about his restaurant at The Cosmopolitan of Las Vegas.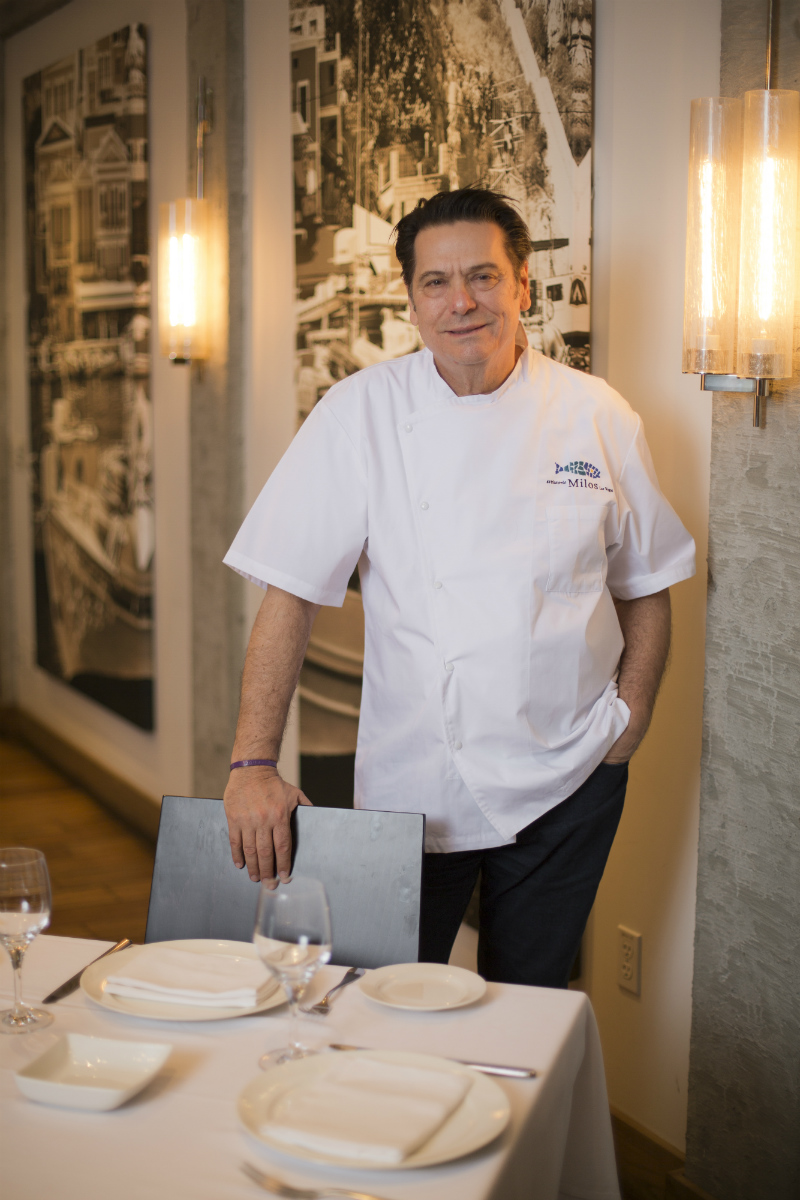 Photo Credit: Courtesy of Estiatorio Milos
Milos is considered one of the finest Greek seafood restaurants in the world. How do you stay on top?
This is the center of my work and my attention. Looking back, in retrospect, and I'm saying that with all sincerity … getting to the top of the mountain was a much, much easier task than staying on the top of the mountain. Now at my old age, I'm going through the most challenging phase of my career and my work of exactly preserving the status of being the leader in this category of dining experience.
How do I do it? Number one, I do not know how to pronounce or spell the word compromise. There is no such a thing. I will never compromise because I know the moment you make one small compromise the downfall begins. I'm very hard principled about maintaining the same standards that I applied when I first decided to open my first restaurant and prove to the world that Greek cuisine was not what everybody thought it was but it was a fine cuisine, an important cuisine, a healthy cuisine, a type of food that you can eat almost every day.
The second, it's hard work. Every day I am working 12 to 15, 16 hours a day and in very close contact with my local teams, talking to the sales and managers of our restaurants on a daily basis and I continue searching for new products, new ideas, new ingredients, new sources because that rejuvenates me, rejuvenates the restaurant. Any product we can introduce, it adds to the life and the energy and the youth of our restaurant.
Hard work, consistency, not compromise, and continuous research for new products and new ingredients is really what keeps us going, I hope well, and for a good long time to come.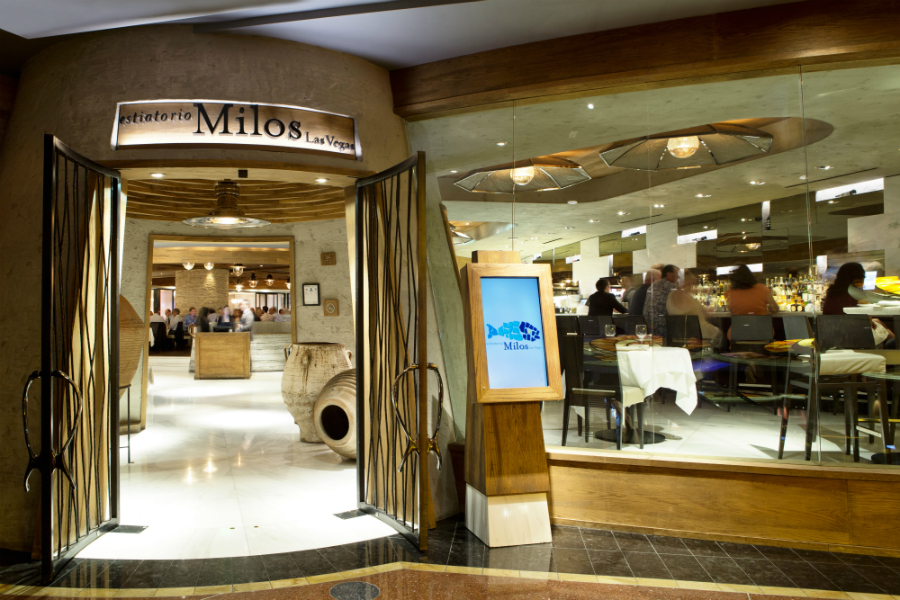 Photo Credit: Courtesy of Estiatorio Milos
How did you end up at The Cosmopolitan of Las Vegas?
I must say the Cosmopolitan as a major resort was the first one in North America to recognize the primary importance of Greek cuisine … taking a cuisine that was unknown or very little known, and actually, a lot misunderstood, and providing a home for this cuisine. The moment I saw this very advanced kind of thinking on the part of the Cosmopolitan ownership I said to myself, 'This is a place that I'd like to be a part of.'
Their approach to creating a neighborhood of restaurants, that was a concept that was very familiar and very appropriate for Milos. No matter where we are, whether we are in New York or London, we like to think of ourselves as a restaurant that is addressing our self to a local community and the idea of creating such a neighborhood in a resort where they dedicated a whole floor to highlight some of the best restaurants in America was a very attractive idea to me.
Photo Credit: Courtesy Estiatorio Milos
How are you able to source the freshest fish from the middle of the desert?
Las Vegas has been a wonderful opportunity for us to learn how to perfect the logistics of transporting fresh, sometimes live, and very sensitive products from different parts of the world to our restaurant. Because Vegas is in the middle of the desert, we've been perfecting our logistics in providing our restaurant in Vegas with perfect products. We use air. We fly everything. We have a driver and refrigerated truck that's dedicated to going back and forth from the property to the airport all day long to catch different flights and bring different products as they arrive.
Do you source any ingredients locally?
The closest thing now is California, where we use the farmer's market, and these are transported by trucks. What I'd really like to explore on my next trip [to Vegas] is that there is some limited production for vegetables in the area and I would like to see what it is and if we can support this effort.
Sometimes necessity is your best friend. It pushes creativity to its limits. In Montreal, for instance, we have very long and very severe winters and in spite of that, we started using the roofs of buildings as gardens … So why not in the desert.
Las Vegas does present an opportunity since the local community has grown so much in the last years, as well as the culinary community has really become extremely demanding. I think these two factors contribute to the possibility of developing some kind of production locally and believe me when and if that happens, we will be the first to support it and use it.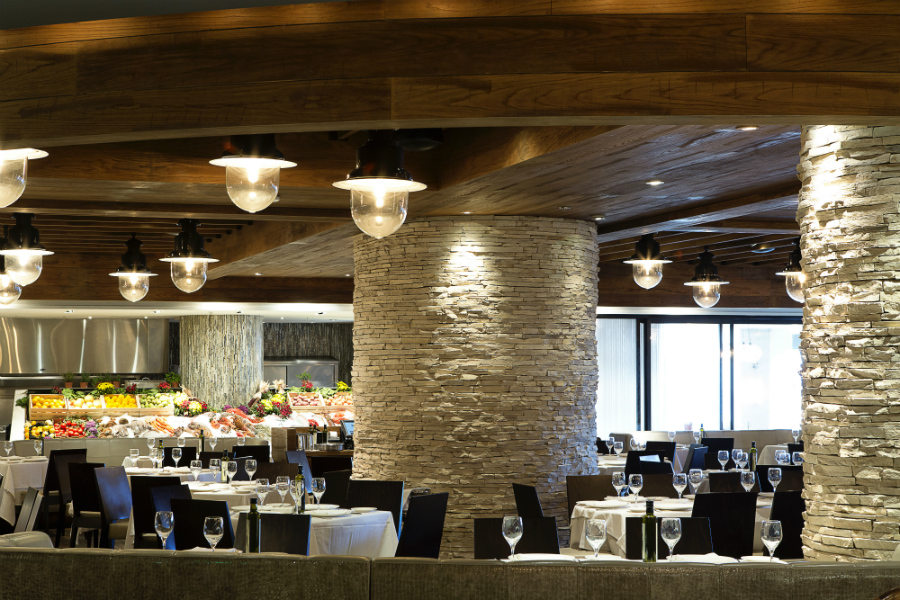 Photo Credit: Courtesy of Estiatorio Milos
Earlier you mentioned the importance of consistency. Does that mean that all Milos restaurants are the same?
We are consistent enough on all locations so that guest who are regulars in New York can go to Las Vegas or London or Montreal and have the experience of Milos. But at the same time, there are individual differences between the restaurants whether it is the space, whether it's a particular product that's very unique to locations or the personalities of certain staff.
The quality of the whole experience remains consistent throughout all our restaurants, but there are little touches here and there that make all our restaurants not be a copy of each other.
What makes the Las Vegas location stand out?
The personality of the staff in Vegas. They are very much Vegas-like in the sense that they are very lively, very excited about seeing people for the first time because we typically have a very strong local clientele but in Las Vegas we have a lot of people that are … one time visitors to our restaurants, so our staff is very talented at delivering an experience that requires the characteristics that you would deliver to local clientele to a one-time visitor. I'm very proud of my staff …The skill and mindset that they have is very difficult.
Las Vegas also … has its particular character from a design point of view. The closest is Miami. The others are completely different from a physical point of view.
Photo Credit: Photo by Adam Frazier
What are some of the most exclusive items on the menu at Estiatorio Milos in Las Vegas?
We have Greek bottarga, avgotaraho, from Missolonghi, which is a particular area in Greece. It comes from a lake that half of its water is fed by springs and half of the waters come from the Mediterranean Sea–a very interesting mix of salty and sweet water. In this environment, you have the great mullet variety of fish from which the local people make the bottarga, which is considered one of the best, if not the best bottarga in the world.
Our Mediterranean lobsters have to arrive alive, so we pay premium money to buy them at the peak of being caught, use special packaging so it can stay alive. The lifespan to serve them is limited.
What is the Estiatorio Milos Winemaker's Table Dinner?
It's a monthly event where we make it a very affordable offering so that we can bring in as many people as possible to have the opportunity to taste the new wave of Greek wine paired with Greek food. My son, George [Spiliadis] is doing the exact same thing I did with food, with wine, because Greek wine also has a bad reputation. Our sommelier, he is in love with Greek wine, he is very knowledgeable about Greek wine and he is leading a team of people with a lot of knowledge. Our guests leave with a beautiful dinner and an enlightening experience about the new wave of great Greek wines.
Photo Credit: Courtesy of Estiatorio Milos
Where do you eat when you visit Las Vegas?
I always go to the Lotus of Siam. I will never forget my first experience there because it closes early and the first time I went with my team it was about 10 minutes to 10 p.m. We had just actually arrived from the airport and I will never forget that I spent two and a half hours in the restaurant enjoying the food tremendously and the service realizing only when I was leaving that the restaurant was ready to close 10 minutes after I arrived.
They never made me feel that I was bothering them. They served beautifully as if it was a regular time. I got an amazing lesson of hospitality at Lotus of Siam the first time so since then I am visiting the restaurant every time I come to Las Vegas.
What would you be doing now had you not become a restauranteur?
My undergraduate and graduate studies were in sociology. I specialized during my graduate work in community organization and community development. So if I did not embark on the restaurant business I would probably be now a sociologist, either teaching in some school or practicing sociology in some community.
Does your sociology training apply in the restaurant world?
It really sensitizes you with what is important in human relationships. Restaurants are a very, very good example of a social setting where predictable and unpredictable relationships are taking place and you have to monitor them so well, so everyone is happy at the end.