Bill Hemmer knows a thing or two about traveling. The Fox News channel  co-anchor and former CNN anchor traveled the world in a year after saving $15,000. In fact, the jaunt helped him land his CNN job. "The trip was a life changer. How could it not? When you spend nearly a year backpacking through The Third World on just handful of dollars each day, your perspective changes for a lifetime."
Photo Credit: Fox News
Bill traveled all over Europe, Asia and even spent time in Calcutta working with Mother Teresa and documented the experience for various media outlets, essentially becoming one of the first travel influencers, pre-social media.
"Mother Teresa was an extraordinary human being – a living saint. I remember writing that she was such a small person in physical frame, but she had these giant hands that seemed to cup everyone and everything she touched.  But the street kids of Calcutta would live and die off her support and the support of her clinics. Seeing that in person was remarkable."
After seeing the world, Bill could really choose to spend his summers where ever he wants. His top pick? The Hamptons. "Living in Manhattan, you need a break. So I found a spot near Sag Harbor that gives refuge from the concrete and steel of the city. If I get there about every other weekend, it makes for a good night of sleep."
Photo Credit: Courtesy Bill Hemmer
While he's on the East End, he indulges in great food, the beach and in one of Bill's most enjoyable hobbies, golf, taking full advantage of his proximity to the Shinnecock Golf Course, the site of this year's US Open. When the PGA announced the tour would be in Southampton, NY for the summer 2018 event, we knew he would be the best person to help navigate the area with first-hand travel tips.
You traveled the world and you wrote about it, essentially making you one of the first travel influencers in the game. How does it feel to be a trendsetter?
That will be a first! Clearly, it was one of the most redemptive and enlightening years of my life. Never go a day without thinking about, or knowing of something I learned 'out there.' It has led to everything else I understand about our world. So that happened.
Where is the most exciting place you've visited?
That's like picking a favorite child. It is the question I probably get the most. And I have always recommended a few places – South Island of New Zealand, Old City of Jerusalem and Nepal, especially the countryside and the Himalayan trekking.
Most exciting cuisine on your travels?
KFC in Beijing doesn't count, does it? I think the back alley restaurants of Kowloon – across from Hong Kong – offer its own unique taste that you can't find anywhere. The rice plates on the island of Java, Indonesia and the vegetables of Vietnam have to be some of the freshest in the world.
Now you're settled for the summer in Sag Harbor. What are your favorite area restaurants?
Great question. Love good food. So many choices, so many awesome choices. In Greenwich Village, I have a few local places: Gotham Bar and Grill on 12th Street. Lately, I've been going to Via Carota in The West Village. Both are great. Arte is my local for fresh branzino, whole fish. In Sag, I like Sen for sushi, American Hotel to hang out. Murf's is a classic local joint, as is The Corner Bar.  
We know your favorite golf course – Shinnecock – and it's quite a stunner. What are some of the best or must see holes for spectators? Most difficult for players?
All of them! The special thing about Shinnecock is the enormous challenge facing every golfer at every level. Holes 9 through 18 are probably the best 10 consecutive holes in the world. I know that's quite a statement, but once you are humbled by its difficulty, you will understand why.
What makes the US Open in the Hamptons so exciting?
You have great golf history at the big three: Shinnecock, National and Maidstone. All three courses were built more than a hundred years ago. There is a lot of natural beauty, just about everywhere. But keep an eye on the forecast – the weather could be a question mark.  Remember you are 100 miles due east of New York City. In early June, you never know. Plus, if the wind is blowing at Shinnecock, it will make a difficult course even harder.
What will be some of the highlights, aside from the event?
The Hamptons are what you make of them. You can hang at the beach, or you can find peace in nature, or you can find a party, but I find that most people enjoy the experience of chilling in their own backyard – grilling, swimming, having a cocktail, or just relaxing with family and close friends. Sounds kinda nice.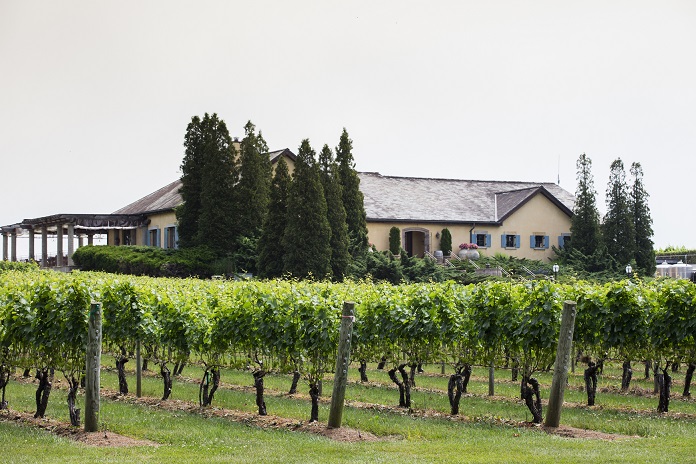 Photo Credit: Wölffer Estate
Where should they head if they are looking for the ultimate, Hamptons, 'rosé all day' experience?
Wölffer Estates Vineyard. You can find all the Rose in the world to drink!  Bring friends.
Best area restaurants for a great brunch or happy hour?
Topping Rose is Bridgehampton has a great new menu. Try the chef's burger, as prepared. Le Bilboquet in Sag is slammin'. I have always loved the burger at Rowdy Hall in East Hampton. Also, Nick and Toni's in East Hampton. Always terrific. Get the fried (I know it's a dirty word in cuisine these days) – but get the fried zucchini.
If someone only has a day in Sag Harbor, what should they do?
Start your day with a latte at Jack's Stir Brew. You can buy a fresh croissant at the small bakery next door. Browse the shops – Sag is super quaint. It's a whaling community from last century, so there's good history. Pop over to Page, or The American Hotel which has one of the all-time classic bars. Then be online at Beacon Restaurant by 5:30pm. No reservations. But when it opens at 6pm, snag one of the few tables on the water and catch the sunset. Come on out!
Bill Hemmer is co-anchor of 'America's Newsroom' on the Fox News Channel (weekdays 9-12 PM/ET). He will be anchoring live from the US Open on Thursday, June 14 and Friday, June 15. Follow him on Twitter or Instagram to stay in the loop!