Photo Credit: Mark Sandstorm
Lauren Ellis is intimately familiar with Union Square. As the director and partner of CK Contemporary, a modern art gallery on Geary Street just off the square, Ellis has spent the last 14 years getting to know the area. She enjoys being in the heart of the city and the area's abundance of restaurants, shopping, and hotels. "I love that Union Square offers great proximity to museums and that this neighborhood is always evolving," Ellis recently told Haute Living. "Being able to take a few minutes outside on a busy day, to sit in Union Square or the Yerba Buena Center has always been a welcome retreat."
Photo Credit: Mark Sandstorm
Ellis considers the gallery her second child, hobby, and home away from home and although you can typically find her perusing over colorful abstracts and beautiful landscapes in the boutique, she's also a girl out and about town who often wanders the nearby streets. "In the gallery, I'm on my feet a lot, so a great pair of shoes is both an extravagance and a practical choice," she says. "It doesn't hurt that Jimmy Choo and Ferragamo are right on the other side of the square!" We sat down with Ellis to talk about the neighborhood and get her tips on what art lovers should be collecting. Here is how our conversation went down.
Photo Credit: Eno Wine Bar
HL: Besides your store, where else do you shop and hang out in the neighborhood?
Lauren Ellis: Union Square has every major brand to offer, so the shopping is always great, but at the end of a long day, my favorite place to hang out is across the street at Eno Wine Bar. They have a great selection of small local producers, and the staff is incredibly knowledgeable and engaging. I always leave having had a great glass of wine and learning a ton!
HL: What shops do you frequent near your gallery?
LE: If I have time to kill, I love to wander the four floors of Williams Sonoma's flagship location. I'm always in the market for new kitchen inspiration.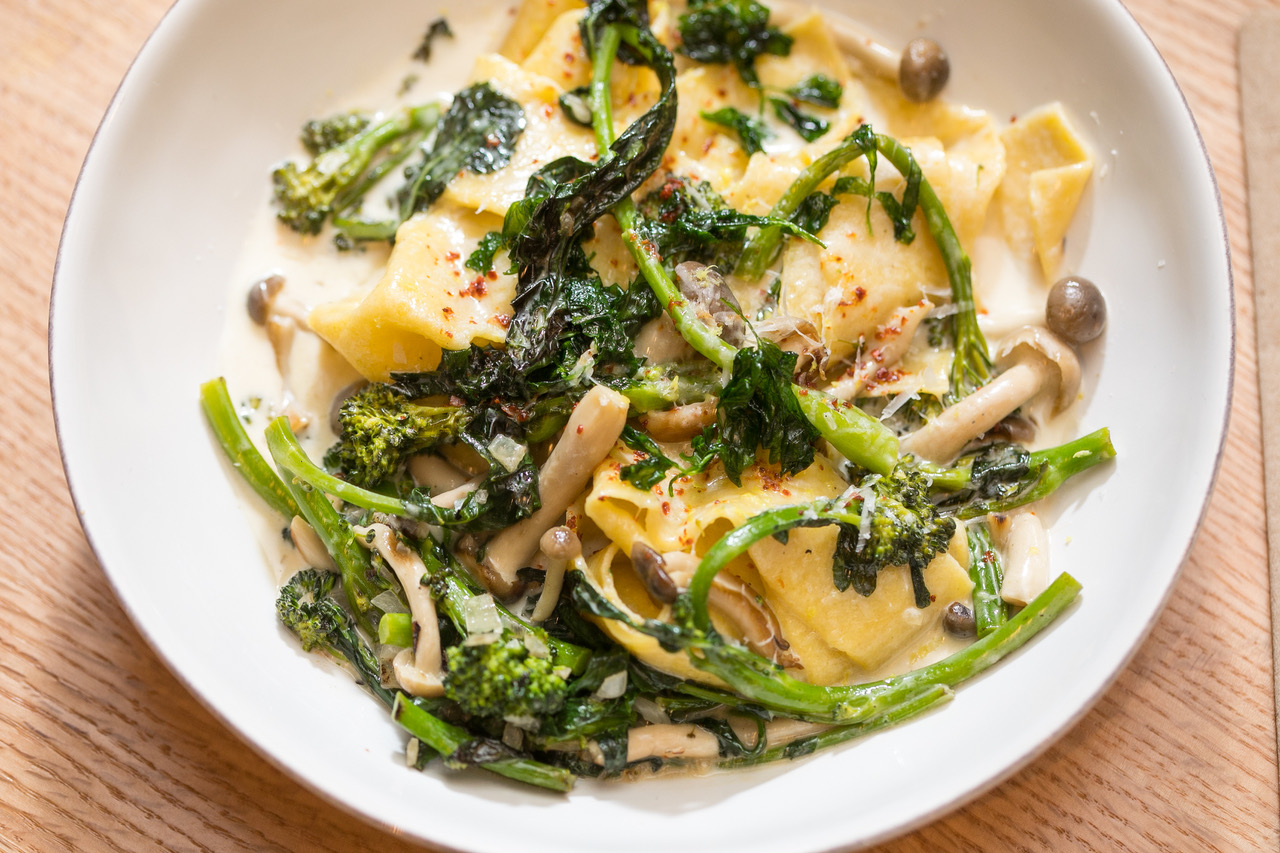 Photo Credit: Homage
HL: What are your favorite nearby restaurants?
LE: I'm usually dining in Union Square during lunch, and right now I'm enjoying Homage, tucked in an alley on Hardie Place. You can dash in for a quick bite but still expect an elegantly presented, delicious and locally sourced meal. The menu changes regularly, but the mushroom and asparagus salad Lyonnaise was memorable last time I was there.
HL: How do you spend your days off?
LE: The work week can be hectic for my family and me, so on weekends, we love to take our seven-year-old daughter to ride bikes in Golden Gate Park during Sunday Streets or visit the Presidio Picnic for some outdoor time and good food.  We live in a part of the city with great proximity to hiking in Glen Canyon and Mount Davidson, so that's always a treat.
Photo Credit: CK Contemporary
HL: Who are your favorite contemporary artists?
LE: I'm fortunate to represent some of my very favorite artists working today. The beauty of this profession is being able to support artists from all over the world who are creating exceptional work. I collect many of these artist's pieces myself and have always been partial to my large William Nichols painting. It's the centerpiece of our home.
HL: What art and design rules do you follow?
LE: I love following the design industry, and we are renovating our house after a fire so interior design is a big part of my life now, but I can't stress enough how important it is to buy art that you love, and that excites you, rather than completes a room in a certain way. There is no substitute for filling your walls with works of art that are sources of meaning and passion. You may replace your sofa in five years, but a painting that you genuinely connect with will become a part of the fabric of your life and family, and I think that's important.
Photo Credit: Mark Sandstorm
HL: What pieces from your current collection do you particularly love?
LE: Right now, I'm particularly enamored with the colored pencil drawings of Elizabeth Patterson. They are at once hyperrealistic images through rainy windows and abstracted scenes of city life. They're dynamic and beautiful, and her technical skills are unmatched. Our large-scale landscape paintings by William Nichols are always on my list of favorites as well because they are so immersive. He perfectly captures the feeling of experiencing a quiet moment in nature. Once in a home, it's like adding a window or a portal into another world.  And lastly, Chilean artist José Basso always amazes me with how calming and meditative his works can be. They stop people dead in their tracks with the way he portrays color and light, and something is transfixing about his paintings.
Photo Credit: CK Contemporary
HL: Name three artists every Bay Area collector should have in their home.
LE: I am a firm believer that art is an incredibly personal, and even intimate, choice. Every collector should strive to find the artists that excite them and speak to their sensibilities.  The joy of what I do is engaging in the process of discovering which artists those will be for each of our collectors.