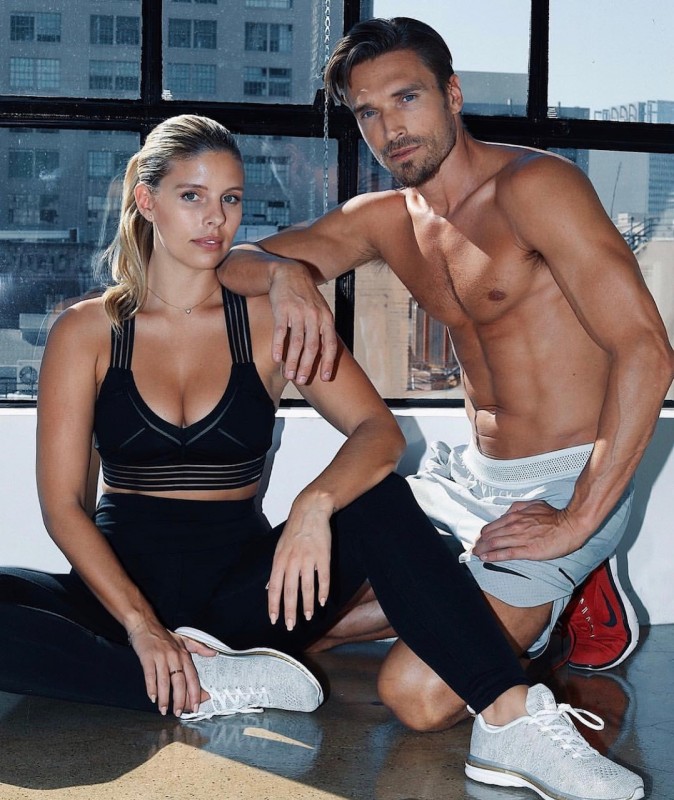 Photo Credit: Instagram: @bodybygilles
Staying fit is a challenge we all face, especially when on the go, jet-setting throughout the world from planes to hotels and airports. Aside from the challenge of eating well in these situations, actually getting to the gym and working out becomes a bigger struggle. That is, until Body by Gilles came into the picture. If you're unfamiliar with the newest digital-based workout phenomenon, Body by Gilles is a high-intensity workout plan created by fitness pro Gilles Souteyrand that incorporates no equipment or weights and challenges you solely by using your own body weight. The program is designed to be done anywhere at any time, making it easy for those traveling frequently to maintain their workout regiments—like Gilles himself, and his Instagram-famous girlfriend, Tash Oakley. Here, we chat with the expert while he's in town for the Miami Mini Retreat powered by Mini Cooper and FUNKSHION in the Miami Design District.
Photo Credit: Simon Soong
HL: So, the basis of Body by Gilles is that you can do it at any time in any place, without any equipment. How did you come up with the concept? 
GS: I've been a model for 20 years and I am always on the go, traveling and staying in hotels with no gyms or any place to train and it would drive me crazy. So, I'd improvise and find ways to use my body weight to exercise—I'd find a chair in my hotel room, or a wall, and press against it. That's when I realized that you can do so many exercises by just utilizing your body and get the same—if not better—results than using actual equipment at the gym.

Photo Credit: Simon Soong
HL: How does the program utilize your body so that it becomes even more effective than using weights and other equipment? 
GS: If you do it correctly with the right form and repetitions, it's guaranteed. I've worked on this plan for so long that I've perfected every last detail of it. Details are so important to me, and I've found that that's often missing in other generalized digital plans. I always get DMs from people asking me how much I bench press—but I practice what I preach! There are no weights or lifting involved in any of my workout routines.
Photo Credit: Instagram: @bodybygilles
HL: Tell us what your plan looks like when you receive it online. 
GS: I'll give you a workout, but then I'll break it down and explain it at the bottom of the page—almost like a key—and explain the terminology and what exactly I mean when I write out the guide so that there is no confusion. I am extremely specific because it's so important to do these exercises correctly in order to prevent injury. One of the key parts of my plan is to keep you moving the whole time, and having your body burn.
Photo Credit: Simon Soong
HL: What motivates you and how do you keep your clients motivated throughout your classes? 
GS: Fun! I think it needs to be fun. I want to share my knowledge at the same time, but also make sure people are enjoying it. I run around the class trying to motivate everyone and make sure their form is correct, and I keep them going with loud, upbeat music and keep their bodies moving the whole time without having to stop too much to keep the momentum going.
Photo Credit: Instagram: @bodybygilles
HL: How has your business changed since the rise of social media? 
GS: It's changed so much! When I was just a personal trainer in a class, I'd only have about 14-40 people in a class. Now, I can reach hundreds of thousands—or in some cases millions [via girlfriend @tashoakley 's account]. And you're able to inspire so many more people than you ever could have dreamt of. It's so amazing! I love when [Tash] and [her business partner] Devin [Brugman] post my workouts on their pages because I feel like they inspire so much body confidence to all of their followers. It shows no matter what kind of body type you have, you're able to do the workouts and tailor it toward you to see the results you want! We've gotten such great feedback from that. I don't want anyone to feel there's only one type of ideal body. Everyone struggles—skinnier people, heavier people, taller bodies, shorter bodies. Guys particularly struggle in my classes sometimes!
HL: Why is that? 
GS: Because they tend to come in over-confident. They arrive at the class thinking, "I go to the gym and lift every day, this should be easy," and they struggle. Sometimes because they're taller, and sometimes because they're not used to working their bodies at such a high-intensity for this long. It is hard for them to accept that you can have this amazing workout at home. Over-confidence is the worst way to come into a workout—you have to have a positive, open mind.
HL: What's next for you? 
GS: I want to continue the Body By Gilles programs, but make them even more tailored to the individual client and also add in meal plans within the guides to help you get the full experience and see your best results. I want to inspire as many people as possible to be happy, fit and confident!