Photo Credit: ThomasDeco/Shutterstock
On May 19, Prince Harry and Hollywood star Meghan Markle will say "I do" in front of their family, friends and, you know, the world at Windsor Castle's St. George's Chapel. Hundreds of thousands of fans are expected to flock to the Buckinghamshire town which means—should you be among the masses—you're going to want to book your hotel (and buy your fascinator) early. Here is a guide to where to stay, play, dine and drink in Windsor in advance of the biggest British to-do since Prince William married Kate Middleton in 2011.
---
STAY
Stay at the elegant Macdonald Windsor Hotel for a bird's eye view of the wedding. This elegantly-appointed hotel is just a two-minute walk from Windsor Castle—and some rooms even offer views of the castle itself (meaning, you might be able to sneak a glimpse of Markle's highly-anticipated designer dress).
The hotel, which was redeveloped to its current reincarnation in 2010, occupies one of Windsor's most iconic and much loved buildings—a former dressmaking shop owned by the Caley family which was eventually purchased by American H. Gordon Selfridge, the founder of famous London  department store, Selfridges.
The Macdonald is decorated in rich purple hues, an apt place to stay for the Royal wedding given that purple is the color of royalty. Of the property's 120 bedrooms—all of which were designed by the award-winning Amanda Rosa—we recommend booking the Feature Suite, the hotel's singular rooftop suite with an open-air balcony which offers breathtaking views of Windsor Castle and St. George's Chapel. Bonus! The room has a lovely entrance hallway, a super king-size bed fitted with Egyptian linens, heated bathroom floors and a walk-in drench shower. Its classic interiors with a contemporary edge fit perfectly with the hotel's Georgian elegance.
And, specific to the Royal wedding, the hotel has created a special food and drink menu with a Royal theme, which  includes a bespoke afternoon tea and celebratory champagne cocktails. Should you stay, make sure to check out the special Royal display cabinet in the hotel lobby with photographs of Harry and Meghan, as well as other family members, to celebrate the occasion.
The Macdonald Hotel Windsor is located at 23 High St, Windsor SL4 1LH
---
PLAY
Photo Credit: nastalapat dilokpad/Shutterstock
If you're visiting Windsor, a tour of Windsor Castle, the site of Harry and Meghan's upcoming wedding, is a must. The Castle, which has been the family home of British kings and queens for almost 1,000 years, is the oldest and largest inhabited castle in the world and is easily the most-visited tourist attraction in the United Kingdom. To this day, it is an official residence of Her Majesty The Queen (as well as about 150 other people), who can be found presiding through its hallowed halls most weekends; she also takes up official residence at the Castle for a month in the spring for Easter Court, and for a week each June, when she attends Royal Ascot (one of the leading horse racecourses in the U.K.) and the service of the Order of the Garter—the oldest order of chivalry in the world, founded by Edward III in 1348. The castle, the former home of William the Conqueror, Prince Albert, Queen Victoria and Queen Elizabeth, is used regularly for ceremonial and state occasions, including state visits from overseas monarchs and presidents (and, say, weddings).
---
DINE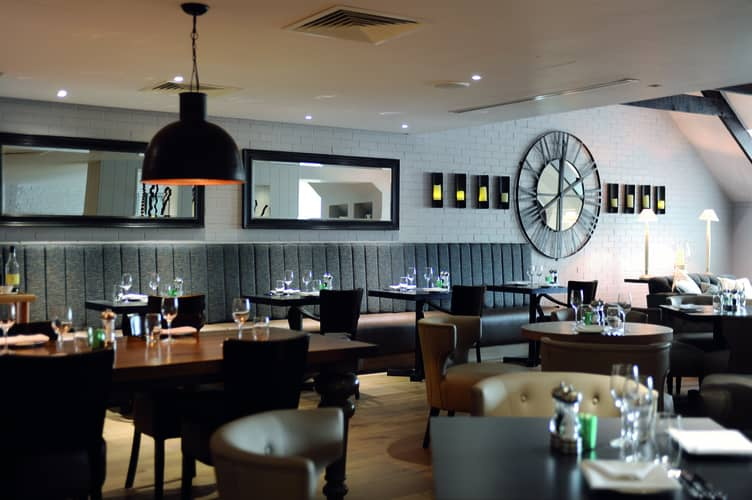 Photo Credit: Maconald Hotels
For those who want a proper British dinner, hunker down at the Scottish Steakhouse @ Caleys, which prides itself on serving up the perfectly prepared steak. Here, you'll find the best cuts of beef from Scotland's most renowned butchers,  cooked to mouth-watering satisfaction on a Josper grill. Sirloin, rib-eye, filet, pork tomahawk—you name it, Caleys has it. There's also a satisfying wine menu, freshly caught fits, staples like fish & chips and shepherd's pie and vegan options such as a superfood salad and potato gnocchi.
---
DRINK
If you want to drink something super special to commemorate the Royal wedding, head to the Queen Charlotte, an elegant establishment situated opposite Windsor Castle. The pub, which serves over 100 different gins, came up with the idea to create a celebratory libation to commemorate the Royal Wedding: Gin&'er. Made with organic lemon peel, lime flower and ginger, Gin&'er Gin, is served with either tonic and lemon or ginger ale and orange, both with a fresh ginger garnish. The first bottle created will be auctioned off and donated to a charity of Harry's choice, but if you fancy buying some yourself to cheers away on the special day, it's already available at Queen Charlotte itself.
Photo Credit: Queen Charlotte
The Queen Charlotte is located at 6 Church Ln, Windsor SL4 1PA
Subscribe to discover the best kept secrets in your city