From Las Vegas to Australia, these seven worldwide resorts are making a difference this Earth Day.
---
BARDESSONO
Photo Credit: Bardessono
Bardessono, nestled in the heart of Yountville, beautifully brings green to wine country. This stunning resort is one of only 28 LEED Platinum Certified hotels in the United States, and its eco-consciousness is in every bit of its foundation. Eco-developers built Bardessono with 100,000 square feet of salvaged wood used for doors, flooring and walls of the guest rooms, spa, restaurant and event space. It is eco-friendly in its heating and cooling practices as well: a heavy use of glass reduces the daytime requirement for electrical lighting. LED, halogen or fluorescent bulbs are used in light fixtures throughout the property to use less energy, generate less heat and last much longer. The hotel maximizes the use of solar energy by covering the roofs with the most efficient solar panels available. Additionally, indoor bathroom fixtures with low water flow have been implemented throughout the property, complete with dual flush toilets and waterless urinals.
Outside, drought-resistant landscaping prevails, serviced by an efficient drip irrigation system. All grey and black water is treated and recycled for irrigation uses by the town of Yountville. Each building's flat roof is fitted with a carefully concealed photovoltaic solar collector and reflective material. Large expanses of glass allow winter sun rays to naturally warm rooms while windows and doors open onto private patios to provide secure nature ventilation. And, last but not least, the resort holds guests accountable: it presents patrons the opportunity to be a part of the commitment to provide the most sustainable, luxurious, Napa Valley experience, by planting an herb in the onsite, certified organic culinary garden for each guest who opts out of housecleaning to support a more sustainable future.
---
PETIT ST. VINCENT
Photo Credit: Petit St. Vincent
The dreamy Petit St. Vincent, a stunning Caribbean resort on its own private island, is a fabulous option for the luxe eco enthusiast. Water is harvested from roofs and stored in cisterns around the property as a resource for irrigation. After waste-water is treated, it will be used to irrigate the resort's gardens. Virtually all byproducts from the kitchen will either be composted or fed to the on-site chickens. The resort also makes sure to eliminate plastic bottles and use refillable glass bottles, which, along with a water filtration/purification system, provides pure water without any shipping or plastic waste. It also protects the coral reefs by eliminating treated wastewater from entering the sea and harming the reefs.
---
CAVALLO POINT LODGE
Photo Credit: Kodiak_Greenwood
Just across the Golden Gate Bridge in Sausalito lies Cavallo Point Lodge, a former military fort turned hotel that's listed as a Historic District in the National Register of Historic Places. When the 45-acre Fort Baker property became a hotel in 2008, preservation of the historic structures and central sustainability were its focuses. It's earned its LEED Gold certification for significantly reduced energy demand by eliminating air conditioning in 97 percent of its rooms; for becoming the single greatest contributor of recycled waste in Sausalito, which operates on a mandated recycle-to-trash ratio (50/50); using energy efficient appliances; joining with the AH&LA "Project Planet energy conservation program" and "Good Earthkeeping" program; using water efficient faucets and showers; and eliminating Styrofoam food and beverage containers, among other initiatives.
---
ONE&ONLY WOLGAN VALLEY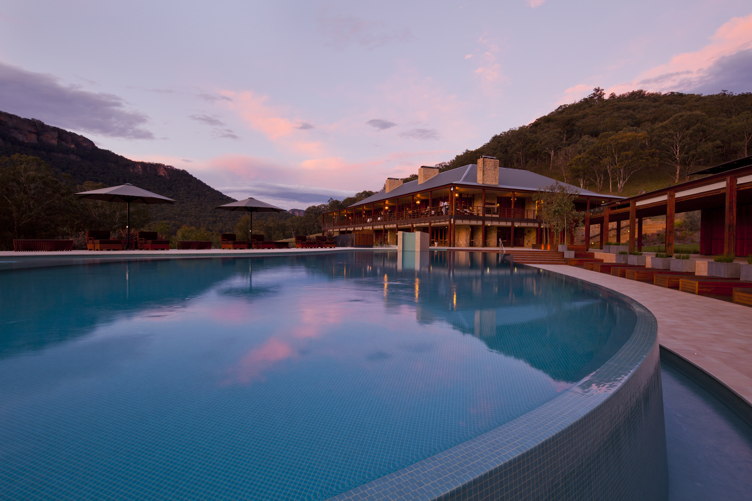 Photo Credit: OneOnly Wolgan Valley
Emirates One&Only Wolgan Valley in Australia is a groundbreaker: it was the first hotel in the world to achieve internationally accredited carbon-neutral certification by Carbon Zero. The resort was originally and specifically built according to Ecologically Sustainable Design principles, including rainwater collection, domestic water recycling, heat exchange technology and solar panel usage. To protect Australian flora and fauna, the hotel has extensively planted native plant species in key areas, to restore the valley's natural balance and beauty. Even more importantly, guests are encouraged to do their part and become actively involved in the conservation work—an even more rewarding way to feel good on vacation!
---
ARIA RESORT & CASINO
Photo Credit: SFrances/Aria
ARIA, one of the hottest hotels on the Las Vegas Strip, is LEED Gold-certified by US Green Council, making it the largest LEED Gold building in the world. Its sustainable practices are evident everywhere: each guestroom window features a shade wing to deflect heat, reducing the need for interior cooling; native and/or drought-tolerant plantings adorn landscaping; high-tech irrigation systems monitor moisture in soil, delivering water only when needed; and alerting engineers to problems; and, last but not least, the resort offers world's first fleet of stretch limos powered by clean-burning compressed natural gas (CNG).
---
ANDAZ MAUI
Photo Credit: Andaz Maui
Andaz Maui at Wailea Resort has earned its Silver LEED certification by incorporating green practices into almost every fiber of its DNA, including its use of healthy, low-emitting materials throughout.; energy systems designed to create an annual energy-cost savings of 19.9%; its on-site renewable solar thermal system;  and sustainable elements including a solar hot water system, variable speed chillers, motion sensor lighting controls, LED lighting and low flow plumbing fixtures. Even the `awili spa and salon comes into play, using whole fruit to zest for the house-made infused oils for massage and body treatments, and then the whole fruit (after being zested) goes to the bar lab for the juice experience and fresh squeezed hand-made cocktails.
---
POST RANCH INN
Photo Credit: Kodiak Greenwood
In addition to being one of the most breathtaking resorts in the world, The Post Ranch Inn in Big Sur, Calif. is also one of the greenest. Each structure on the 100-acre property features bio-structure architecture and uses natural materials of glass, wood, stone and COR-TEN steel, designed as such to make guests feel like part of nature, not just observers of it. Every environmental aspect was carefully considered: for example, the earth-sheltered guesthouses capture passive heating and cooling, and the small footprint of the stilts which support the tree houses protects the roots of the ancient redwood and oak trees. Other green initiatives include using hybrid Lexus vehicles to transport guests around the property; water is pumped onsite and bottled into renewable glass bottles; landscaping uses native plants and is drought-resistant. In addition, the grounds provide a habitat for the endangered Smith's Blue Butterfly, California Red-Legged Frog, Western Pond Turtle and California Condor.
---