Chef Christophe Schelle, Sous Chef at the Park Hyatt Paris-Vendome, has earned himself the title of Global Chef.
Photo Credit: World of HyattChristophe competed in The Good Taste Series, an annual culinary competition hosted and created by Hyatt Hotels Corporation to celebrate their internal culinary talent. This year, for the first time, The Good Taste Series brought together the six best up-and-coming chefs from three global divisions: the Americas, EAME, and the Asia Pacific regions.
Event organizer and Hyatt Regency Atlanta Executive Chef Andrew Mckeown explained, "This is our chance to showcase and celebrate talent from all of our brands across the world. Chefs meeting, collaborating and talking about their experiences with food. This year having chefs from Asia, Europe and Americas made it even more special."

Martin Pfefferkorn, Hyatt's Director of Culinary for the Americas shared that the competition embodied everything that Hyatt wants their restaurants and food to represent. "Bringing all three regions together in one place to compete and cook together means the world to the Hyatt culinary teams. Food brings people and cultures together and that is what we have accomplished with this competition. Hyatt has a very strong global food philosophy based on three pillars, one of them being community. We believe in bringing people together, heart and mind, which allows a sense of community to grow. We want our chefs and cooks to create dishes from their hearts which brings about a family atmosphere."
CHEF CONTESTANTS
Photo Credit: Grand Hyatt Playa del Carmen
Christophe competed – and won –  in the first round of the EAME competition in May, 2017. That win earned him a place at the chef's table at the Grand Hyatt Playa del Carmen in Riviera Maya Mexico, host of The Good Taste Series final round.
Also competing were Joaquin Estolano, Sous Chef from Andaz West Hollywood, Hunter Keels, Junior Sous Chef Butcher at Hyatt Regency Atlanta, Jonas Wustner, Chef de Cuisine at the Hyatt Regency Cologne, Tomoya Sugizaki, Chef de Partie at the Park Hyatt Tokyo and Jack Jia Yuebo, Western Sous Chef at the Park Hyatt Beijing. For some of the contestants, it was the first time leaving their respective countries.
Chef Jack Jia Yuebo had never been outside China before. "He had an amazing time and has made memories that will last a life-time. He was taken back by the friendliness and the beauty of Mexico. Jack traveled with his Executive chef as his translator. Chef Hunter Keels traveled outside of America for the first time, (had to go get a passport for the trip) and brought along his father to experience the week with him. Creating memories with your family is what life is all about!" said Mckeown.
Photo Credit: World of Hyatt
JUDGES
The finalists and their guests were treated to an all expense paid trip to Cancun and a stay at the Grand Hyatt Playa in Riviera Maya. There, they were able to unwind, visit the magical Mayan ruins in Tulum and swim in mystical cenotes before spending two full days prepping and cooking. In true Top Chef-style, none of the chefs knew anything about the secret ingredients they would be cooking with. Their mystery boxes contained duck, a whole red snapper, beef short ribs, tri-colored quinoa and dried Guajillo peppers.
Each chef would be using four of the five ingredients in two dishes that would be presented to judges panel including Hyatt CEO Mark Hoplamazian, Global Master Chef Helmut Franz Josef Holzer, blogger Nick Neves, food photographer Molly Tavoletti, former Top Chef contestant & Food Network Cutthroat Kitchen: All-Star winner, celebrity chef Fabio Viviani and, me, Haute Living food writer Fabiana Santana. Each chef had 10 minutes to finish, plate and present dishes to the panel. The panel judged each dish based on presentation and flavor.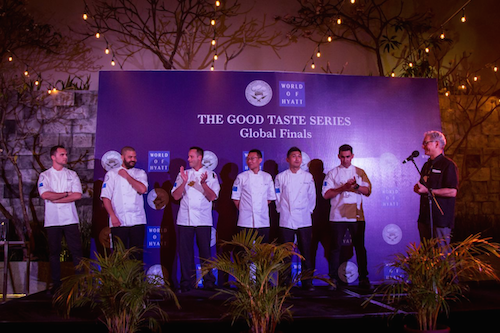 Photo Credit: World of Hyatt
This wasn't the first time the judges met the chefs, though. Throughout the week they spent time with them at various events and even got a behind the scenes look in the kitchen during their prep day. The energy in the kitchen was both exciting and intense, something that carried through to competition day.
"The kitchen was filled with excitement and was so inspiring to be there. Everyone was so into their craft and skill which was so contagious," said Silver Medal winner Chef Joaquin Estalano.

Photo Credit: World of Hyatt
In the end it was chef Chef Christophe Schelle's perfect presentation and delicate yet bold execution of ingredients that landed him the gold medal. Estalano won silver and Chef Hunter Keels came in third. After witnessing some amazing culinary skill, inspiring kitchen camaraderie and judging some impressive dishes, I can easily say each one of those chefs is a winner. 
"We are extremely proud of Chef Christophe Scheller from Park Hyatt Paris-Vendome, as well as all of our talented competitors, who proudly represented the superior culinary artistry of Hyatt hotels and resorts around the world," said Colleen Kareti, vice president, operations – Americas, Hyatt. "The Good Taste Series supports our efforts to create a world of understanding through cultural exchange and food. This annual competition, which has grown from a regional competition to a global stage, recognizes and further develops our culinary talent, while reinforcing Hyatt's commitment to food and beverage excellence."
Subscribe to discover the best kept secrets in your city