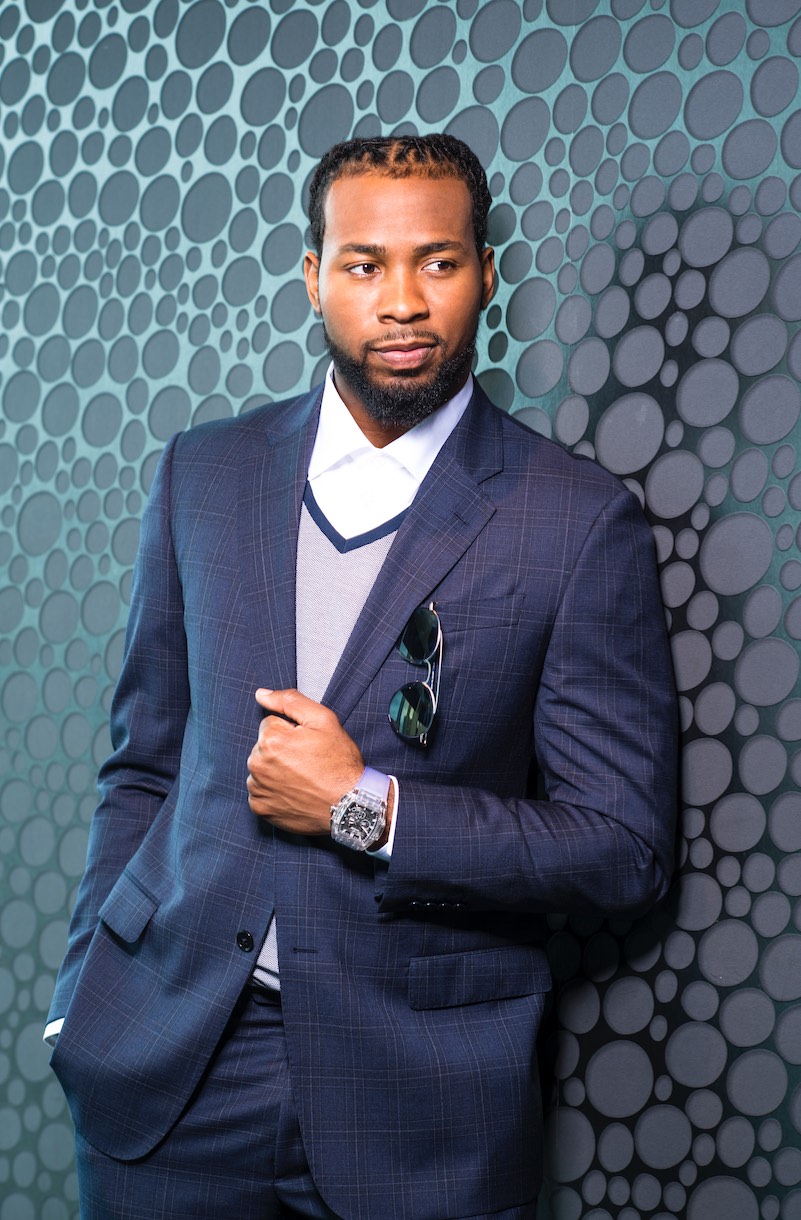 Photo Credit: Romain Maurice
Photography by Romain Maurice  •  Grooming: Angel Gabriel
Styling by Kitty Chediak & Abigail D'souza 
Shot on location at One Thousand Museum, designed by the late Dame Zaha Hadid
The cornerback position has to be one of the most challenging and aggressive on an NFL team, requiring a very fine-tuned set of skills—speed, brute strength, the ability to read plays before they happen, targeted tackling, and oh, did we mention speed? With over 300 defensive tackles over a six-year professional career, among multiple other accolades, Washington Redskins' cornerback Josh Norman, is as good as they get. It is, therefore, no surprise, that we expect to meet the "Dark Knight"—Norman's daunting on-field alter ego—onsite at the impressive One Thousand Museum project for our Haute Living cover shoot. But as he makes his way on set, it becomes apparent that the recently-turned 30-year-old is anything but daunting. He certainly carries a strong presence, but the megastar athlete comes off more so as kind-hearted and slightly reserved. But it later becomes clear that he channels his kindness in all the right places.
Coming off a disappointing season riddled with injury, Norman still brightens the room with his beaming smile, as he laughs and makes jokes on set with the crew. As we settle in to chat, he cracks open a bottle of Gatorade and begins to explain his stance on the season. "We weren't all on the same page. At times, though our intentions were all in the right place, our attention to detail was a bit skewed. But we are all trying," he begins. "I'm not going to lie. We're sitting at home, watching other teams go forward and go on. That's not what I've come here to do and that's not what I've intended for myself. A winning culture is the key to success and it's something that will come in due time. I really believe in our team." His tone shifts to a more serious one, and it becomes crystal clear that his competitive nature is a paramount part of who he is.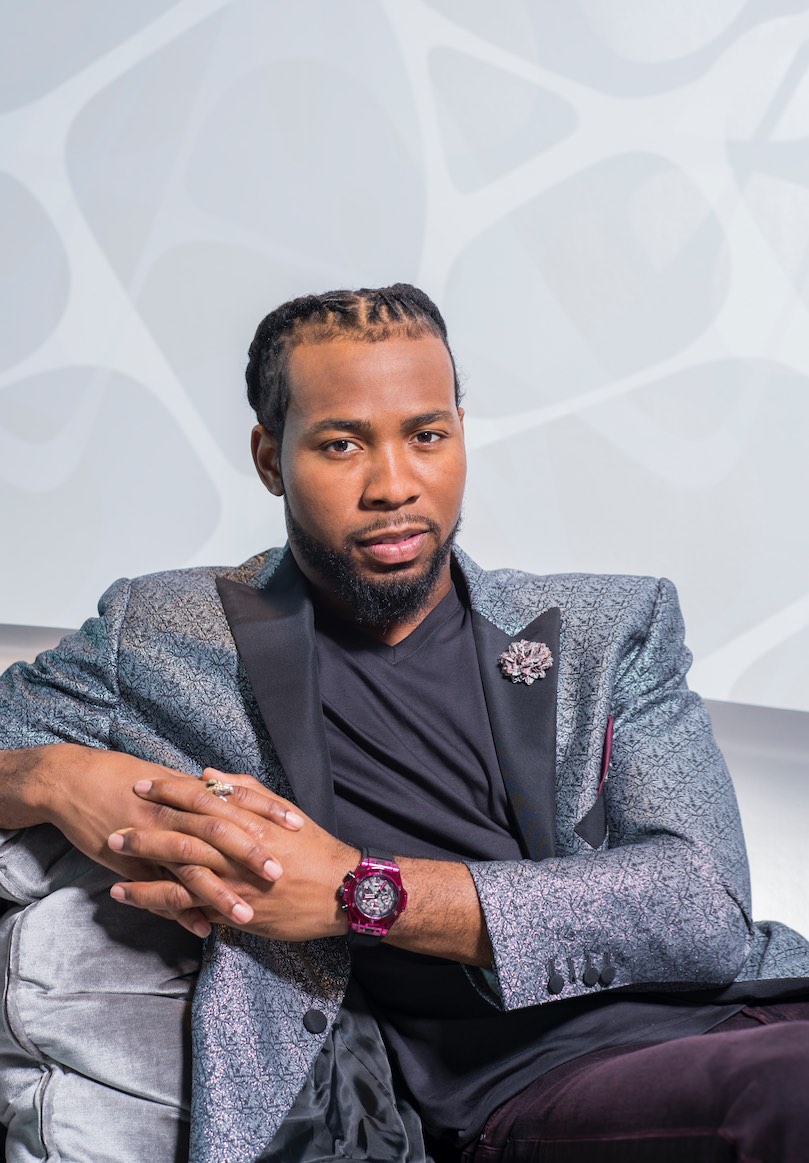 Photo Credit: Romain Maurice
Eat or be Eaten
Growing up with four brothers, that competitive spirit was never an option for Norman—it was a necessity—engrained in who he is and who he will always be. "Eat or be eaten," was his motto. Picked in the fifth round of the 2012 NFL draft by the Carolina Panthers, he worked his way up and is now the highest paid NFL cornerback in league history, with a whopping $75 million, five-year contract with the Washington Redskins. But funnily enough, with the incredible success he has seen in his professional football career, he somehow grew up as the quintessential underdog.
"I was never picked or chosen first. It was always the underdog mentality. Then I thought, 'Why am I always the underdog? Why can't I be number one? Why are all these other guys hand-selected and picked to do such big and great things, when I've put so much work into what I'm doing?'" He asks these rhetorical questions with urgency in his voice. "I used to spend a lot of energy trying to find answers to those questions. Then one of my defensive back coaches in my rookie year said to me, 'It's never been about proving that they're wrong, Josh. It's about proving that you're right.' Since then, I've always carried that thought with me. It motivates me to push harder and drive forward."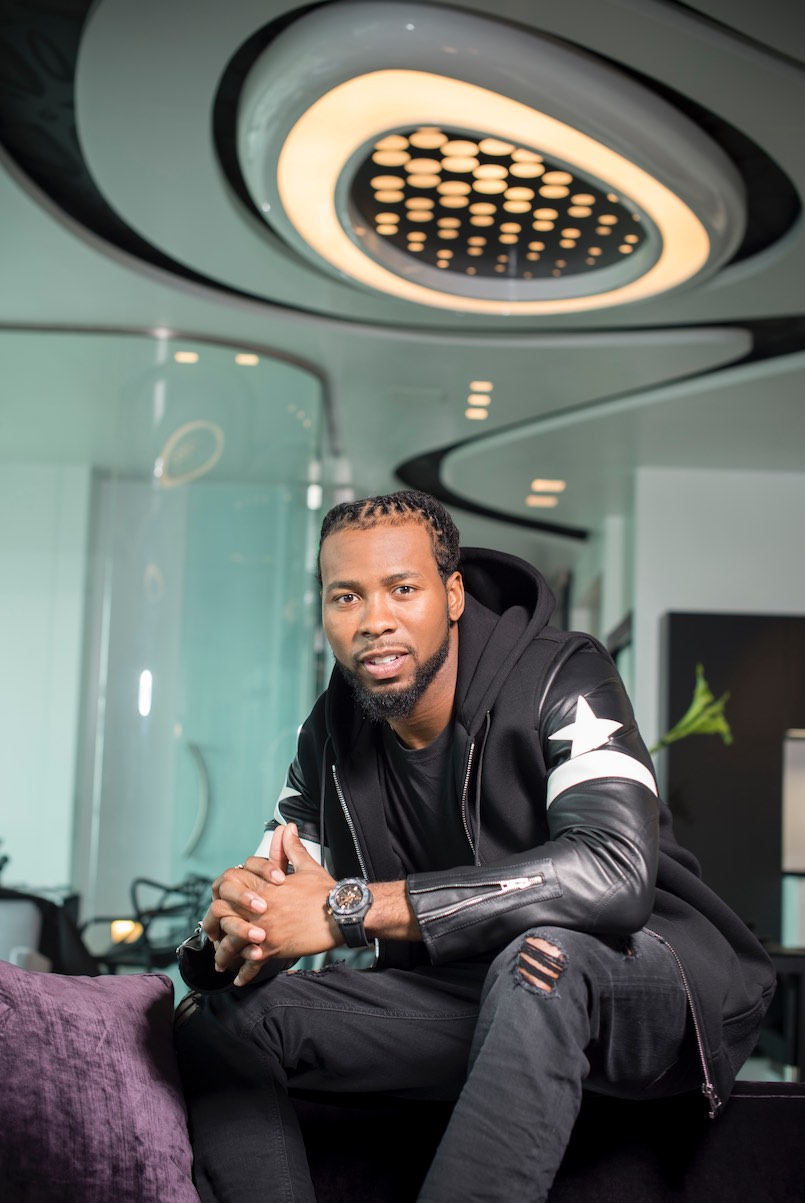 Photo Credit: Romain Maurice
The Dark Knight
And in proving that he's right, in comes the feared and revered "Dark Knight"— Norman's well known, alternate persona, who, simply put, barrels through the football field, looking for blood. When asked about this character, he laughs and responds, "You sure you want to know about him?" He continues, "That's the person that comes out to save the day. He's like that Bruce Wayne character. During the day I go about my life in a suit and tie and at night, I turn on. When I step between the white lines [of the football field], I'm a totally different person. A different animal. Like I'm the hero of the city and I have to save its people."
After he mentions the idea of being a savior more than once, it becomes abundantly apparent that heroism is an important concept to him. With his heightened awareness of his surroundings, coupled with his incredible talents, one might say that Norman does, in fact, have superpowers, some of which he uses beyond the football field. But where does that superhero notion come from? Why does Josh Norman take it upon himself to save the city and its people?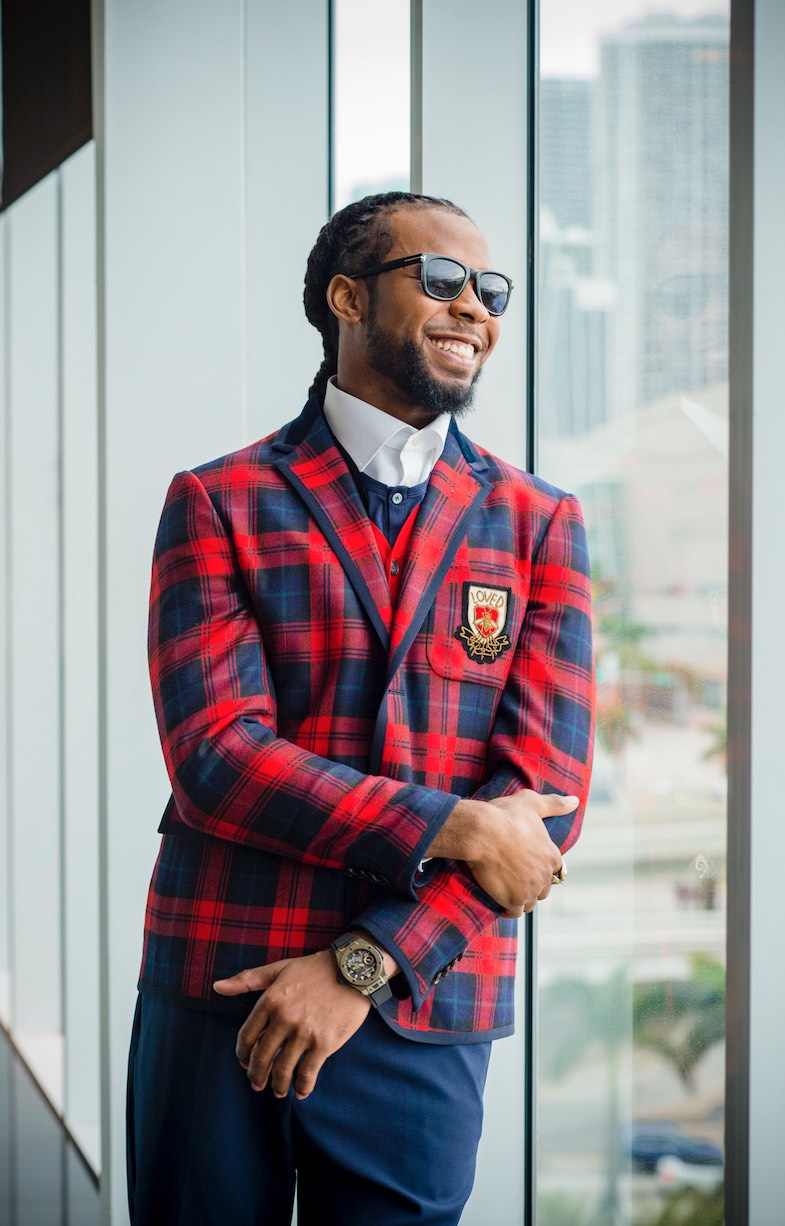 Photo Credit: Romain Maurice
Humble Beginnings
His humble beginnings offer some explanation. Norman was born and raised in Greenwood, South Carolina, where his father was a Pastor and his mother, a nurse. Growing up with a simple life yet strong roots, he makes it a point to mention that he has always been able to fall back on his three foundational pillars to keep him centered: "God, familia and football. That's the core of who I am." In addition to crediting his family for raising him and encouraging him to "just do right," he also credits the now-closed Seaboard Recreational Center in his hometown, which kept him off the streets growing up.
"When I was younger, there wasn't that much violence other than rare shootings and occasional fights to squash some disagreements. But when I left Greenwood for school and was blessed to be drafted in 2012, I learned that my hometown had the number one murder rate in South Carolina. I was stunned. I never knew it could get to that point. Then I realized what had happened. When they closed the [Seaboard Recreational Center], kids didn't know where to go. So naturally, they got into gangs and the wrong crowds. They got involved in a world where they didn't belong."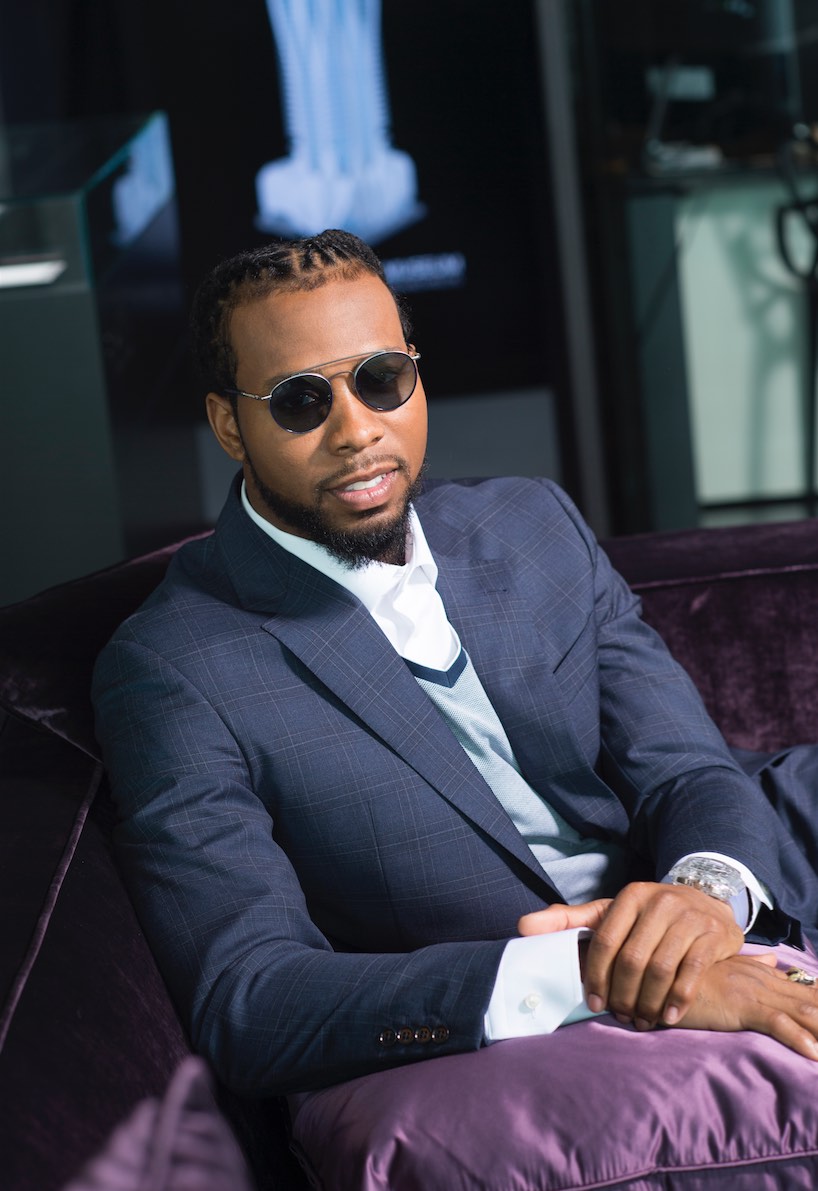 Photo Credit: Romain Maurice
Starz24
In a formidable attempt to offer others what the Seaboard Recreational Center offered to him, he focused his efforts on saving the city and its people, yet again, when he joined forces with Starz24—a foundation dedicated to encouraging less fortunate children to develop their interpersonal skills through engaging in activities and youth programs in order to keep them off the streets. With annual events, including celebrity basketball games, book bag drives and fun days, the foundation teaches children to remain hopeful, even in situations that would otherwise seem hopeless.
"People break [the kids'] spirits so much at home, telling them they're not going to be anything," he begins, with pain in his voice. "So what do they have to look forward to? What kind of a life is that? But when they come out to Starz24 events, we give them just a little bit of hope and the thought that they can achieve their aspirations. With that, a kid's day is going to turn from bad to good. Just with a little bit of courage, they can move mountains. I've seen it happen."
As he reflects on the foundation in conjunction with his other philanthropic work—for instance, his recent, $100,000 donation to the victims of Hurricane Irma in Puerto Rico, among several other efforts—it becomes evident that helping and saving the youth is of the utmost importance to him and is where he finds his life purpose. He divulges on his long-term goals and aspirations, following in his grandfather's footsteps, who he calls a "big giver."
Photo Credit: Garrett Campbell, Washington Redskins
"That's what I want to be known for. Of course, one side of me wants to be a golden jacket-wearing, Hall-of-Famer—a Super Bowl champion. But what would I rather have, if I had to choose? The philanthropic work with Starz24. I would choose that side 1000 out of 1000 times. And my ultimate goal is to build a center back home for the kids. Everything I've accomplished and done will be second to that. If I can get that done, I think that when I take this flight out, I really did something. At the end of the day, I don't care about getting gifts. I care much more about giving to other people. That is the gift."
He reflects for a moment, relishing in this selfless idea that the ability to give back is the ultimate gift that life has to offer. To witness this kind of pure and authentic generosity is truly special. It's heartwarming, it's touching, and it's certainly something that Norman doesn't take for granted. "I just ate ramen noodles the other day," he laughs. "Knowing where we come from, we always have that constant reminder of knowing where we won't return. And when you have five brothers, you stay grounded. Trust me on that one. That's my whole team. Even though I make the most money, I'm not the big dog. I still sit at the back of the car when we ride."
But the superstar football player certainly doesn't plan on taking a backseat in his career. Adopting the mindset of the eternal student, Norman continues to learn from his experiences, both bad and good, and doesn't plan to slow down anytime soon. He is solution-driven, and dead set on his and his team's hard work paying off. He lightheartedly jokes about playing FIFA with his brother—especially after a loss—to take the edge off and score the W to feel "some sort of gratification." But given his strong work ethic, sheer determination and his on-field dominance, we have a feeling that the "Dark Knight" won't be playing much FIFA in the near future.
Subscribe to discover the best kept secrets in your city