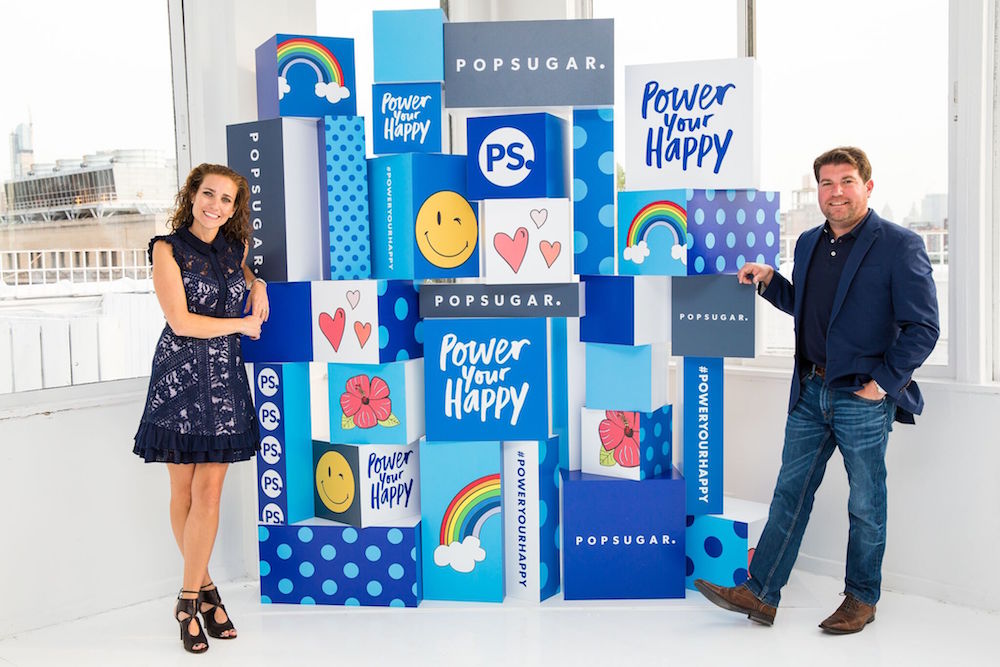 Happy Valentine's Day! To inspire you with the spirit of all things love, I reached out to my favorite Bay Area couples to find out how they keep the spark alive. Brian and Lisa Sugar, the founders of women's media empire, PopSugar, are one of the cutest couples in tech. The duo are college sweethearts who grew up together and now raise three adorable girls. At PopSugar, Brian oversees the business side of things, while Lisa, who published her first book—Power Your Happy—a year and half ago, is in charge of all things creative.
Since launching PopSugar as a celebrity-driven website, in 2006, the Sugars have built it into the largest online destination for women and they show no sign of stopping. Next up on their to-do list? Establish PopSugar as a beauty force to be reckoned with. The brand is debuting Beauty by PopSugar, a makeup line in partnership with Ulta, set to premiere later this year. Wondering how they built so much? It stems from their loving and supportive relationship. Below they explain it in their own words.
How long have you been together?
Lisa Sugar: We were dating regularly by the end of my freshman year of college, so let's say since the spring of 1995.
Where did you meet:
LS: I met Brian the first week of college in Fall of 1994. My roommate went to high school with him, so she brought the four of us over to meet him and his roommate. He wanted to meet her friends and see if any of them were cute. I won him over by beating him in FIFA soccer.
First date:
Brian Sugar: Houston's in Georgetown. It's no longer there, but the chain (now called Hillstone) is still our favorite place to eat.
When did you know you were in love?
LS: My 18th birthday, October 8, 1994. Every guy was feeding me shots. I am not a drinker, so of course this was not something I really wanted. Brian (who tells the story that he was broke) got me water. That was the kind of guy I wanted to marry.
Name the three best qualities about your partner:
LS: Infectious energy; spontaneity; ability to remain calm in emergency situations.
BS: Never holds a grudge; rarely, if ever, in a bad mood; loves life.
Favorite thing to do together?
LS: Travel.
Go-to date night spots:
LS: We love going to dinner and a movie — we've gone to Florio and then Sundance Kabuki for a movie forever! We also LOVE Cotogna for dinner.
Last romantic vacation:
LS: We don't usually take trips without our kids, but we just got back from the Bahamas, where we had the luxury of celebrating a friend's birthday and enjoying adult time. It included a lot of fun nights, dancing, gambling, and relaxing poolside.
Who is the first to apologize after a fight?
LS: Neither. We are both stubborn, but we don't really fight.
How are you celebrating Valentine's Day?
LS: We will probably be home with the kids. Brian was awesome and made reservations months ago at one of our favorite Italian restaurants, but it's our BFF's birthday dinner the night before and she wanted to eat there, too, so we will happily have family dinner instead. We've never been into the special-occasion night out — we like to be more spontaneous and make sure we find the random Wednesday to have dinner.
Check out the other couples, like Barry's Bootcamp's Erica Stenz and Tommy Stracke and Napa's Patrick and Naomi Davila, and Victor and Farah Makras, in this love-centric series.