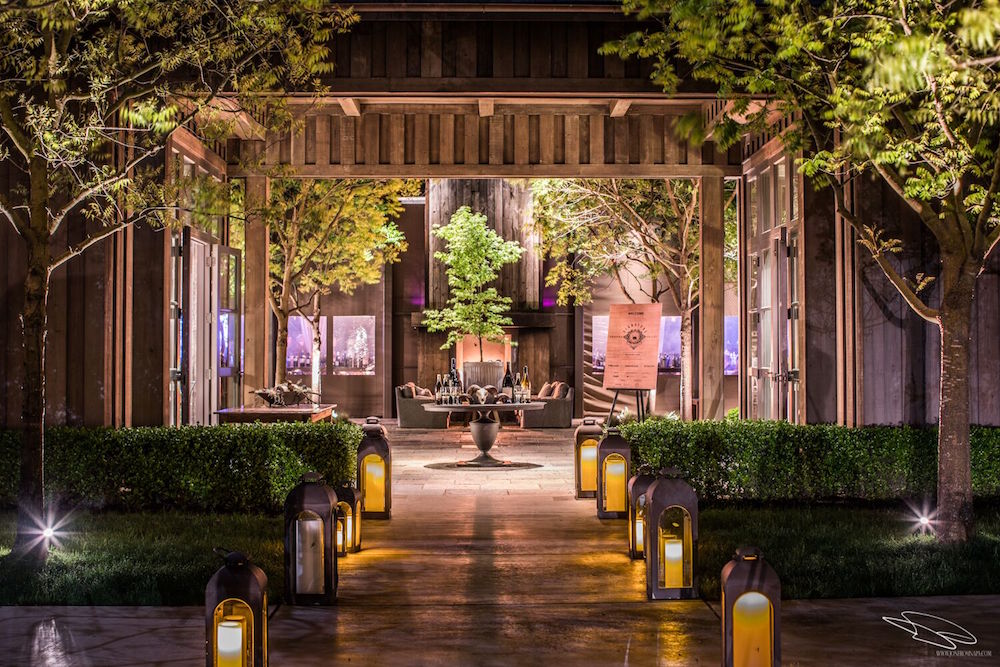 Want to spend more time in wine country in the new year? You're in luck. There are plenty of reasons to visit both Sonoma and Napa in the springtime. Below are two weekend-long extravaganzas that involve wine, food, music, and more.
Yountville Live, March 15-18, 2018
Photo Credit: Phoco
The fourth annual Yountville Live combines musical performances with world-class restaurants, award-winning chefs, and Napa Valley's best wineries. The small yet sophisticated town will host chefs and guests from all across the country at this luxury event. Chicago-based chef and the first female winner of Top Chef, Stephanie Izard, will be featured at the red carpet gala on Friday, March 16. The X Ambassadors will perform at the four-course dinner. Other participating chefs include the culinary talent behind Lucy, Bottega, Hurleys, Protea, Ottimo, and Mustards. Saturday and Sunday there is a grand tasting that will highlight the bounty of Yountville.
Photo Credit: Phoco
The four day adventure also includes headline performances by Foy Vance, and Needtobreath and intimate performances throughout the weekend by Dave Barnes, Emerson Hart, Marc Broussard, Jon McLaughlin, Logan Brill, Corey Harper, and Keelan Donovan. Health and  wellness guru from the Today Show, Joy Bauer, and Eat Travel Rock television personality, Kelly Rizzo,  will host events throughout the weekend. As for the wine? Ticket holders can expect to taste varietals from Cade, Eleven Eleven, Robert Mondavi Winery, Alpha Omega, Caymus, Cliff Lede, Hall, JCB, Stewart Cellars, and many more. Tickets are on sale now and while there are a variety of tiers, we recommend purchasing VIP weekend-long passes. You'll get to partake in an intimate and exclusive dinner on Thursday night and have access to all the culinary and musical talent.
Signature Sonoma Valley, April 6-8, 2018
Photo Credit: Jon McPherson
Learn everything there is to know about the Sonoma Valley at Signature Sonoma Valley, a three-day event at various locations in Sonoma. Each event has a unique name and focus. Icon is Friday evening's event—at this walk-around tasting at Ram's Gate Winery, guests will meet with the region's winemakers and growers who are shaping the future of Sonoma Valley wines. At Retrospective, collectors and wine aficionados will taste vintages across multiple decades from the iconic Hanzell Vineyards. Legends is an elite dinner hosted by Don and Nancy Sebastiani where vintners will share exceptional bottles from their private collections.
Photo Credit: Jon McPherson
Immersion is a sommelier-moderated tasting and discussion of wines at a yet-to-be-announced winery. The tasting is followed by a farm-to-table lunch. The winery's proprietors and winemakers will mix and mingle with the guests at this intimate event. Note that there are four different immersion to choose from. Wine + Design is a lunch that offers ticket holders the opportunity to see properties and private homes that are not open to the public. Bubbles + Brunch, the final event of the weekend on Sunday, is a brunch that pairs local seasonal cuisine with a curated range of sparkling wines from the region. We also advise getting VIP tickets so you can fully enjoy the area and all that it has to offer. Cheers!