Buying gifts for anyone is no easy task and the struggle gets even more real when your friend, family member, or significant is a wellness junkie. Finding the perfect gift that taps into their interest makes for a great surprise and overall more meaningful experience. So why not give a gift you know this person will absolutely love? We put together a comprehensive gift guide to help you navigate this exact territory.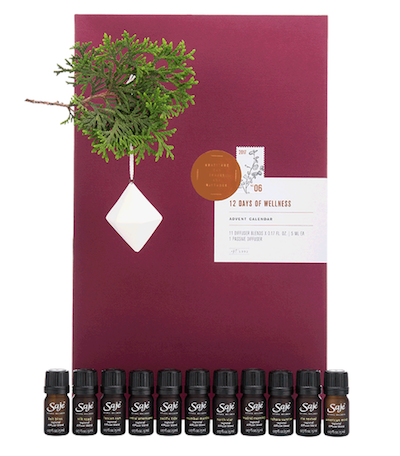 Give the gift of health and calmness with an array of items from Saje Natural Wellness. There offerings this holiday season are a sure fire way to make any fitness fanatic happy. The 12 Days of Wellness Advent Calendar is composed of 11 Diffuser blends and 1 Passive Diffuser Ornament. Each of the specialized blends were created to celebrate the connection of our diverse planet as all of the oil blends are known to grow natively in the country or respective region.
The next notable item from Saje is the Premium Pocket Farmacy. Always a top seller, this premium edition features a holiday twist and includes Saje's top five roll-on oils.
The Lights Out Diffuser Gift Set is a great way to introduce tranquility into your life. Add any of the relaxing blends mentioned above into the diffuser and immerse yourself into the deepest of sleeps.
---
For the outdoorsy type, Tern Bicycles makes it easer than ever to get outside and stay active. Whether it's commuting to or from work, exercising, running errands, or going on a family bike outing- this biking solution is the one you need in your life.
This compact and efficient bike is designed to carry two kids, a week's worth of groceries, or 395 pounds of cargo and folds down small enough to fit into a small SUV, van, or urban apartment. The most interesting factor may be that it adjusts to fit riders 4'9" to 6'4", so anyone can use it.
---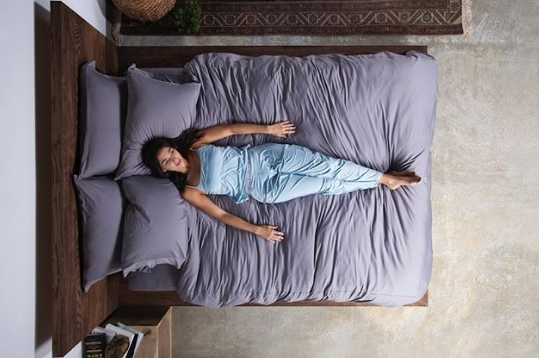 We could all use help when it comes to sleeping so why not give the gift of sleep this holiday season? SHEEX is the world's first and only provider of performance fabric bedding. Their innovative fabrics transfer body heat up to 2X more effectively than traditional cotton allowing the body to cool itself, leading to a better, deeper, and more restorative sleep.
Highlights of their collection include a sheet set (their most popular product), duvet cover, comforter, pillow and mattress pad, which is probably the most comfortably thing you will ever sleep on.
---
You've probably seen Dirty Lemon on your Instagram feed before and with good reason. These drinks make for the perfect holiday gift and come in a variety of flavors and combinations: Dirty Lemon +Collagen, Dirty Lemon +Charcoal, Dirty Lemon +Ginseng, Dirty Lemon Sleep, and Dirty Lemon Matcha. The Charcoal beverage is perfect for detoxing, The Matcha blend is great to help burn fat, and the Ginseng will re-energize your body and mind.
---
When you're working out on a consistent basis, skincare is usually a concern. Fitting a gym session into a busy schedule doesn't always allow for the skincare maintenance you can't really afford to skip out on. LUMION Skin Serum is effective yet lightweight serum that helps defend skin against signs of aging, softens fine lines, and assists in the reduction of skin irritations perfect to apply post-gym session. 
LUMION's patented technically, utilizes natural elements found in the body to create Hypochlorous acid. This acid is the exact compound found in your white blood cells and immune system that is utilized for naturally fighting infections and preventing scaring. When utilized as an application outside the human body, hypochlorous acid works in much the same way by destroying the cell membranes of harmful bacteria and toxins that reside on our skin or in our environment.
---
Find yourself sweating in your sleep or waking up with a kink in your neck? Well with Casper's innovative pillow those issues are a thing of the past. Their pillows are designed​​ to​​ stay ​​supportive,​​ cool,​​ and​​ comfortable throughout​​ the​​ night​​ regardless ​​of​​ sleeping ​​position. With​​ just ​​the​​ right ​​balance​​ of ​​squish​​ and ​​support,​​ the ​​inner​​ pillow ​​is ​​supportive,​​ while​​ the​​ outer pillow​​ adds​​ soft​​ comfort giving you the best of both worlds.
---
When the weather starts dipping in degrees, the allure of venturing outside of your home to workout starts to lose it's appeal. Wellness Weights from Technogym are a great solution for those who would prefer to workout in the comfort of their own home. These light yet effective weights are small, sleek, and stylish and can be used for a variety of different exercises. Keep them at your office desk for a quick lunch workout and then bring them home to finish your routine.
---
8fit offers you a personal trainer and nutritionist directly from your smartphone. With the ability to meet you where you are in real time, the app makes it simple to achieve healthy habits for life. The app includes tailored workout plans and fully custom meal plans catering to each users' fitness level and specific nutritional needs- yes there are vegan and vegetarian options! This healthy lifestyle companion is especially great for those who are constantly on the road or simply do not have enough time to keep themselves accountable.
---
This revolutionary tech training device is a great gift for any fitness lover at any level. Power Plate's technology operates at a neural level, triggering the human body's innate response to disruptions in stability. Every human body has a natural reaction to instability which results in the contraction our muscles in an effort to maintain our balance against instability. 
Benefits of using the Power Plate include: enhanced strength, improved balance, increased flexibility and weight loss to improve circulation, pain reduction, stress alleviation, a reduction in the appearance of cellulite and detoxification. Dynamic exercises can and should be performed on the Power Plate, with the Plate's vibrations exacerbating the level of muscle fiber recruitment and enhancing the effects of each dynamic exercise, from push-ups to lunges, from tricep presses to bicep curls.
---
For the person who's looking to firm up their rear, the DB Method is a great at home workout making it the gift that keeps on giving. Short for Dream Butt, this is a modified at-home squat machine that shifts the weight and work out of the overused quad muscle and activates the glute muscle, allows you to go into a deeper squat than possible unassisted, does not allow you to overextend your knees over your feet, helps with cellulite reduction and overall circulation, and exercises & tones your entire body and firms your rear end.
---
Any female fitness fanatic knows the struggle is real when it comes to working out and hair care. Washing your hair multiple times a week is a killer but when you are sweating on a daily basis, issues arise. If you are stuck in a position where you are washing your hair more often than you like, the NuMe Stealth Dryer is what you want drying your hair.
The Stealth Dryer's revolutionary brushless motor works alongside a re-imagined barrel that beams infrared light directly onto hair, drying evenly, quickly, and most importantly without damage. Heated air flows through the ceramic grill, activating negative ions that seal the cuticle and reduce drying time for professional-level blowouts making this chore into something you actually look forward to.
---
Give the gift of health with Ritual, a twice-daily vitamin full of the 9 essential nutrients women lack the most in their lives. These capsules are non-GMO, vegan, gluten and soy free, and do not contain synthetic fillers, sugar, nor colorants making these truly an organic product. he water-soluble nutrients (Fe, Mg, folate, B12, boron) start working right away to support your heart, nerves, and more.
Subscribe to discover the best kept secrets in your city