As we're in the midst of a new era of eating, one where healthy plant-based bites are replacing your classic cheeseburger or meat-heavy salad, we take a look at some of Miami's best spots that have jumped on the wave of this revolutionized way of preparing and serving food that is good for you and tastes good. Goodbye are the days where eating vegetarian or vegan meant giving up all of your flavorful indulgences for a bland plate of greens. These hot spots are inventing new and creative ways for the green lovers to maintain their diet while still getting in the favorite bites they love and crave. Here's a look at some of the top picks where you can find delectable vegetarian and vegan options throughout the city.
PLANT FOOD & WINE 
105 NE 24th St, Miami, FL 33137
Photo Credit: Adrian Mueller
Famed plant-based chef Matthew Kenney was the first to bring inventive vegan dishes to the city, and even more so notable, as Plant Food & Wine was the first fine-dining locale for this type of cuisine. Located in the stunning Sacred Space Miami in Wynwood, Plant Food & Wine is a haven of healthy eating and living for vegans and non-vegans alike. With a breathtaking space that makes for the perfect date night, Plant Food & Wine remains one of Miami's top dinner or lunch destinations for those seeking an elegant meal with healthy, plant-based dining options. Standouts on the menu are of course his famous Cacio e Pepe, a dairy-free vegan plate that mimics the true Italian specialty at its best, as well as the Kimchee Dumplings and the decadent, raw Zucchini Lasagna.
PLNTHOUSE 
2341 Collins Ave., Collins Avenue, Miami Beach, FL 33139
Photo Credit: plnthouse
Also referred to as the good kitchen, Plnthouse is Kenney's newest addition to the Miami dining scene, aptly located at the ecocentric 1 Hotel South Beach. Plnthouse differs from PFW in that it offers Kenney's signature plant-based cuisine in a more casual, café dining setting, as opposed to the prior's more formal atmosphere. The indoor/outdoor café, located just steps away from the 1 Hotel's lush rooftop pool, as well as the hotel's state-of-the-art fitness and spa centers, makes for the perfect place to grab a quick, healthy bite and enjoy it with unbeatable views of the ocean. Menu highlights include fresh-pressed juices, a protein-rich Cauliflower Falafel Bowl, the "One Bowl" created with brown rice, sprouted lentils, roasted broccoli crowns and massaged kale, as well as a selection of fresh smoothies and acai bowls.
CRATE 
 901 Brickell Plz Miami, FL 33130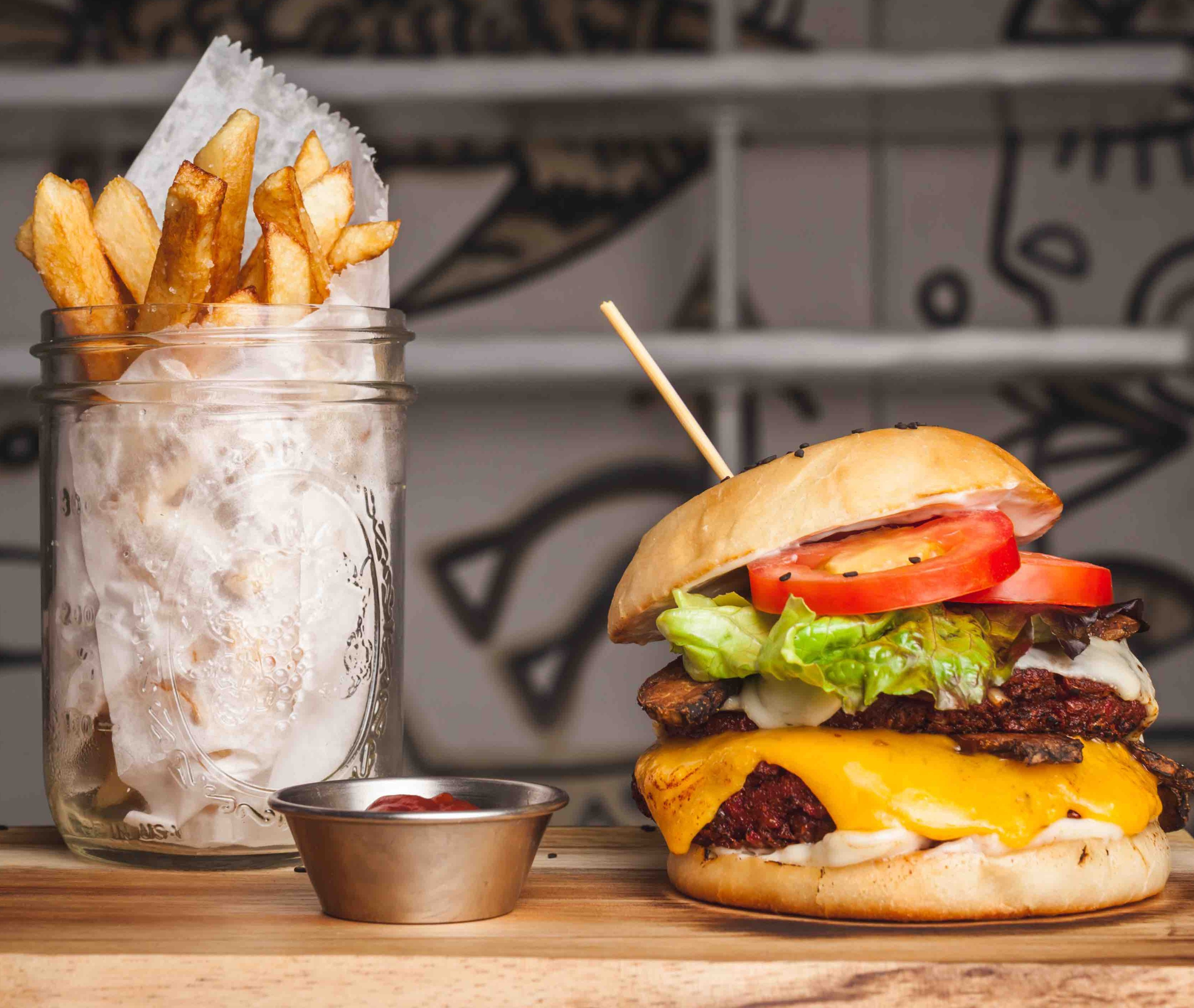 Photo Credit: CRATE Miami
For those of you looking to keep your diet but also have your share of cheat-worthy items like a cheeseburger, buffalo wings and sweet dessert pastries, fear no more—CRATE Miami, located in the heart of Brickell, has just arrived to the Miami dining scene and is offering something that the city has long been needing—vegan "junk" food. While the menu items and appearance may seem misleading from first glance, once you actually read what goes into each of these delicious dishes, you will be happily surprised. The "burger," offered in as the Classic Cheeseburger, Mushroom Swiss Burger, Hula Burger, and Double Bacon Cheeseburger (photographed above), is actually composed of Mung Bean, organic brown rice and a roasted vegetable base. For the vegetarians, cheddar cheese is an option, but if you're vegan, they offer two different choices of vegan cashew cheese options to complete your burger. Other favorites include the Buffalo "wings," made from cauliflower, the Jackfruit Asada tacos—which taste exactly like a carne asada taco, but lighter and healthier, made with coconut oil—and the Coconut Cake for dessert. Chef Christopher Baugh helms the kitchen, and uses his expertise of culinary training in Bali and California to bring to Miami a new, fresh take on healthy, casual, comfort food. As if it couldn't get any better, CRATE is also a nightlife concept, doubling as a lounge after 11 p.m., so vegans and vegetarians can rejoice, because your late-night dining prayers are now answered—you can indulge in some of the healthy menu options, guilt-free late night, all the way until 4 a.m.
TOCAYA ORGANICA
920 Lincoln Rd, Miami Beach, FL 33139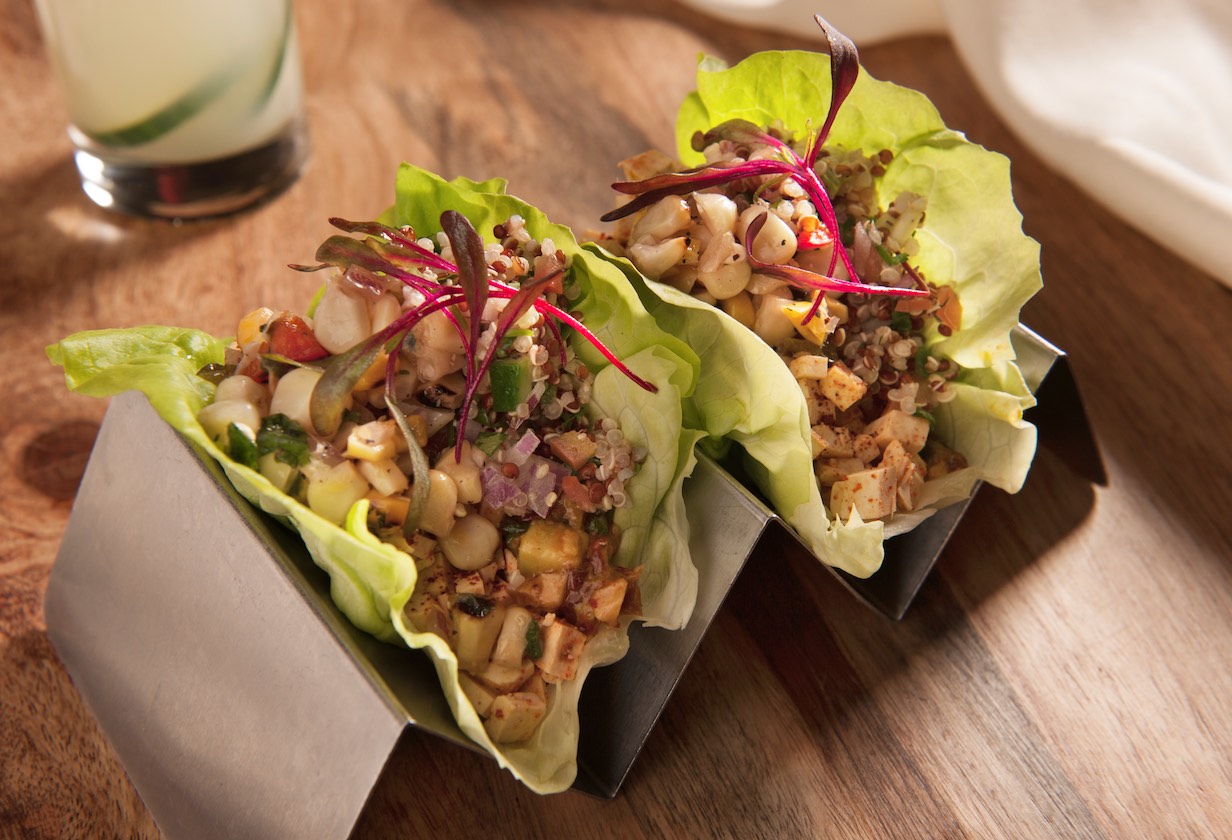 If you're craving healthy, Mexican food, Tocaya Organica is your spot. The California-based restaurant opened on Miami Beach's Lincoln Road a little less than a year ago, and ever since has been enticing health-conscious Miamians with its 100-percent organic, vegan and vegetarian-friendly Mexican menu. While there are carnivorous options on the menu, there is something for everyone, with a selection of veggie tacos to combine with an assortment of cashew cheeses. The tacos are an obvious hit, but the salads and bowls are also crowd favorites and come in a variety of vegetarian and vegan options like the Black Bean & Quinoa Bowl, Shredded Kale & Quinoa Salad, The Venice Beach and more, that can all be topped with proteins like the Vegan Picadillo or Chipotle-dusted tofu.
Other new openings, specializing in vegan cuisine (which we haven't yet checked out):
Glam Vegan 
This casual, plant-based eatery is located in Midtown Miami, serving up creative dishes like the "sausage" flatbread and spaghetti and "meatballs."
3301 NE 1st Ave Suite 103-1
Miami, FL 33137
Soul Tavern 
A new gastropub on Miami Beach specializing in plant-based comfort food and cocktails, like kambucha libations, vegan pizzas and maki rolls. 
1801 West Ave
Miami Beach, FL 33139
Subscribe to discover the best kept secrets in your city