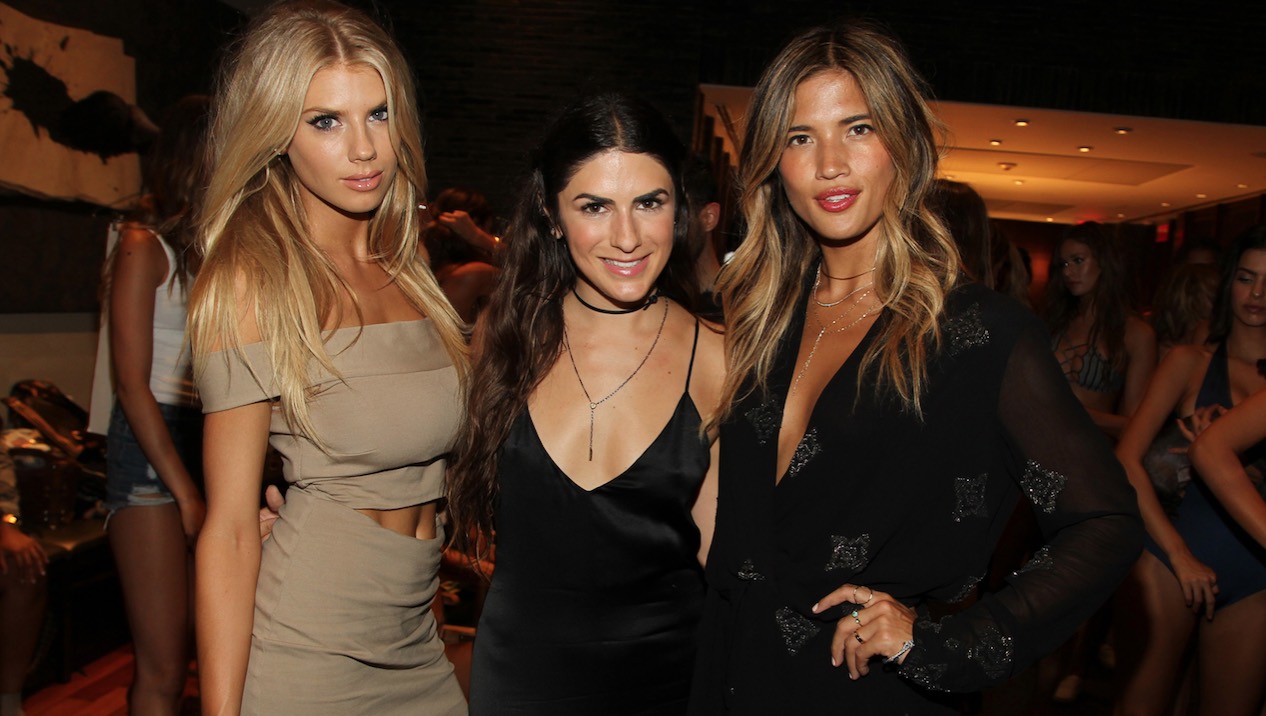 Photo Credit: David Heischrek/DHPA.com
As we enter yet another year of Miami's annual swim shows taking place from July 20th-23rd, Rachael Russell is celebrating for more than one reason. The philanthropic fashionista is entering her 7th year of hosting her flagship event, the Style Saves Swim show, this year bigger and better than ever before. With a growing following of supporters for the nonprofit foundation which combines two of her passions—fashion and philanthropy–to raise funds through fashion-focused events, providing underprivileged students with necessary items, including everything from clothing, school uniforms, shoes, school supplies, prescription eyewear and more. Most recently, the organization became an independent charity entity, now recognized as an official 501(c)3 not-for-profit charity, where as before it had been under the arm of the Miami Foundation. And finally, Russell and her team have been able to open a new 4,000-sq-foot warehouse in the heart of Wynwood that doubles as a multi-purpose space—part discount-designer store for people to shop in the front, and the back for the students to come and receive clothes. The profits generated from pieces sold at the front of the store directly benefit the students and the organization. As Russell takes on the charity world and continues to shine as a stylist and fashion influencer, Haute Living caught up with her as she preps for the annual swim show. Here's the scoop on what to expect from this year's show, what additions have been made and how she manages to do it all:
HL: As you enter the 7th year of hosting the Style Saves Swim show, how have you seen your organization grow since its inception until now?
RR: When I first started, we launched it at Soho Beach House and it was the first year that it was open, and Soho House hadn't done a fashion show, ever, on the property yet. I was the first non-member event, as well, so it was really exciting. It was super successful and we sold out, which I never expected from my first show—I didn't even think people knew us yet. But we had some really great sponsors like Moët and Neiman Marcus, as well as great models and PR, and we were able to raise $20,000 at our first event—since then, it's snowballed and picked up so much momentum. To accommodate for more space, we moved to The Setai last year and we'll be back there again this year. It's a really beautiful aesthetic and the perfect space, since we now have about 500 people and it's remained sold-out every year. So it really has taken off, which is incredible.
HL: What were some of the challenges you faced when first starting out? 
RR: The most challenging part about starting the organization and really getting everything going was two things—first, figuring out how to legally and logistically make it all work because I was a fashion stylist and an artist so trying to figure out the legalities of incorporating the business and making it a 501(c)(3) to be sure we were covered on all ends is a lot to learn when you're 23. And second, in terms of launching the charity, what no one ever told me and I didn't realize until I had already started, was that you need to learn how to be a professional event organizer and producer. I didn't realize everything that went into the backside. It's a lot of programming and planning, but as you grown and learn, it becomes second nature.
HL: Is Style Saves Swim your biggest event of the year?
RR: Oh, absolutely. It's our flagship event so it is the event in which we have the most funds raised, and we have the most energy and effort focused on this event. In terms of giving back, our Back to School event is the most significant.
Photo Credit: World Red Eye
HL: Are there any new changes or additions to the show this year that we can look forward to? 
RR: We are having it at The Setai again and we are lucky enough to have Rocky Barnes returning as a host, but we also have Paulina Vega as a host for the first time, who was the former Miss Universe. We're also super excited to be showing Alice & Oliva, since we've never had them on board before. They just opened in the Miami Design District and it's really great to support new businesses in Miami.
HL: You managed to snag Rocky Barnes as a host for the second year in a row as well as Paulina Vega. How did you manage to secure these big names?
RR: It definitely helps to bring in a crowd because names like these help legitimize the show and get people excited about it, because these girls have a big crowd behind them in the fashion industry and on social media, so it's really great. We also are able to establish personal relationships with them, so that helps us secure them for the show. We always use our network to see who knows this person or that person, and we work together to bring in great names. We've been really lucky to have the chance to get in touch with so many amazing girls who are willing to get involved. And Rocky was eager to return as we had her last year—she's so great.
HL: How have you seen the effects of Style Saves building confidence through clothes? 
RR: Well, I'm at the warehouse right now and there's some boys in here from juvenile hall and they've been living in jail and now they're here shopping for new suits because they're going for job interviews. This past week, I had 15 girls come in from foster care because they're going to do a Quinciñera shoot and had their dresses, so we invited them in and styled them and they were so happy and hugging us because they felt special. People don't realize it, but unless you win the genetic lottery and come from a good family that can help provide for you, you're left without things and there's not a huge group of organizations doing what we're doing by providing kids with these clothes. They're not just clothes, or shoes, or dresses for job interviews or prom—we're giving them new, cool stuff, so it's not like some junk that nobody wanted when they cleaned out their closet. They're getting brand-name items, like in the warehouse I have Carolina Herrera, Calvin Klein, Hugo Boss and more. We have great partners like Men's Warehouse, Gilt and Perry Ellis and they all give us support by sending their liquidated merchandise.
HL: You seem to do it all—working on Style Saves, serving as the Fashion Director for Miansai and still making time for travel. What's your secret to success for balancing everything in your life and still leaving time for fun?
RR: I make time for myself and my fiancé, so for me, I cook breakfast—like a full breakfast, with smoothies, eggs, avocado toast—and I cook dinner every day. I balance it by having time to cook for myself, eat well, exercise—I run the Venetian Bridge every night and I go to The Standard salon three or four times a week. You're not going to see me going out every night, I'm not really out and about. For me, I like working, working, working and then balancing by eating home-cooked meals and exercising and steaming by the spa.