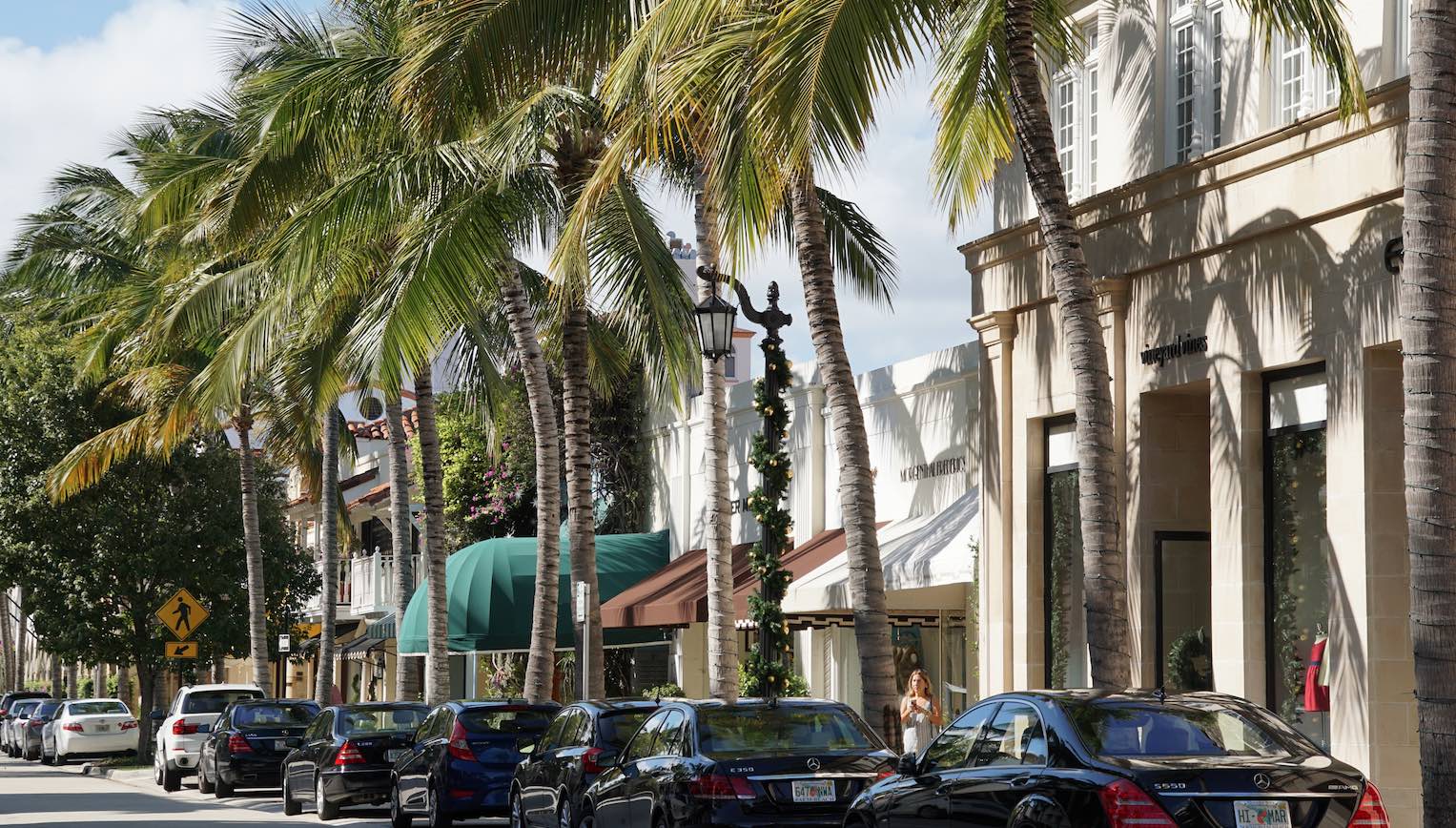 Photo Credit: Shutterstock
Sitting pretty on the 16-mile-long stretch of opulent mansions, impeccable landscaping and fountain-lined streets in Palm Beach is Worth Avenue, perhaps one of the most luxurious shopping districts in the country. Between the whitewashed stucco and red-tiled shingles of the courtyard "vias" and the Mediterranean-esque sculptures and fountains that embellish its quaint streets, Palm Beach's premier shopping destination is an enclave for style and grace with all the charm of the town's historic flair. The Avenue, which encompasses four blocks between the Atlantic Ocean and the edge of Lake Worth as well as its pedestrian side-street vias, was founded in the 1920s by Addison Mizner and boasts more than 200 shops, restaurants and galleries that epitomize the best of high-end merchandise and lavish amenities.
If you're just in town visiting, lodging is the first thing to tackle when planning a day (or week) of retail therapy—luckily, Palm Beach's most iconic resort, The Breakers, is situated nearby on more than 140 acres of privately owned beachfront property. With its Renaissance-style architecture and embellished interior, the hotel dates back to 1896 and has hosted the world's elite from the Rockefellers to Elton John. But despite its rich history, the 540 newly renovated guest rooms, pools, spas, tennis courts and other amenities are anything but outdated, thanks to the more than $250 million dollars that have gone into its upkeep in the past decade alone.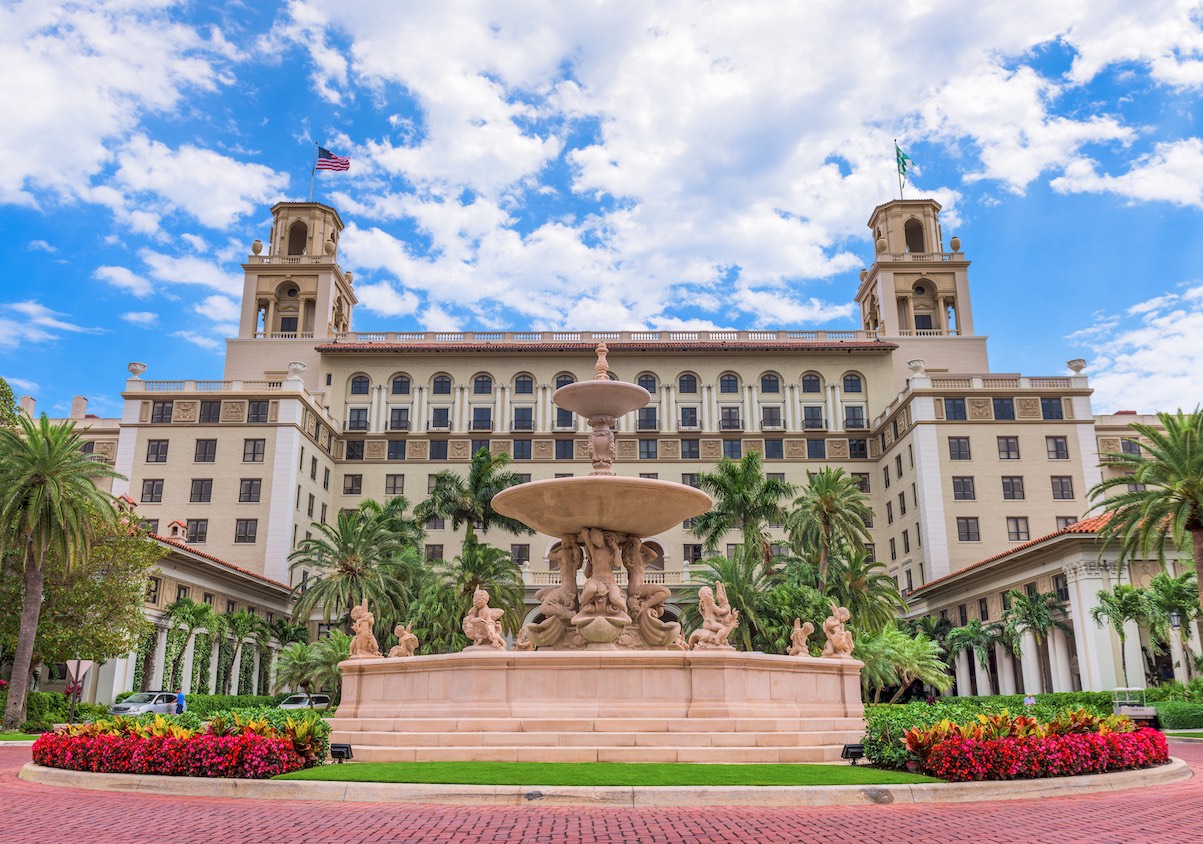 Photo Credit: Shutterstock
Once you've settled in and are ready to immerse yourself in a world of upscale boutiques and top-tier designers, Worth Avenue offers just about everything, from the major fashion houses of Chanel, Hermès and Louis Vuitton to local mainstay brands, like Trillion boutique, which specialize in the colorful cashmere sweaters and polo pastels of classic Palm Beach attire. The first store to ever open its doors on Worth Avenue in 1923, Kassatly's, still sells the finest of imported and domestic linens, designer lingerie, men and women's sweaters and specialty menswear, acting as a pinnacle of the shopping district's history. Another Palm Beach flagship on the Avenue is Stubbs & Wootton, a locally based footwear company founded by Percy Steinhart that has become an emblem of elegant Palm Beach style. The brand has gained global recognition since its launch in 1993 for its bespoke and ready-to-wear luxury slippers that are worn by everyone from townies strolling the streets to A-list celebrities posing for paparazzi.
Worth Avenue also has a major artistic flair that manifests through the variety of specialty jewelry, antique and art retailers that line its sidewalks. If you're looking for the glitz and glam of high-end bling, you can find the best of the best at venues like Cartier, Neiman Marcus and Van Cleef & Arpels, or shop for a tricked-out timepiece at Tourneau. Located at 175 Worth Ave., the store offers an extensive selection of world-famous brands like Rolex, Patek Philippe, Cartier, Baume & Mercier and Breitling as well as a bespoke collection of certified pre-owned watches that meet the highest of standards in the niche market for luxury timepieces.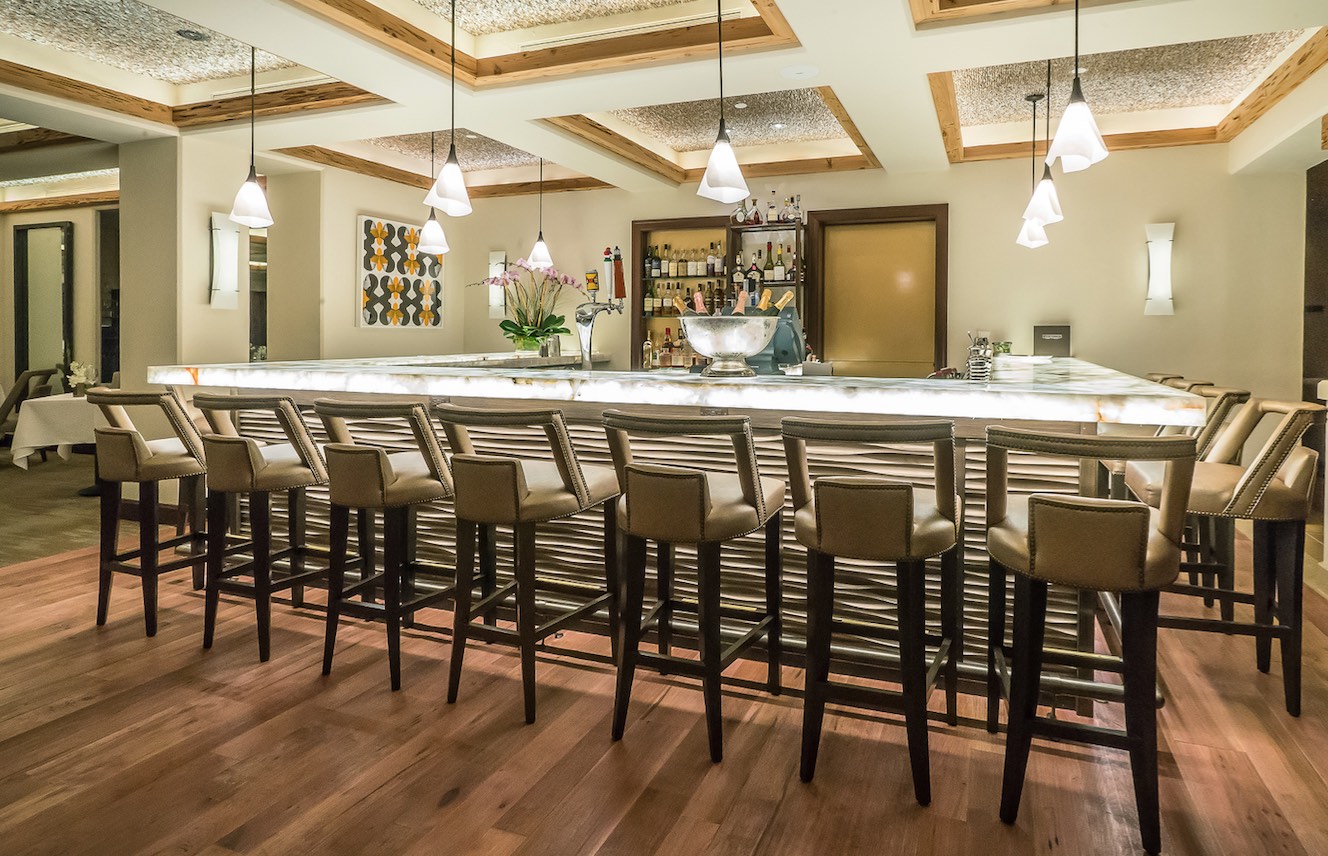 Photo Credit: Noah Fecks
A shopping trip is nothing without the accompanying refreshments, and the variety of restaurants, cafés and bars in the area ensure easy access to a gourmet meal or happy-hour cocktail to recharge after a day of retail therapy. For a light and refreshing lunch, head to the second floor of 150 Worth Ave. to try out Costa Palm Beach, a modern Mediterranean concept opened by local restaurateur Sascha Bennemann this past winter. With a light, bright and airy dining room as well as terrace seating that overlooks the courtyard, executive chef David Valencia serves up lighter dishes like hamachi with finger lime, avocado, sumac and cilantro and authentic Greek and Turkish mezze platters to more classic lunch fare like the Mediterranean Oyster Po'Boy with truffle tzatziki, pickled red onion and butter lettuce on a potato bun. Or, if you walk just a few steps away to the Brazilian Courtyard Hotel, you'll find Café Boulud, one of Palm Beach's most coveted dining destinations since its opening in 2003. The restaurant sustains the impeccable reputation of chef Daniel Boulud and his culinary empire, with a resplendent interior design featuring a sea shell-adorned ceiling and luminous back-lit bar that makes the perfect scene for sipping a craft cocktail before ordering from the French-inspired menu that spotlights fresh seafood and seasonal produce.
Whether you're just in town for a casual day of window-shopping or on a mission to shop 'til you drop at the best of the best in high-end retail, Worth Avenue is a premier destination with the whimsical charm of its European-inspired architecture and quaint historic background. The area is a must-see for tourists and native South Floridians alike, providing the crème de la crème of what luxury retail, dining and hospitality has to offer.