These people are changing the landscape of the Bay Area with their generous donations to the arts, sciences, and medicine.
Dede Wilsey
San Francisco's queen of fundraising, Dede Wilsey has quite possibly done more for the city than any other philanthropist. She helped bring in more than $200 million to rebuild the de Young Museum, she raised $3.2 million for the Immaculate Conception Academy, and she led fundraising that bankrolled $16.6 million for Grace Cathedral. She's given generously to the San Francisco Ballet and the San Francisco Opera—last year the Diane B. Wilsey Center for Opera, located on the fourth floor of the Veterans Building, opened. Yet she's worried about the "troubling" state of philanthropy in the Bay. "The new philanthropists, such as those we see in the tech industries, who have been extremely generous with their funds, are very focused on science, medicine, and global warming, which are all extremely important causes that I fully support," she told Haute Living. "However, my worry is that there may not be as much support for art and culture nowadays, which I believe unifies us across the globe. Art is a universal factor that connects history, culture, and community." She gives back because she can, and her favorite charity event is the de Youngsters night at the museum, in which children take part in a series of activities like face painting, videos, and tattoos. "I look forward to attending the de Youngsters event each year with my grandchildren and family," she said. "It is wonderful to see the museum full of young children becoming more comfortable in a museum setting." She hopes to instill the spirit of giving in her grandchildren, much in the same way that her parents taught her.
Anderson Pugash
At the age of 20, Anderson Pugash unexpectedly lost his father to pancreatic cancer. James Pugash was a well-respected real estate finance pioneer and philanthropist. It's his father's memory and spirit that inspired Pugash to launch the San Francisco Social, an annual fundraiser meant to inspire a much younger crowd to give back to the community. Pugash and his Social have raised half a million dollars for causes such as KIPP Bay Area Schools, Larkin Street Youth Services, and the Fine Arts Museums of San Francisco. However, this year Pugash is shifting gears and for the first time, the Social is not taking place. "It can be hard to look to the future when your hands are full with the present," Pugash told Haute Living. "When we were younger, the awareness aspect was really important. Many of our peers didn't know how to get involved with charity or where to donate. We wanted to expose them to causes they could be passionate about and become lifelong supporters of, and we did that really well for a decade. We are now focused on growing our financial impact. Taking a brief break from the many SFS events will enable us to do that." While Pugash has yet to announce the Social's next chapter, he has established himself as one of the city's most notable young philanthropists—and is someone we're keeping an eye on. In the meantime, he can be found at one of his bar-restaurants (The Dorian and Palm House) or electronic music venues (Audio and Bergerac).
Maria Manetti Shrem and Jan Shrem
Photo Credit: Drew Altizer
Maria Manetti Shrem credits her mentor, the late Margrit Mondavi, for encouraging her to become a patron of the arts. In the four years that she and husband Jan Shrem, the founder of Clos Pegase winery, have been married they have given $3 million to the San Francisco Opera and $1.5 million to KQED. But it is their $10 million donation to UC Davis that has people talking. The Shrems have generously funded a new contemporary art museum: the Manetti Shrem Museum, which opens to the public on November 14. Its design, a futuristic structure designed by SF-based Bohlin Cywinski Jackson in collaboration with SO-IL of New York, is making waves in the architectural world. "The museum is itself a piece of art," Manetti Shrem told Haute Living. "I carry a picture of it with me everywhere I go. When I show it to my friends, they're awed." The museum's art collection includes modern pieces by Manuel Neri, Ralph Johnson, and Wayne Thiebaud. "Jan and I sincerely believe that people discover themselves through art. That is what we want for students who visit the Manetti Shrem Museum. That is our dream," she said. "Our museum will benefit other academic disciplines. It incorporates classroom space, so even those who study law or medicine can take courses here and expand their minds."
Marc Benioff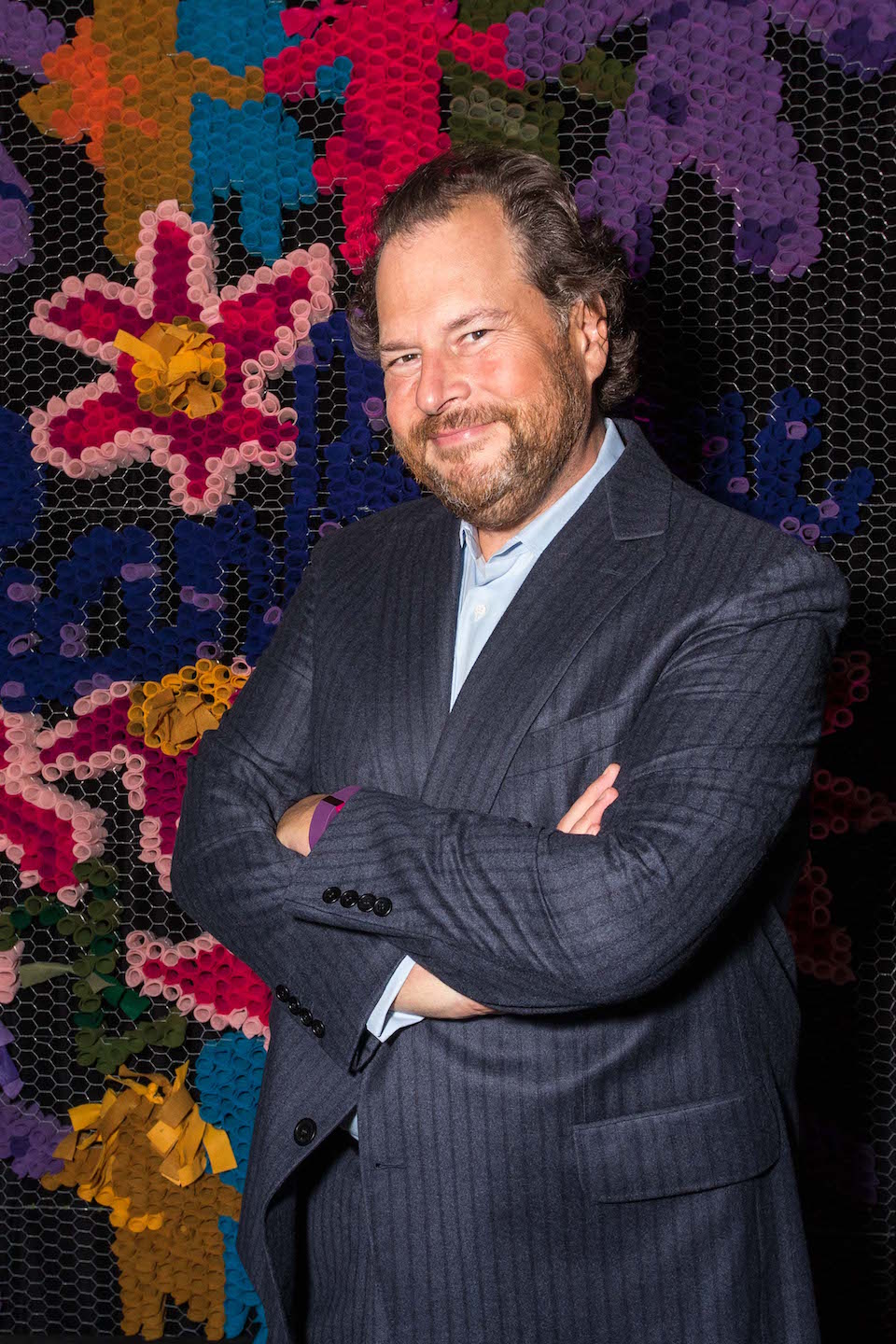 Photo Credit: Drew Altizer
Although he's known throughout the world as the innovative founder of Salesforce, in the Bay Area, Marc Benioff is known to be a medical benefactor and his company has said it's committed to donating 1% of equity, 1% of product, and 1% of employee hours to charity. Along with his wife, Lynne, Benioff donated $100 million to fund the new UCSF Medical Center at Mission Bay. Another $100 million went to the children's hospital in Oakland, which was renamed the UCSF Benioff Children's Hospital. In September, he announced a $20 million gift to USC to help build a new cancer research center.
Mark and Priscilla Zuckerberg
Photo Credit: Drew Altizer
Mark and Priscilla Zuckerberg, Silicon Valley's most powerful couple, have pledged to give away half of their wealth during their lifetime. Among other donations, they have given more than $97 million to the Silicon Valley Community Foundation, $120 million to improve education for underserved families in the Bay Area, $25 million to the Centers for Disease Control Foundation, and $75 million to the San Francisco General Hospital Foundation. In September, the Facebook founder and his wife made waves when they announced a $3 billion investment over the next decade that will go toward preventing, curing, and managing all diseases by the end of 2099.
Laura Arrillaga-Andreessen
Photo Credit: Drew Altizer
Philanthropy is in Laura Arrillaga-Andreessen's blood. She's the daughter of noted Palo Alto philanthropists, Frances C. Arrillaga and John Arrillaga Sr. When the CEOs of tech companies such as Facebook and Instagram need to figure out where to focus their philanthropic efforts, they ask Arrillaga Andreessen for advice. She's the founder of the Stanford Center on Philanthropy and Civil Society, and she teaches four courses on philanthropy at the university. She's the author of the New York Times bestseller, Giving 2.0: Transform Your Giving and Our World and the creator of a namesake foundation, an organization that seeks to inspire, educate, and empower people to give back.   
Jillian Manus
Photo Credit: Drew Altizer
A major venture capitalist, Jillian Manus was the victim of domestic abuse in her twenties. While recovering from the trauma, she became an advocate for domestic abuse survivors. Today, she is one of the area's leading philanthropists with a focus on women's and children's services, health, and education. She serves on countless boards, from Women in the Senate and House to the California Museum (formerly the California Museum for Women, History and the Arts). Manus is also known for her extravagant parties. Last February, she opened her massive Atherton estate to host the largest annual fundraiser during the Super Bowl—Big Game Big Give—which raised $1 million for the Stanford Cancer Institute, the Four Rings Montana Family Foundation, The Giving Back Fund, and the Do It For The Love Foundation.
The Fisher Family
Photo Credit: Drew Altizer
Doris Fisher and her late husband, Donald, are known for two things: cofounding The Gap clothing stores and amassing one of the world's largest private art collections. The Fishers established a historic partnership with the San Francisco Museum of Modern Art that allows their 1,100 works by 185 artists to be displayed alongside the museum's collection for the next 100 years. In addition, their namesake fund has given more than $70 million to Teach for America, a national teacher recruitment program that tries to attract college graduates to the classroom, and KIPP, which seeks to prepare students in underserved areas for college. Their son, Robert, and his wife, Elizabeth "Randi" Fisher, have cofounded the Pisces Foundation, an organization that gives to environmental causes. Robert's brother, William Fisher, and his wife, Sakurako, donate to Stanford, the Exploratorium, and the Headlands Center for the Arts. All family members have served as chairs of various boards, such as Conservation International (Robert), Stanford's School of Business Advisory Council (William), the Smithsonian (Sakurako), and the
California Academy of Sciences (Randi).
Daniel Lurie
Photo Credit: Drew Altizer
Daniel Lurie is the founder of the Tipping Point Community, which galvanizes the efforts of 45 nonprofits, each working to fight poverty and strengthen underserved communities in the Bay Area. Over the course of the foundation's 11-year history, 600,000 people in need have been helped and $100 million has been raised for housing, health, education, and employment. Lurie's organization hosts one of the area's most popular annual fundraisers—the Tipping Point Benefit. The 10th annual fundraiser in May 2016, raised $13.3 million in just a few hours. Among other achievements, Lurie also served as chairman of the Super Bowl 50 Host Committee.
Noosheen Hashemi
Photo Credit: Drew Altizer
As the creator of the Hand Foundation, Noosheen Hashemi is an outspoken advocate for women's rights and children who are victims of sexual abuse. She's a business leader, angel investor, and respected figure in Silicon Valley. Hashemi's organization is dedicated to building better communities. The Hand Foundation does this by investing in social causes and in individuals who are changing the world, by advising social entrepreneurs how to give back, and by broadcasting the great work of the people and projects they support.
Subscribe to discover the best kept secrets in your city