Patrick Dempsey is a man who has built his career around playing Prince Charming personified. In every way possible, he has become the living and breathing embodiment of the almost-attainable, ever-so-perfect man. So imagine our surprise when the guy who was referred to as 'McDreamy' for the better part of his career strides onto our Malibu shoot looking like he's stepped off the cover of a romance novel, saying, "I don't think there's [such] a thing as happily ever after."
Before you go all, "That's crazy talk!" let's pause a moment and remember that Patrick Dempsey is not, as much as you'd like him to be, the characters he plays. He isn't Robert, the cynical divorce lawyer who falls under the spell of Amy Adams' Princess Giselle in Enchanted; nor is he Andrew Hennings, the gorgeous and established son of the New York mayor and obvious romantic choice for Reese Witherspoon's Melanie Carmichael in Sweet Home Alabama; he certainly isn't Dr. Derek 'McDreamy' Shepherd, Meredith Grey's (Ellen Pompeo) one-and-only on Grey's Anatomy; and neither is he Jack Qwant, the latest member of Bridget Jones's (Renee Zellweger) love triangle in the upcoming film, Bridget Jones's Baby.
That said, give the guy a moment to clarify before you jump down his throat, m'kay? "I don't think it's that perfect," he continues. "You need the ebb and flow of life. You need the good days along with the bad days in order to experience something and stay even-keeled."
Despite his refusal to believe in a quintessential fairytale ending, perhaps there's more Prince Charming to Dempsey than he thinks: his previous statement sounds exactly like something Jack Qwant would say.
There's more than a few similarities between Dempsey and his upcoming silver screen character. Both men are quite Zen in their approaches to life, pragmatic about their paths, refuse to shy away from difficult situations, and have really good hair.
Jack's particular predicament is the plotline of Bridget Jones's Baby. (Warning: a few plot spoilers may be revealed here.) We pick up with the beloved Bridget Jones—a zany, calorie-counting, chain-smoking singleton—fifteen years a er 2001's international box office hit, Bridget Jones's Diary. She is older and wiser, finally thin and now a serious news producer, but little else has changed in her life. When she decides to join a friend for a weekend outing, Bridget finds herself behaving like a twenty-something at a Coachella-like music festival—which is where we meet Jack.
Viewers will discover the truth about Dempsey's character at the same time Bridget does. He isn't just a ridiculously good-looking guy at the event; he's sleeping in a designer yurt because his company is sponsoring it. Jack is the ultimate catch: he's not only a billionaire tech entrepreneur who has created an algorithm for online daters, but also philanthropic.
Not that this matters to Bridget, who sneaks out the morning after her booze-induced night of sexual empowerment and goes off on her merry way. But, as with any good rom-com, there's a twist: she soon discovers she's pregnant. And no, Jack isn't the only possible baby daddy. You see, she has also recently slept with her estranged ex, Mark Darcy (Colin Firth). Shit hits the fan when Bridget, who hadn't gotten around to telling either guy about their 50/50 father status, is forced to come clean.
For the record, we've found another similarity between Dempsey and his character: both happen to have enviable composure. Stepping into an existing lm family as the new guy, effectively replacing the rakish and charming Hugh Grant, might have been daunting if it wasn't for the welcoming crew and cast—Zellweger, Firth, Bridget's besties Shazza (Sally Phillips), Jude (Shirley Henderson) and Tom (James Callis), and her ever-entertaining parents Pamela (Gemma Jones) and Colin (Jim Broadbent) are all back for round three—as well as the exceptionally funny writing.
"The script was offered to me and I really liked it. I was pleasantly surprised; I didn't really know what to expect, but I had a good time," Dempsey enthuses, noting that Zellweger was also a big part of the enjoyment. "She's great—really easy to work with and fun."
In fact, he commends her decision to take a six-year hiatus from Hollywood. "I think that's always good, to take a step back, take a look around and live life." He notes, "Everybody was very nervous going into [the movie] because there was still a lot of work to be done on the script and it had been a number of years since the last one [Bridget Jones: The Edge of Reason was released in 2004]. But, once we started getting into those first few weeks—I'd say about the third week—everybody started to relax and say, 'OK, we've got something here that feels good.'"
It was a collaborative effort, for sure. Helen Fielding, the tour de force author of the three Bridget Jones novels, as well as Dirty Grandpa director Dan Mazer and actress Emma Thompson (who also hilariously plays Bridget's deadpan, no-B.S. OBGYN) co-wrote the script, while Sharon Maguire, who helmed the original Bridget Jones's Diary, directed.
Alas, for those expecting to see a brawl between Mark and Jack (à la the infamous snowfall fight scene between Darcy and Grant's Daniel Cleaver in the first film) when the Universal Pictures release hits theaters on September 16, you're S.O.L. "That's the big question," Dempsey teases, before revealing, "We don't do that!"
And we're back to Prince Charming—this guy is a lover, not a fighter.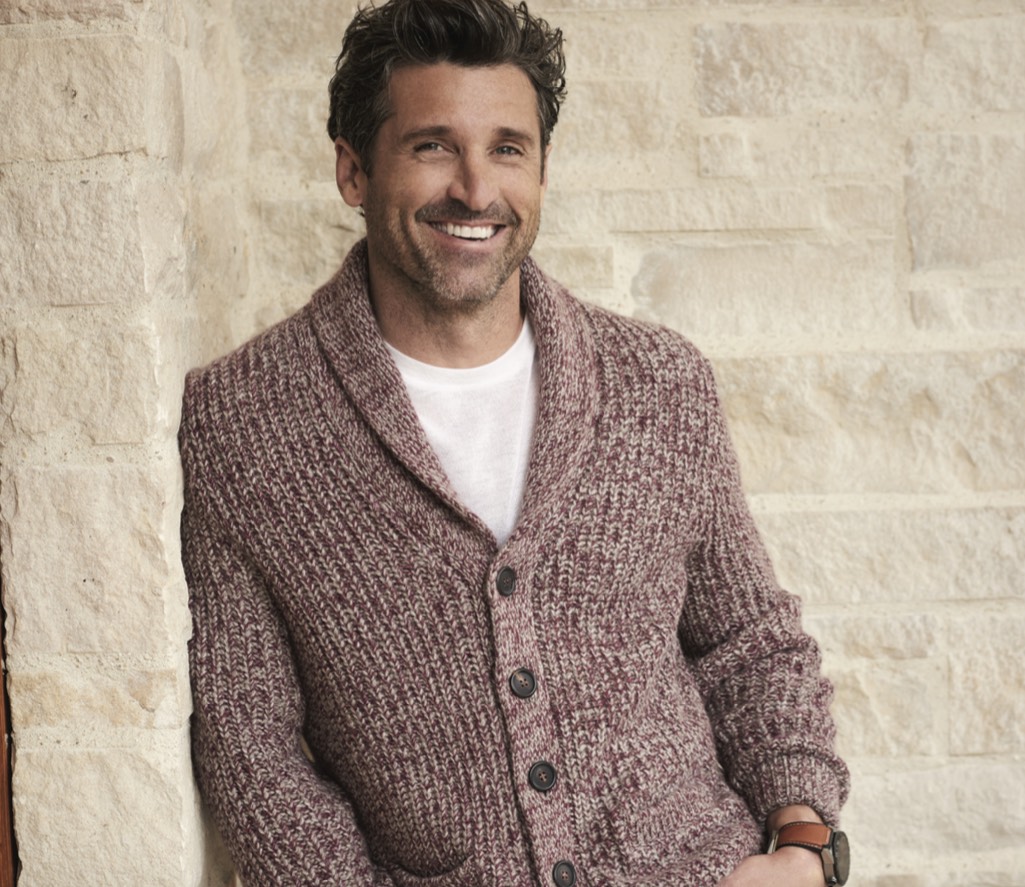 IDLING IN NEUTRAL
2016 has been a curiously liberating year for the artist formerly known as McDreamy. At the age of 50, a er spending a decade playing Derek Shepherd on Shonda Rhimes' hit ABC series, he's finally free to do exactly as he pleases.
"When you're on a long-running show, you're pulling the same beats over and over again. It's very hard to [make] new discoveries the longer you're there so, when you put yourself in a [different] situation, it's much more stimulating," he explains of his Grey's days, which abruptly—for fans, at least—came to a close in 2015 after a decade. He adds, "It was ten years of never being in control of my own schedule."
Nor was he in control of his character's life or dramatic death by car crash—poetic injustice for a man whose main interest in life is race car driving. "I think you're hired as a performer. You're not the producer, you're not directing or any of that. You're there to execute what the creators have wanted you to do, and that's your job," he shares. "That was great for a very long time, and it's given me an incredible platform and I'm forever grateful for that, but then I was like, 'Okay, I want to challenge myself a bit more.'"
Via his company, Shifting Gears Entertainment, Dempsey is putting himself back in the drivers seat—and taking control of his career as a producer, director and actor. He currently has more than ten projects in development, all of which he truly believes in.
One of them includes The Art of Racing in the Rain, a Universal Pictures film that, for Dempsey, is familiar territory: it revolves around a dog named Enzo who recalls the life lessons he's learned from his race car driving owner, Denny.
Then there's his passion project, The Limit, a collaboration between Sundance TV and AMC that is set in the late 1950s and depicts the early days of a Formula One racing league. Another is Micronesian Blues, a crime thriller series for Cinemax based on the true story of a former marine turned Los Angeles beat cop who accepts a teaching job in the paradise of Micronesia, seeking peace, only to find himself amidst a barrage of criminals, from gangsters to crooked CIA agents.
The series appearing on cable is telling. "I don't know if I'd go back to network television to do 24 episodes a year," he muses. "You just don't have a life, and I've done that. I would much rather do a show that's ten episodes, be done, and then go back. You can never say never, but I think, for right now, at this point in my life, I have no desire to return to that kind of intensity."
At the moment, he's simply relishing steering his own career, taking on projects that excite or intrigue him. "This year has really been about acquiring material; it's been a really good development period," he notes, adding that—for the first time in a long time— he's looking forward to what comes next.
Though it's relatively new ground to cover for a man who has been acting the better part of his life (his first film was the 1985 romantic dramedy Heaven Help Us), he finds this independence exhilarating. "Being in control of all development aspects [is thrilling to me]," he says. "I like to challenge myself. I like to put myself in a place where I'm uncomfortable—in a good way—where it forces me outside my comfort zone. I'm constantly looking to improve myself."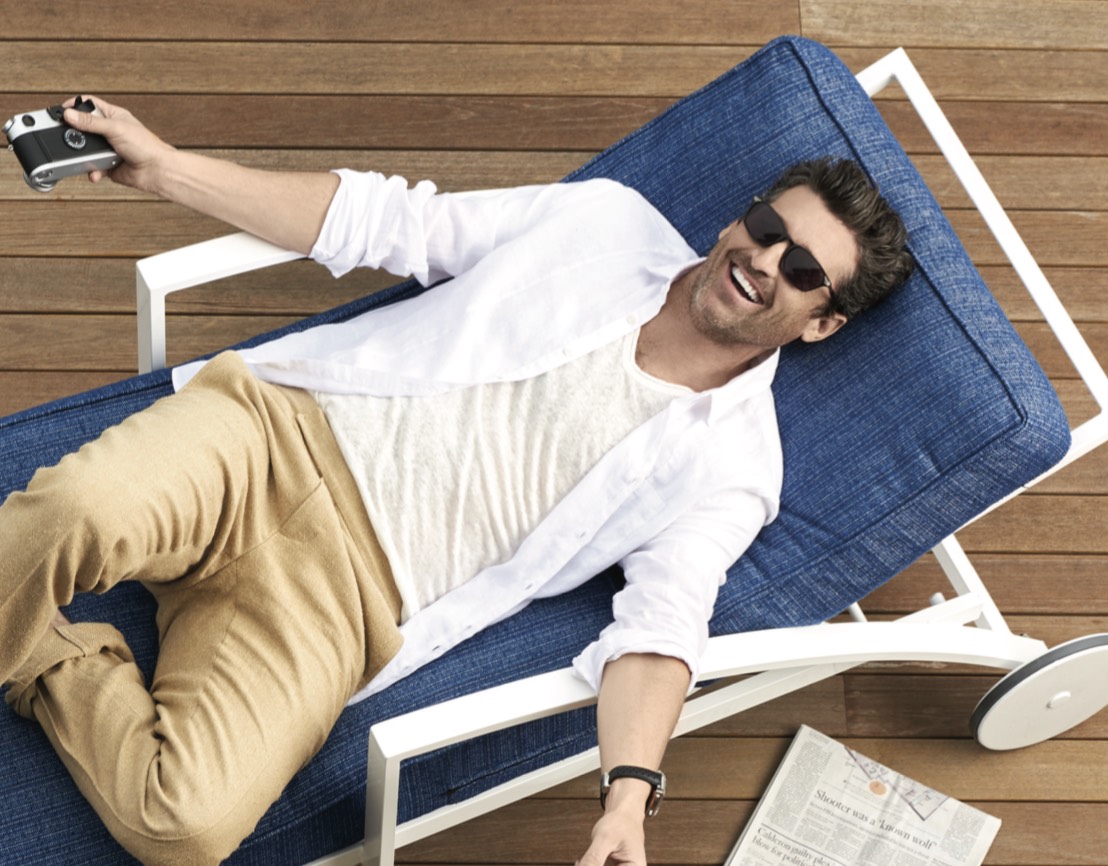 SHIFTING INTO HIGH GEAR
Earlier this year, on January 13, Dempsey hit the big 5-0. Did he cry about it? Hardly. With so many positive changes in his life, he embraces the age like one of his beloved turtleneck sweaters… both of which he wears extremely well. "I'd much rather be 50 than 20," he declares. "Life gets much easier."
Moving into a new decade was certainly more effortless now that he has the ability to surge forward instead of idling in neutral. "I think there is some consciousness in the fact that you turn 50 and realize that, if you're going to do this, you have to do this now—there's no postponing anything. [So this change] has been a long time coming."
Getting out of a rut has improved his life in several ways, the most important of which is quality time with his family. Though he and his wife of 16 years, celebrity makeup artist Jillian Dempsey, separated in 2015, today, they are back together and better than ever (she even acted as his groomer for our shoot).
Dempsey is, as we've become accustomed to, thoughtful while reflecting on how the two have managed to make their relationship work. "She's an amazing artist in her own right; she has her own identity. In her profession, she's a star. That's important in a relationship. You have to maintain your core relationship and allow [your partner] to have their own identity outside of that."
But it takes more than just owning who you are separately, in his opinion. "You have to be able to be supportive and say, 'You need to go out there and do this for yourself, and you know we're back here when you're ready,'" he continues—noting that love, like a car, requires regular maintenance. "When you have children, you really need to work on things. I think it's too easy to just give up and walk away. You need to get in and fight it out a bit and work on issues. You have your shit and their shit that you need to work through." He pauses a moment, before noting, "You have to be well-rounded in the sense of balancing out yourself as a person. The more balance and harmony you have, the happier you are. I guess that's where '[happily] ever after' comes from."
These days, Dempsey is in the driver's seat regarding his schedule and, more importantly, his life. If he's filming somewhere foreign, such as London, where he shot Bridget Jones's Baby, then the family is going with him. "For me, from now on, I don't want to be gone longer than a week because I think that's just too much. [I've become] careful with what [I] choose to do."
His choice is to be at home in Malibu as often as possible with Jillian and their three children, twins Darby and Sullivan, 9, and Talula, 14. He chooses to be both cheerleader and coach: the former, figuratively; the latter, literally—he's actually Darby's soccer coach. "Driving my kids to school and picking them up and running them around, I think that's part of life." He adds, "Life is a constant refinement. You just keep chipping away at it and trying to get better at things."
In a sense, Dempsey is perfectly imperfect, and he's OK with that. "I'm definitely not McDreamy; I'm not a perfect person. I'm a human being with flaws and issues like everybody else."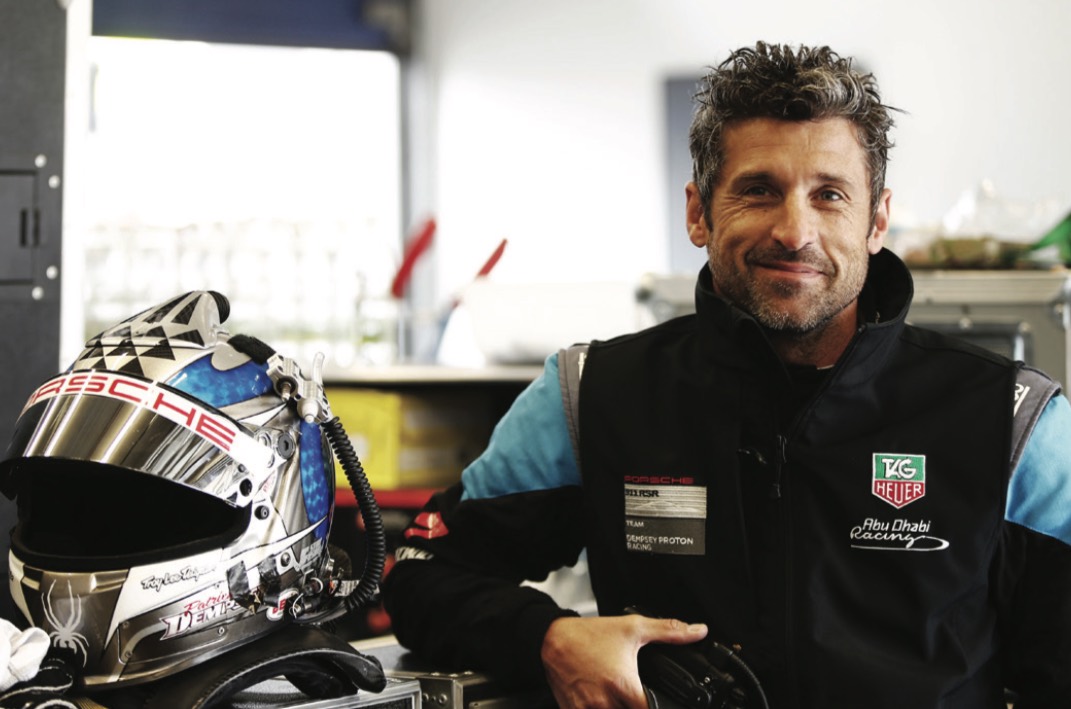 Photo Credit: Courtesy of Porsche
RACING AGAINST TIME
If there is one thing you truly need to know about Patrick Dempsey, it's his love of race car driving. In the past, he's even gone so far as to say, "It's all I think about on a daily basis."
In 2015, he took home the first place trophy in the GTE-Am class at the Fuji Speedway in Japan, and scored a second place win at the prestigious 24 Hours of Le Mans in France. He has also competed in the Rolex 24 at Daytona, as well as the Tecate SCORE Baja 1000, Circuit of The Americas, and Mazda Raceway Laguna Seca.
Though he no longer races competitively, he's still very much involved in the racing world. He is the current co-owner of Dempsey-Proton Racing, where his team races a Porsche 911 RSR. This year, he even acted as the 2016 Ambassador at the prestigious 24 Hours of Le Mans race in France.
"I have the team and I'm still very active with Porsche, and will continue to be, but to do a full season at this point is very challenging; it's too much time away from the family," he says. "But I'm happy. All the goals I set out to achieve, I reached. It was the right time to transition, take a step back and reassess what I wanted to do after."
There will always be, no matter how much he tries to squash it, a part of him that longs to go back on the track. "I miss being competitive, and I miss racing," he admits, "but I really wanted to focus on developing the next step of my career."
If he's being honest (and he is), the shift has been coming for quite some time. It's only now that's he decided to act on it. "There were things I wanted to do for myself that would make me a better person and, once those things were realized or I had time to focus on them, I could step back and do the [others]. But I've learned to take things one step at a time," he says.
It's an art, being in the moment, and this particular medium has taken him years to learn. "You're either thinking about the past, and that's informing you where you are right now in the present, or you're thinking about the future and what you want. But then there's the reality of where you are and what you have in front of you." He adds firmly, "You just need to be in the moment. I think that's what racing has taught me."
Racing, as well as his role as a brand ambassador for TAG Heuer, have Dempsey waxing poetic about taking time to smell the roses. "Racing has forced me to be present. A good day at the track is always something that transcends your reality and, I think that when you're looking at long-distance races, or 24-hour races, you have to remember to stay in the moment. If you're [facing] an obstacle, something happens during the race where you're a lap down and you've got to battle back; you just deal with the adversary and you shake it off and continue to go down the road. Eventually, you make up time."
Dempsey continues, "I want to take the time to balance work and pleasure and family… but you have to be able to be focused on one thing at a time. You have to be real clear on what your priority is, and then that will determine how you spend your time."
He smiles—a big, gorgeous, matinee-idol, sexiest-man-alive grin—and pauses. "Time… it's so fast," he says. "With racing, it's a metaphor. Everything is about time, how quickly you can do something. But, in life, you really have to savor the moment and not worry about getting it done so quickly. You have a clear idea of what you want to do and what your intention is and you go after that, and then you deal with what comes up in that process. Eventually, you'll get to where you want to go, I think."
In our opinion, Patrick Dempsey is right on track. With each comment, he drives home that he is right where he needs to be and, more importantly, where he wants to be.
Subscribe to discover the best kept secrets in your city