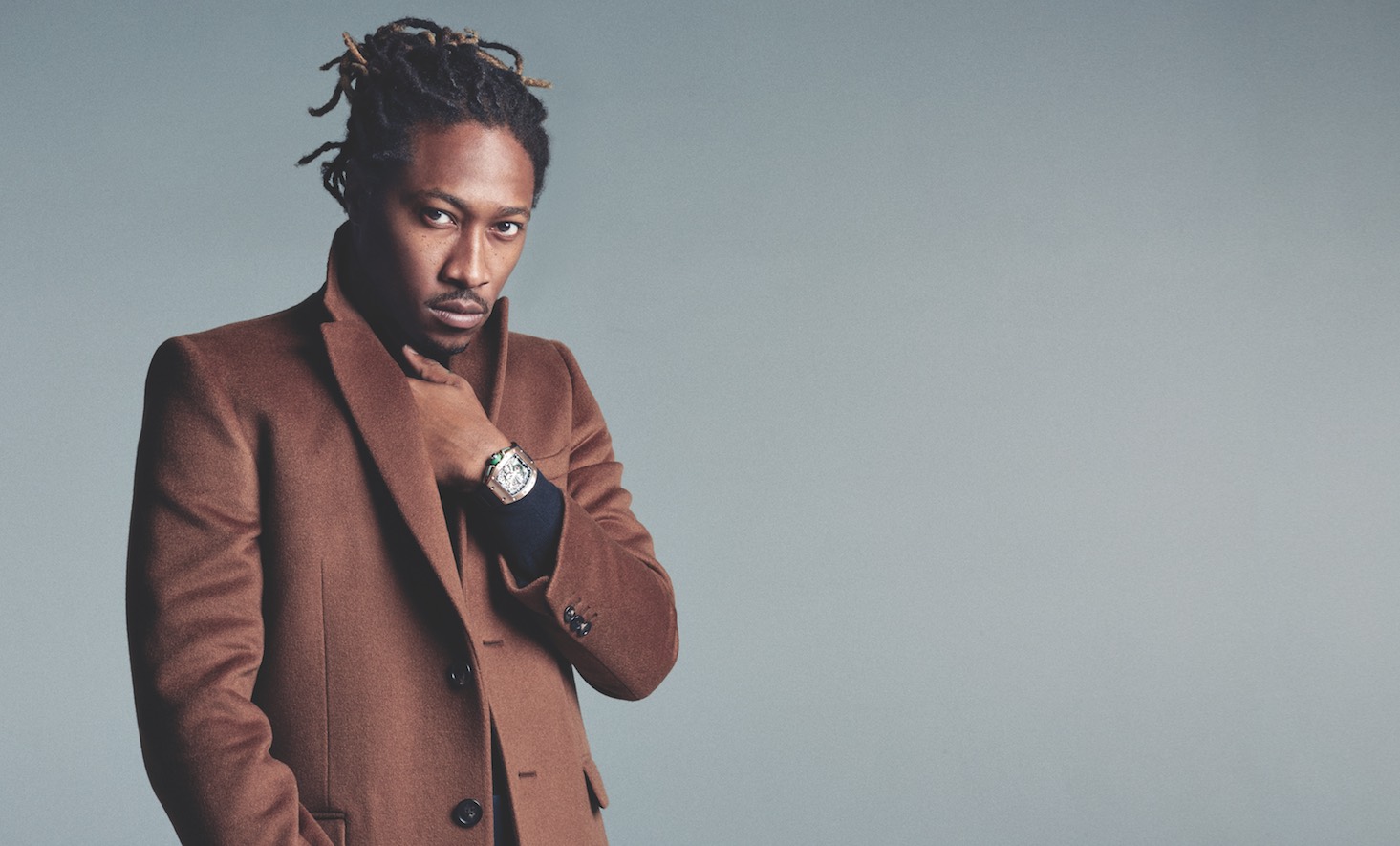 Future Hendrix arrives on set, entourage in tow, cool and in control on a hot August afternoon. He is soft-spoken yet direct, and every so often he flashes a smile and the room is visibly captivated. His youngest son, Baby Future, follows close by. The father of five, currently on the Summer Sixteen tour with Drake, has been performing to sold-out shows in every city. New York is no exception. It is his first time performing at Madison Square Garden, where he is doing a four-night stand. "It feels so great because it's so legendary; there is so much history," says Future. "It meant a lot to come and perform to sold-out shows, four nights in a row." And the shows are electric, attracting diverse crowds and celebrities like Leonardo DiCaprio. It featured flaming explosions, floating balloons whose color and traction change at the song and performance, and video production that enhanced the user-experience care of Rite Media. In an unusual but highly effective move, Drake opens and closes the show, while Future performs his set in the middle of the concert. When he steps out on center stage, the energy of the fans ignites a screaming frenzy of excitement that is palpable. The room rocks and sways to his lyrics, which everyone knows the words to. He is a rap rock star.
On the road since mid-July, his children are his constant companions, as seen in his social-media posts. The kids are always happy, playing and dancing for their dad. Hendrix is very vocal about the importance of being around his children at all times, and being on tour does not stop him from doing exactly that. He spends quality time with them in his downtime, and they tag along to interviews and photo shoots like this one, adding a sense of fun and family. "It just comes natural. When you are a dad there's nothing you can't do," he says. "You wake up… they have to use the restroom, change a diaper, before they go to sleep you bathe them, make sure they act right, pick their hair out, make sure their outfits are right… I make sure the tour bus is clean and sanitized right for the kids and make sure the environment is great." The kids are around him until show time, at which point he has them sent to the hotel.
The self-professed hardest-working rapper in the business has not taken a day off in five years. When he is not performing, he is in the studio, leaving us wondering when he makes time for himself. "I rarely make time for myself because I am living out my dreams," he explains. "I feel like because I'm living my dream, I am making time for myself." While no one questions his work ethic, he zeroes in on the one person he looked up to growing up—his cousin, Rico Wade. He credits Wade for mentoring him and helping him focus on his craft. Creating hits is something that comes naturally for him as he bases his inspiration around his life experiences. "Different day-to-day experiences, being able to create around the moment. Sometimes it's about taking advantage of each and every moment no matter what it is," says the rapper. "It's great to have everyone—my fans—experience things that I'm witnessing, things that I'm going through, different people that I come into contact with, create from that, from different vibes, nightlife, family, friends, kids, everything. I use so many things for inspiration to continue to build and create more songs."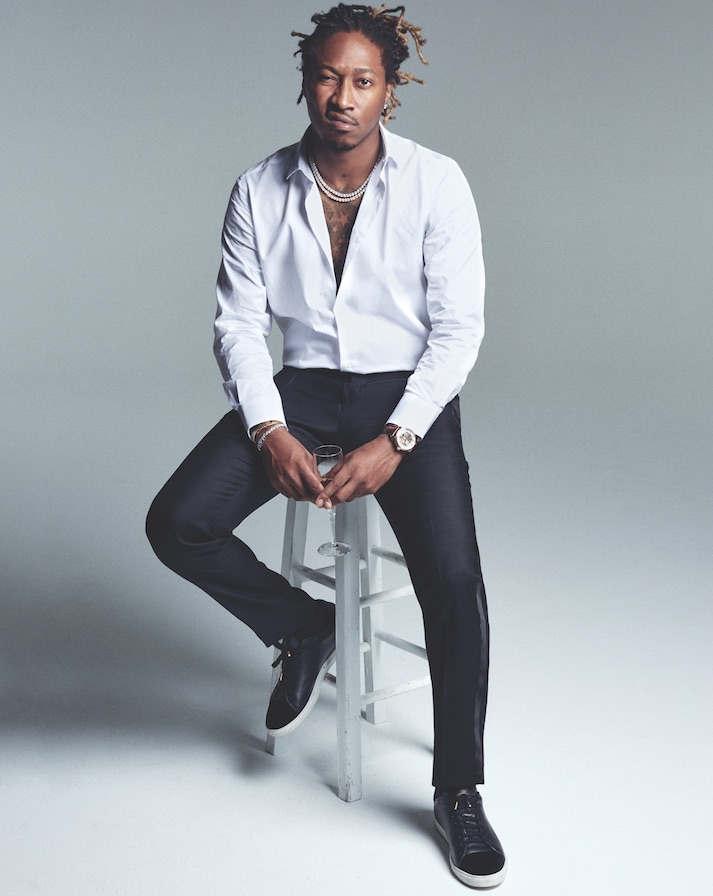 With all the controversy following him in regard to his personal life―the defamation suit from ex-fiancé Ciara; the mother of his oldest son suing for additional child support; and the $10 million lawsuit from Rocko for breach of contract—Hendrix focuses on what is in front of him—his children, whom he can't live without; his career,―which has no plans of slowing down; and the evolving idea of what his dreams are and achieving them.
Earlier this year, GQ named him one of the most stylish men in the world and the most accessorized. Currently wearing favorite designers Enfant, Gucci and Valentino, he says, "I get my style from different moments and moods; I'm a mood person. I just go with the mood and feeling of that day, where I'm at or which event that I'm going to and try to feed off that and let it come to me." His style is all his own. When asked what accessory he can't do without, he answers, "Shades. I can't live without my shades."
Hendrix, a watch aficionado, started collecting timepieces when he was 24 years old. "I've been getting more into it as I learned more about it. The 1 of 1 watches, the watches that are discontinued… it's like old-school cars.―I collect them and collect as many as I can," he explains. "My first timepiece was Audemars Piguet. My uncle gave it to me. He passed away, but he gave it to me while he was living. He also gave me a Piaget. He used to give me all kinds of watches… he started giving me watches because he felt like no one had them… and certainly no rapper did."
His love of luxury goods is evident through his social media posts, where he consistently shares his ever-growing collection of watches, clothing, cars and his endless stacks of cash. Hendrix is a man who wants to be timeless, whose mission is to make sure everyone around him is living a happy life and doing what they want to and be able to bring some joy to their life. He is man whose aspirations have no limits, and they begin with wanting his own one-of-a-kind, limited-edition timepiece and his own fashion house.―His idea of luxury isn't far from the life he inhabits today, which he explains is "five-star hotels, candles, roses and plush living."
Subscribe to discover the best kept secrets in your city