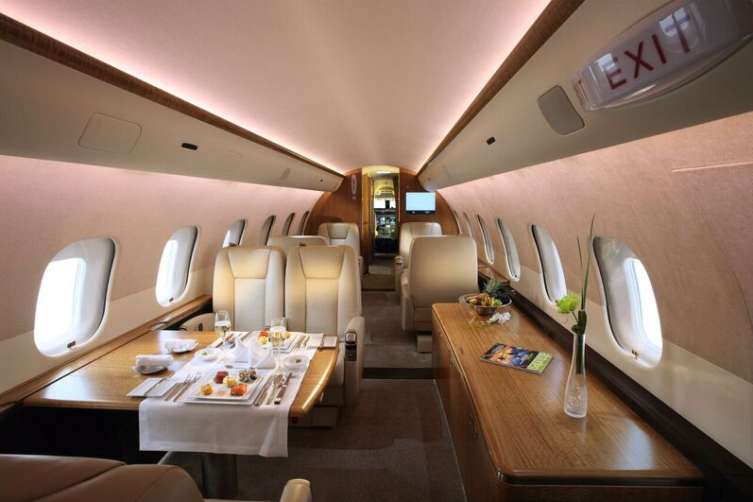 Like all visionary entrepreneurs, Sergey Petrossov is in the business of solving problems and creating opportunities. While us mere mortal folk may not have realized the private aviation industry was long due for a revamp, Petrossov saw a market to be made. He found a way to eliminate the 'middle man' in private jet charters, allowing members to book their private air travel within minutes right on their smartphones.
Jetsmarter is essentially broken down into three types of services. JetCharter allows members to charter a whole aircraft and tailor their entire trip. JetDeals offer exclusive one-way flights on private jets, which are offered free for members on the app. Finally, JetShuttle provides an option or members to search for and book an already scheduled flight as well as create their own JetShuttle. However even beyond all of these services, Jetsmarter is becoming a force to be reckoned with. Where they started as a company who was revolutionizing an existing industry, they have quickly transformed into a category creator. Founder Sergey Petrossov shares the vision and process behind developing a brand poised to democratize an entire industry.
How has the vision for Jetsmarter changed since you started the company?
I always use this parallel when people ask us, 'well how do we compare to this or that company,' it's like comparing a fax machine to an email. I came to the swift realization that the whole industry was run analog and that it was inundated literally with fax machines and manual processes. There was no innovation happening and that is where the idea sparked. I started to meet a lot of people in this industry; in 2012 we started research and development and in 2013 launched Jetsmarter.
When we started off we originally wanted to create an end-to-end digital charter solution, meaning you could go on the app and the transaction would be fully done in a couple of minutes. We did that but when we got in the game we realized that a lot of these operators were running extremely inefficiently. The average airplane that was certified to fly commercially was flying about 250 hours a year when optimally they could be flying say 1,200 ours a year. If you think about that it's a $40 billion market flying at only one-fifth its efficiency. Then even out of those 250 hours flown 35% were empty. You had this glutton of supply because it was only servicing a small group of the market. We said if we could buy this excess capacity in bulk and for cheap then we could break it down by seat and open up massive opportunities. For the people that do fly it's massive cost savings and we'd also open up an entirely new layer between business/first and private. We created new product lines out of it.
The vision has expanded significantly because of the products we were able to release and the type of people we were able to reach. Where it is going even further is curating these experiences on the ground. Our average member today will check our app 12.5 times a day, if you think of what that means it is more than high school kids check Instagram.
What do you think brings members back to the app so much?
We have experiences that are curated to the member based on their location and preferences. We are pushing you information, it is a proactive approach versus a reactive approach. There is no reason why we won't become your digital lifestyle concierge in the sky and on the ground. Our vision in general is to de-commodify travel and lifestyle. Today when you book travel and lifestyle you look at it as a commodity, you're looking for things like best price and not associating on a brand level with the product. We add a layer of brand and association. What we have even beyond that is an additional layer that we liked to call social fabric.
Has Jetsmarter created a network for members to connect?
We have a massive social network, and that fabric makes the brand so much stronger. There is association to that. We take this personalized approach that turns our product into a lifestyle. It's a way of life, we are a category creator. We are changing the way that people go about travelling and living their life. Because users are already engaged with us daily we want them to be able to give them products and services that add value.
What has been the biggest challenge in converting people from traditional processes to your digital platform?
If you are stuck on a fax machine we probably have a hard time getting to you anyway. Those are people who don't use mobile apps. Yes, there is age specific to that but we aren't fighting for that business. A lot of it has to do with where Jetsmarter is offered. We have charters across the country but our more accessible product lines are limited in region and scope. We have roughly north of 250,000 registered users in our app. Let's say 15,000 of those are in Denver, we don't have shuttles or a predictable supply available there and those are people just waiting. For me it is about roll out of product, for us to gain more relevance across the country and to all the people that are getting exposed to Jetsmarter. That is where our focus is.
60% of your members have never flown on a private jet before, who are these new members?
All different kinds of people. Obviously there is an inherent income minimum, but because we have varied product lines we can service different needs. I would say our products differentiate by trends and types of people. New flyers could be people that travel to a certain place and have some flexibility in their schedule. They join to change their lifestyle and how they get there. Some join for leisure, some join for business.
Our product isn't intended to be a cost saver when it comes to business or first class, it is somewhere in between. If you are a high demanding customer, for you to get benefits out of our membership in terms of flying complimentary you need to have a more flexible schedule. If you are not that flexible, we have products like Create Your Own Shuttle, so instead of booking a whole airplane you book a number of seats. Essentially it's like a regular airline but that flies just for you at your time of need. You have to pay for that flexibility, if you want to bring companions you pay for it.
For people that already fly and are spending $150,000 a year we can save them two-thirds of their money and they would still have the same amount of flexibility. For a person that has never flown before we can't really save them money but we're not intending to because we're not a commodity. What we are trying to do is change their way of life. Jetsmarter really has become a category creator because what we're seeing is that these people end up flying more. They start travelling more with their families and significant others because they can, and that is a new category. It's like why you join an art club; you're not doing it because you used to go but because it's a lifestyle change.
What on-the-ground services does Jetsmarter have in the works?
We are working on a lot of lifestyle services from food and beverage to hotels. We intend to deliver something unique and curated, benefits our members can experience at their destinations that are specific to them. It's like being a digital merchant, when our customers go to different locations they will be treated a certain way and get certain perks. The transactions will be done through Jetsmarter.
We will be offering a product that you can't get on the street, every experience will be unique.
What kind of renewal rate are you seeing from new and existing customers?
Our renewal rate is very high, around 87%. If people don't renew it is because they are in a remote location, not where our shuttle is. They thought they would use it more than they did and might want to wait around a bit until we have more consistent offerings in those cities.
Do you find a lot of new members come from referrals by existing members?
90% of our marketing is word of mouth. The snowball effect we have is because our members are raving about it, they associate themselves with the brand and are proud to say 'I'm in Jetsmarter.'
What is the future for Jetsmarter?
In the next five years we want to become a category creator for travel and lifestyle for the mass affluent. We are going to have unique products that are available on the sky and on the ground. We want to own that category.