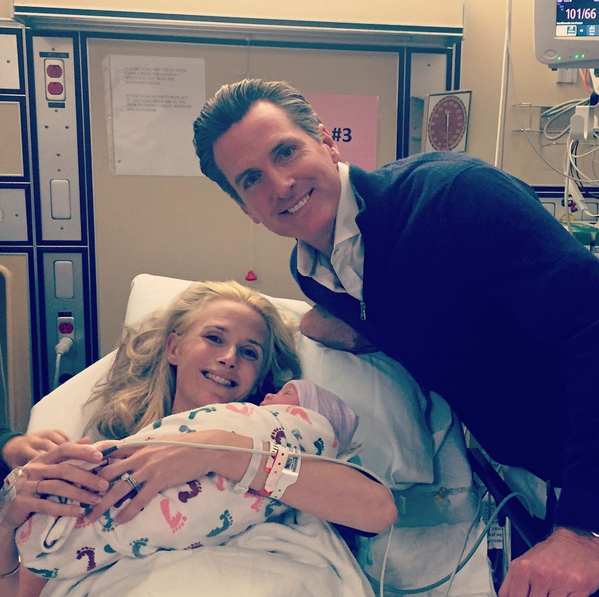 Congratulations are in order for Lt. Gov. Gavin Newsom and his wife, Jennifer Siebel. The couple announced the birth of their fourth a child—another boy.
According the lieutenant governor's Instagram account, Dutch William Siebel Newsom weighed 8 pounds, 12 ounces measured at 20 ½ inches long. The newest addition to the family is named after the Northern California town of Dutch Flat, where Newsom spent much of his childhood at his father's home.
Shortly after the Instagram post, the couple released an official statement. The Newsoms said they look forward to bringing Dutch home and spending time together as a family with his older siblings, Montana, 6, Hunter, 4, and Brooklyn, 2.
The couple wed in 2008.
The 47-year-old lieutenant governor has been in politics since 1997. As a member of the San Francisco Board of Supervisors, then as mayor of San Francisco and now as Lieutenant Governor of California, Newsom has been a political visionary on issues of equality, the environment, homelessness and healthcare. Policies he has initiated and implemented have been duplicated in cities across the nation.
According to lieutenant governor site, shortly after being elected Lt. Gov. in 2010, Newsom gathered the ideas of key stakeholders around the state to develop an economic growth and job creation strategy. This comprehensive economic blueprint, a top priority of his administration, ensures that California remains one of the top 10 economies in the world.
Last year, the actress/producer received high praises regarding her documentary The Mask You Live In at the Letterman Digital Arts Center. The film won two major awards at the Las Vegas Film Festival: Best Achievement by a Woman Director and the Visionary Award.
The Mask You Live In explores how America's narrow definition of masculinity is harming our boys, men and society at large, while urging viewers to take action. Since the film premiered at the 2015 Sundance Film Festival, which took place earlier this winter, it has sold-out seats at film festivals and community organizations around the world. Additionally, the film has generated international interest around the causes and effects of America's restrictive definition of masculinity.