Dubai Shopping Festival: Exceptional, Indeed!
The Dubai Shopping Festival (DSF) is in full swing and indeed following through on their theme "Unwrap The Exceptional."
Photo Credit: http://media.emirates247.com/
Dubai Shopping Festival (DSF) runs through February 1 and is offering exquisite experiences to visitors both locally and from across the globe as they discover all that is amazing about this festival.
DSF 2016 runs under the tagline "Unwrap The Exceptional" with visitors are being offered the opportunity to rediscover their sense of wonder, happiness and excitement from a line-up of over 150 events and activities that is being unfurled during the 32-day celebration.
This year's Dubai Shopping Festival was promised to reach a new level and indeed it has. From celebrities descending upon the event to the plethora of family activities, as well as prizes valued in the millions of dollars, this years festival has it all.
The Rug Company Dazzles in Dubai Debut
The Rug Company made its Dubai debuted their new showroom in Al Serkal Avenue. Christopher Sharp, co-founder of The Rug Company, was there to welcome Dubai's elite throughout the evening and gave a profound speech detailing The Rug Company's design history and global success, highlighting their artistic collaborations.
The showroom is now home to the most unique rug compendium and features multiple designer collaborations with top designers from around the world, including Paul Smith, Alexander McQueen and Diane Von Furstenberg.
Photo Credit: The Rug Company
Guests were welcomed with an elegant cocktail reception. The ambience was nothing short of exquisite and candles delicately lit the showroom, providing the perfect lighting for the stylish array of rugs to come to life. Guest DJ Patchouli orchestrated the music to match the tone of the artworks as the exclusive crowd began to infiltrate the showroom and wander through the collections while soaking up the creative energy of the space.
The event was nothing short of a success as the eclectic and sophisticated crowd mingled throughout the evening, taking in the diverse design world of The Rug Company.
Audi Comes Up Big in Hankook 24H DUBAI
German car manufacturer Audi can add victory in the Hankook 24H DUBAI to its already impressive list of achievements in the world's major endurance races. With their Audi R8 LMS (#19), run by Belgian Audi Club Team WRT, drivers Alain Ferté, Michael Meadows, Stuart Leonard and Laurens Vanthoor racked up a total of 588 laps of the 5.399 kilometres long Dubai Autodrome, equalling a total of 3,174.612 kilometres.
Photo Credit: http://www.24hseries.com/
Belgian driver Laurens Vanthoor drove the winning car across the finish line. "A fantastic success for our team, for Audi and for ourselves," he commented. "With so many cars on track, it was a difficult race, probably the most difficult I have ever driven. But that is making the success feel even better."
24H SERIES, 12- and 24-hour endurance race events at fascinating circuits all over the world, aimed at amateurs and gentlemen drivers,semi-professional and professional drivers. A wide variety of 'tin top' touring cars, GTs and 24H-Specials (e.g. silhouette cars) are eligible to race, from 'hot hatchbacks' up to proper GT3 machinery and purpose-built race cars.
Intersec Touts Premier Standing as International Leader in Safety & Security
With a globally unrivaled range of products and services, Intersec brought together exclusive major brand manufacturers and international newcomers to the world's leading trade fair for security, safety and fire protection.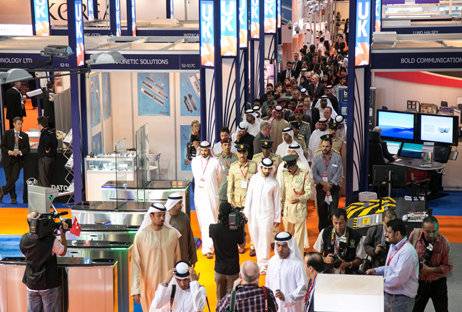 Supported by Dubai Police and the Directorate General of Civil Defence – Dubai Intersec 2016 featured products related to commercial security, information security, fire and rescue, health and safety, homeland security and policing as well as perimeter and physical security.
Intersec continues to serve as a valuable platform for industry experts to discuss and analyze new developments, innovations, legislation and changing paradigms within the regional safety and security industry.
Led by high-profile international speakers, key topics covered this year focused on Safety Design in Buildings, Occupational Health and Safety, Fire Prevention as well as Critical Infrastructure Security, Resilience and Protection.
Other highlights at this year's Intersec event included Smart Home Automation and dedicated pavilions such as Drones and UAV, Techtextil, GPEC and for the first time, a job Pavillion.
Subscribe to discover the best kept secrets in your city