Every New Yorker knows that as soon as winter comes, hibernation season begins. With Thanksgving, Christmas and New Years just around the corner, everyone is rushing to make last-minute dinner reservations in the city, so why not choose the alternative? Catering. With these top NYC caterers, you will have the dinner of your dreams without leaving the comfort of your home. Treat yourself to a homey and haute holiday meal. 
On the corner of Chrystie St. in the center of the Lower East Side are the headquarters of Neuman's Kitchen. This top-tier catering company led by Paul Neuman, prides itself on being not only one of the best caterers in the business, but also the most generous. As the board chair of the HOPE program Mr. Neuman donates all the company's left-over food to the The Bowery Mission, as well as providing a weekly donation to an Upper East Side soup kitchen and one hundred deliciously inspired dinners to the patients and families at Ronald McDonald House each month – as he has done for the past five years.
Inside Neuman's haute kitchen, run by Executive Chef Robb Garceau and Executive Sous Chefs, Adam Starowicz and Stacy Pearl, one can find exquisite hors d'oeuvres such as Caviar & Horseradish Panna Cotta and innovative Crispy Caesar Salad inside of a Tapioca Ravioli. Made with all organic market goods and seasonal produce, is the Roasted Kabocha Squash Veloute, paired with a main dish of Herb Roasted Beef Tenderloin with charred Japanese eggplant, potato puree and market garnish. For a sweet ending, you can enjoy the Chef's s'mores push-pop, made with rich Noel Cacao and perfect when paired with a dark red wine.
Always creating fresh recipes that follow the needs of their clients, the Neuman's Kitchen family is without doubt our first choice for catering in the city, and will surely give you one more reason to be thankful, this Thanksgiving day.
Opening with an ensemble of elegantly suited silhouettes holding trays of chilled raspberry champagne and offering everything from Tiger Shrimp tea sandwiches to Pistachio Belgian Waffles and Port Wine glazed Guinea Hen, Tastings NYC knows its way around any dining table. Boasting one of the most impressive client lists in the industry, Tastings is a favorite among the most deluxe fashion brands: Jimmy Choo, Hublot, Breguet, Shiseido Giorgio Armani and Swarovski among many others. It is no secret that this upscale catering company brings the highest quality services to any event they are challenged with. 
Led by Alexandra Morris and renowned Executive Chef Cedric Durand, the company has gone on to appear in publications such as the Hamptons Magazine, Weddings New York, Gotham, Bon Appetit and various others, as a product of their exceptional cuisine and services.
With varying menus for every occasion, and countless seasonal options, Tastings would be an ideal choice for your upcoming holiday soirée.
Specializing on all types of events, from luxurious galas to private holiday get-togethers, Barraud Caterers has earned its place within New York City's elite food society. Having received numerous raves from many of the nation's top publications such as New York Times Magazine, Brides, CeciStyle, Zagat and Hamptons – to list a few – Barraud is admired for its phenomenal service and love for its clients and staff. With their inspired seasonal menus ranging from Afternoon Tea to Cocktail Party, these A-list caterers will make a flawless impression at your upcoming holiday party.
Offering a selection from their latest seasonal dinner menu, Barraud's team serves Chicken Liver Mousse with beet and orange syrup, followed by an entrée of Lobster Custard with sherried Serrano crisps and olive relish, and ending with an extravagant dessert of Celery-apple sorbet with tomato-ginger syrup.
In the Barraud kitchen, possibilities are endless, so browse through their array of delightful dishes and prepare yourself for an unforgettable gourmet meal.
Born in 2000 and now living at the heart of New York's Flatiron district, Tocqueville Catering provides an all-inclusive dining experience. Offering fine food along with their own exclusive venues and decoration, this full-service catering company is ideal for your last-minute holiday dinner party.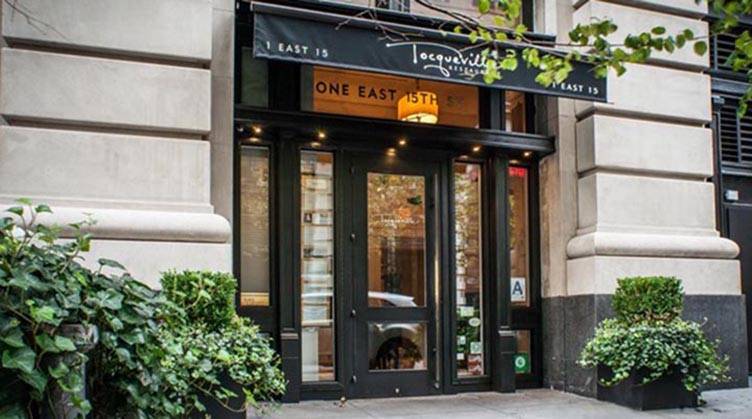 Extremely accommodating and easy to work with, the Tocqueville team provides a select list of holiday-themed menus, offering seasonal dishes such as Pumpkin Risotto made with confit kabocha pumpkin, parmigiano reggiano and pumpkin seeds as well as Roast Organic Free Range Turkey, for a deliciously classic holiday meal. Desserts include Green Market Apple Tart and Pumpkin Cheesecake along with the ultimate holiday drink, the Tocqueville Toddy.
Led by power-couple Marco Moreira and Jo-Ann Makovitzky, Tocqueville Restaurant and Catering Company, located on New York's 1 East 15th Street, is the perfect choice for your traditional New Yorker holiday feast.
The art of haute cuisine is one that only a few can master. Flawless in their presentation, food and service, Nova events are the epitome of supreme elegance. Began by chef-owner Christophe Barbier in 1998, the company now holds and unparalleled client's list and a top reputation in the world of catering. A Nova event does not just mean receiving endless trays of glorious food, it also means an elegant venue, luxurious decoration, a first-rate staff, custom floral arrangements according to your color palette and musical entertainment. Even valet and limousine services are provided if desired.
Offering entrees such as Pomodoro-Grilled Halibut Filets and Risotto with Rock Shrimp, Nova is a company of the highest caliber, always giving one hundred percent of their efforts to any event they are given.
There is no classier way to start your holiday celebrations than with Chef Christophe Barbier and his quality team.
Subscribe to discover the best kept secrets in your city