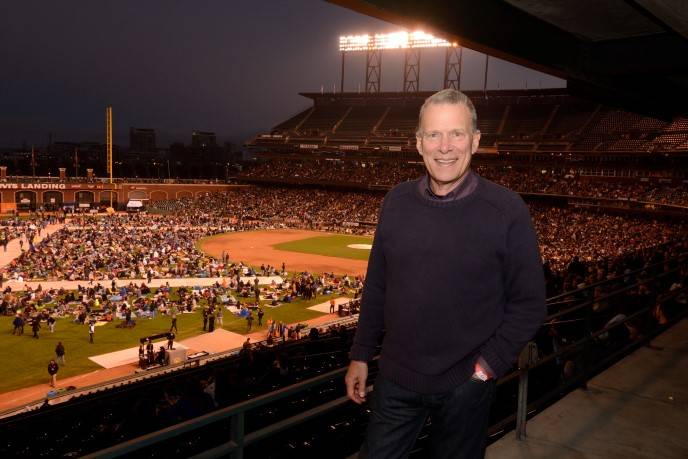 Photo Credit: Scott Wall
We're a week into San Francisco Opera's 2015-16 season, the final for General Director David Gockley, whose successor Matthew Shilvock was announced yesterday. When Gockley retires, he'll conclude a 10-year, seven-month tenure with the Company, capping an internationally acclaimed and award-winning career spanning 44 years as one of America's most prominent opera impresarios. Gockley, who will be 73 at the end of the 2015–16 season, became the Company's sixth general director when he joined San Francisco Opera in January 2006. He never planned on staying more than 10 years. Just before the current season opened, we caught up with Gockley to ask him 10 questions relating to his achievements, what he would do over if he could and techies and opera.
As your final opening night with SF Opera approaches, how is this year differently for you emotionally than in previous seasons?
I am beginning to sense what a giant hole there will be in my life, going from a sixty hour week to zero!
What are you most proud of accomplishing during your time with SF Opera?
I'm most proud of the 2011 Ring Cycle, the establishment of the Opera's Media Suite, and the creation of the soon-to-open Wilsey Center for Opera on the fourth floor of the Veterans Building.
If you could do anything over, what would it be?
I wouldn't have been so eager to enter into a failed cinema distribution deal back in 2007-08.
What are your two or three most memorable moments and why?
The final performances of our recent production of Les Troyens (The Trojans). It was about the most perfect performance of an opera that I ever saw. Everything worked magnificently together. My second most memorable moment was the Company's first video simulcast at AT&T Park where 15,000 people showed up for our performance of Samson et Dalila. It's worth noting that more than twice that amount showed up a few years later for our Aida.
What do you see for the future of opera in SF considering techies are taking over even more of the city as they move from Silicon Valley?
It sure helps that they're moving to the city and seeking urban pleasures. The opera is one of these and it will take patient cultivation to get them involved. As these people mature, so will their tastes and activities. They will realize opera is an art and entertainment form that can speak eloquently and passionately to them.
What do you love most about living here and what do you do in your spare time?
I love the landscape and the water, in addition to the rich and diverse urbane lifestyle.
When your commitment to SF Opera is over, do you think you'll remain in the SF Bay Area?
My partner Linda Kemper and I will continue to reside in Sausalito, which has got to be one of the perfect places on the face of the earth.
For more on SF Opera, visit sfopera.com.
Photo Credit: Terrence McCarthy
Subscribe to discover the best kept secrets in your city