Photo Credit: Drew Altizer Photography
To those attending the San Francisco Opera Ball 2015, we have one word for you – yum.
The San Francisco Opera Guild previewed the quality of cuisine expected at Moonlight & Music, the Opera's opening night gala benefit on Friday, September 11. Opera Ball 2015 co-chairs, Karen Kubin and Jane Mudge, Opera Guild President Charlot Malin and dinner sponsor Neiman Marcus' Alan Morrell and others found their way on Aug. 11 to McCalls Catering and Events' kitchen in the Mission. The luncheon was meant to wet appetites and stoke curiosity around this year's menu.
No one would divulge any specifics, however. "We don't want to spoil the surprise," said Kubin.
From the hors d'oeuvres of caviar purses and spinach cakes with smoky yam puree, to the dessert of thyme-roasted fruit and elderflower gelato, the food encapsulated current San Francisco culinary preferences—fresh, local ingredients, a balance of intense and delicate flavors, a variety of textures and a sweep of colorful foods artfully presented on the plate. There were also very few grains, except a bread basket. The luncheon's wine, Grgich Hills Estate, and champagne, Roederer Estate, will pour at the gala.
Some of McCalls' chefs were in the kitchen beforehand, explaining the details of the food. Something as simple as an apple slice gets machine-razored thin, hit with lemon juice, a little sugar and rosemary, and then vacuum packed, " to infuse the flavors into the apple," said chef Mitchell Fabor.
The luncheon courses spanned from Honeydew Shiso Gazpacho to Guinea Hen Ballotine, served with pistachio and fennel, sunchoke puree and sapphire cauliflower. The San Francisco Opera Ball 2015's menu, however, will take on a heartier, more European slant, keeping with the 18th century Tyrolean theme of the event's design by J. Riccardo Benavides. This year's ball, which kicks off the Opera's 93rd season and the opening performance of Giuseppe Verdi's "Luisa Miller," unveils a new tented pavilion that will cover Grove Street.
"We want to bring in the new generation," said Malin, calling the Opera the "jewel" of San Francisco arts.
Anyone who has seen Jeanette MacDonald and Clark Gable in San Francisco multiple times likely agrees.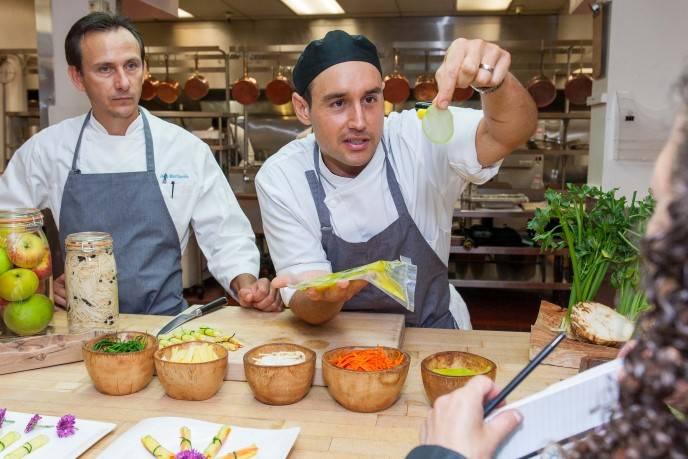 Photos by Drew Altizer Photography
Subscribe to discover the best kept secrets in your city