Great songs never die. They live on forever in people's hearts, minds and music collections. In this vein, superstar music producer Timbaland, née Tim Mosley, occupies a little place inside millions of people all over the planet with the hundreds of hits he's created over an extremely prolific twenty-five year career. "I never count them," he says from his sprawling South Miami home. Perhaps it is because the number
of songs he's crafted reaches well over five hundred.
His ability to be prolific is coming in handy on one of his latest gigs—producing the music on Fox's wildly addictive nighttime soap, Empire. The show centers around a hip-hop mogul named Lucious Lyon (Terrence Howard), CEO of Empire Entertainment. The show features an all-star cast that performs multiple songs each episode. The pace of creation is fast and furious, but doesn't faze Timbaland. "The pace is not the problem; the hardest part is understanding what they want you to do for each song and character, and making that happen."
Timbaland—whose real name is Timothy Mosley—puts the same passion into writing songs for the fictional characters as he does into working with famous names. "It's not that different," he says. "Empire is like a new record label on TV, that's all it really is. The show is pretty realistic to the business and urban culture as a whole. It shows a lot of things that everybody goes through." Although he declined to name which scenes resonated best, he said that more than a few times art had imitated life on the show.
Mosley's life has certainly followed a similar ascension as that of Lucious Lyon. First known for launching Aaliyah's career into the stratosphere with One in a Million and Missy Elliott's with a completely new sound he helped craft on Supa Dupa Fly, Timbaland quickly started working for all the biggest artists in the world, and has since been nominated for many awards.
The names run the gamut from Destiny's Child to Beck to Nelly Furtado, but what helped push him over the edge was his collaboration with Justin Timberlake on his first few solo albums. Mosley's ability to help transform the former boy-band member to a sleek, sexy solo act with a wholly original new sound was something for the ages. "Justin is my brother from another mother," Mosley has said of Timberlake. Their work together has produced some of his most memorable, such as What Goes Around… Comes Around, Cry Me a River, Sexy Back, and Suit & Tie.  When the two step into the studio together, magic happens. "Even if we have something on our minds, we'll make two hits," he adds. Sometimes they're much more prolific than that—having written 20 songs in 20 days on the 20/20 Experience. 
"One thing I know is how to take nothing and turn it into something. I do it all the time," says Mosley. But despite his many hits, the industry is fickle, labeling legends as hot or not minute-to-minute. Sometimes that means they'll fund his unique visions; sometimes not. "The [difficulty] is convincing people who have the platform to invest," he says.
That might not be an issue much longer, given Timbaland has something in the works for his own platform—although he's not quite ready to share the details of the venture quite yet. He explains, "I'm in a point where I [have] made all these hits for other labels: Sony, Columbia, etcetera. These companies made a lot of money off my music. Sure, I make money too, but I don't get to keep the bulk of it. I don't want to eat the whole pie, but I'd like to make a nice percentage because it's my product. I've made over a billion dollars for [everyone else], so now I'm ready to be my own company," he says.
"This new thing will be my own platform. Because God has awarded me with such great partners, I now have my own building and I can do my own thing with my own structure, and my own company. It's just boom-boom-boom!" He enthuses.
What Mosley is hinting at sounds a bit like Tidal, the first artist-owned, high-fidelity streaming fronted by Jay-Z. The service aims to fairly compensate artists who have gotten the short end of the stick with most streaming services like Pandora or Spotify. Although star-studded, Tidal's roll-out was vague, and failed to properly explain to the public just exactly what the product was and why people should subscribe to it.
"You just have to give it some time," says Mosley, defending Tidal. "I can tell you [Jay-Z] is my brother, and I commend anybody who steps in the forefront to try to show something different to the world. Here's a man who had an idea and put it out there in the universe."
Appreciation for new ideas is what earned Timbaland his place in the limelight, but his path has been characterized more by extreme kismet—both good and bad. Mosley grew up in a poor neighborhood in Virginia, where his parents worked hard to make ends meet. His keen interest in music and budding talent became apparent to them early on, leading them to occasionally prioritize new musical equipment for Tim over house payments. This led a foreclosure that made a mark on the young musician, accelerating his drive to make it.
Early on, while still in school, he set to work making mix tapes that became popular, which led to him working as a DJ around the area. He also started a band with a young Pharrell Williams, with whom he actually had a class. Call it fate that two of the biggest hip-hop producers went to the same high school. "Tim had an amazing way of doing the drum rolls with his fingers [on the desk]," said Williams. "He taught me how to do that, and it stuck with me for the rest of my life."
Although his career behind the turntables was budding, it didn't quite bring in all the money he wanted to buy clothes and records, so he got a part-time job at a local Red Lobster washing dishes. The year was 1986, and he wasn't there long before a co-worker brought a gun to work and accidently shot Mosley, hitting the young DJ in the neck, the bullet lodging under his arm. He was rushed to the hospital and doctors weren't sure he'd make it. "My life flashed before my eyes. I thought, 'This is it? This is how I go out?'" Fortunately, it wasn't, but he found himself paralyzed in his right arm. All the teenager could think about was getting back behind the turntables. "When you're young, you think you're a robot or something, and you're going to heal. I was just thinking, 'Damn, how am I going to DJ?'" So he learned to DJ with his left hand. "I'm a hustler, and when you're a hustler, you make things happen. I just don't let anything stop me. Nobody gets in my way."
Although it took two years for him to fully recover, he worked all the way through, and eventually met Missy Elliott, who was in a group that worked with producer DeVante Swing as part of his stable of talent called Swing Mob Collective. Mosley joined the group and moved to New Jersey, living in "the basement" where they were working. Eventually he was making hits for Jodeci and others, and started to get a little cash flow.
The first thing he did was buy himself a new car, despite an uncharacteristic protest from his mother, who said she had a bad feeling about the purchase. He didn't listen and a few days after buying it, he hit a patch of ice and had a serious accident. "The car was wrapped around the tree like a candy cane," explains Mosley who was knocked out. "I saw a light." Fate would spare him, but not his female passenger. Tim was shaken and didn't recover easily from the experience, unable to understand why he has survived when she did not.
In 1995 Elliott and Mosley left Swing and broke out on their own, eventually landing with Atlantic Records, where they collaborated with rising star Aaliyah. Success had finally arrived with the release of One in a Million, and all three of their careers soared. The three talents remained close until tragedy struck again in 2001, when Aaliyah's private plane went down as it took off from the Bahamas. Timbaland had planned to travel with her, and changed his mind at the last minute. Mosley never got over the loss of Aaliyah. He was particularly struck when he met a young executive and entrepreneur on a retreat in Jamaica named Monique Idlett. "When I first saw her I said, 'That's the girl I'm gonna marry," recounted Mosley.
Their union took a little time to cement. "I didn't want to date a professional musician," says Monique. On Tim's part, he wasn't sure about becoming a step-parent to her two sons. But both of their fears were overcome by love and chemistry, and in 2007, they married and had a baby girl named Reign.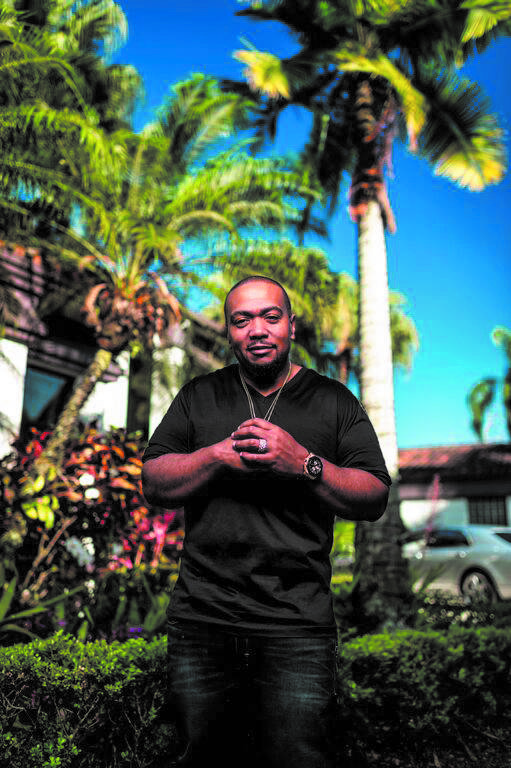 The couple lives in a sprawling compound in South Miami with their three kids, so in between cutting tracks, cementing deals and finding the latest talent, Timbaland takes in the natural wonders. One of his favorite places to be is his own backyard. "One of my partners got me onto that. [He said] let's walk outside man, lets go smell the green grass, let's smell the trees, and enjoy what God gave us, you know? I like the lizards and iguanas—and just smelling a certain flower might help you create the text of a love song."
If this doesn't sound like a hard-living hip-hop producer, you're right. Mosley, 43,  has evolved into the best version of himself, a happy husband and family man. "In my 40s, I'm not living life like I did in my 30s. I'm much wiser, more in tune to what I'm doing," he says. "I have a great group of friends and partners who make me see life in a different way."
Despite his new take on life, Timbaland is still married to his music. "It will always be my first love. Because I am a creator, music is different for me. I'm different," he says.