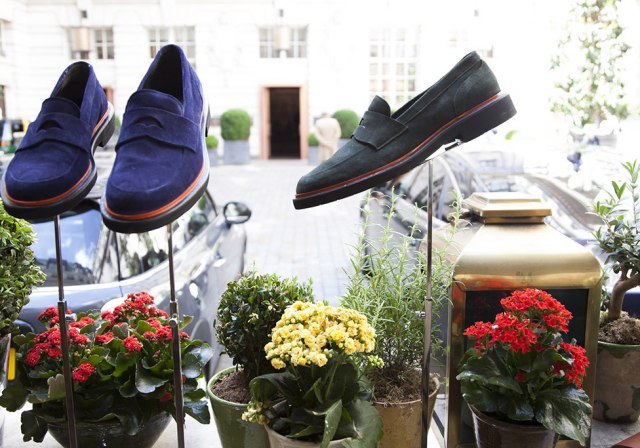 Footwear brand Robert Clergerie hosted a sumptuous picnic in sunny London this week. Designer Roland Mouret, who is the brand's creative director, held the event in the capital's Rosewood Hotel to celebrate the upcoming collaboration between Robert Clergerie and designers Matthew Miller and Sibling.
"London is currently the center of upcoming men's wear talent," said Mouret. "Shoes are incredibly difficult to construct for [young] designers and we really want to help them achieve the looks they require." Guests were treated to Pimms in true British style, as well as snacks from charcuterie plates. Meanwhile the designs of Robert Clergerie for spring, as well as the resulting designs from the collaborations, were on display at the event, mounted on plinths among flowers in the garden of the hotel, making the mood very summery indeed. "London is a fantastic laboratory of ideas," said Eva Taub, president of Robert Clergerie. "The fashion scene here is evolving and cool and free of convention, so we want to support this great young, free talent, which helps position our brand in a cooler way." For Sibling, Mouret designed a variation on the Jasper loafer in green and blue, while for Miller he created a shiny Derby shoe with chunky leather soles.
The event comes just as London Collections: Men's wrapped in the capital, putting on an impressive display of shows and presentations from the likes of Gieves & Hawkes, Paul Smith and Tom Ford. The designs created in collaboration with Miller and Sibling will launch in Robert Clergerie stores for spring 2016, and will be sold at wholesale.