In Manhattan's charming Italian neighborhood Little Italy that's tucked away downtown, legendary Italian restaurants, award-winning bakeries, and artisanal shops have nestled themselves along the streets for decades, and some, for centuries. Italians love their pasta and in Little Italy, they make it fresh in all varieties and flavors, from broccoli rabe ravioli to beet gnocchi to four cheese lasagna. Next-door neighbors on Grand Street, these authentic Italian shops, Alleva, Piemonte Ravioli Co., and Di Palo's, make original pastas and pasta sauces daily that are available for purchase.
Alleva
188 Grand Street
(212) 226-7990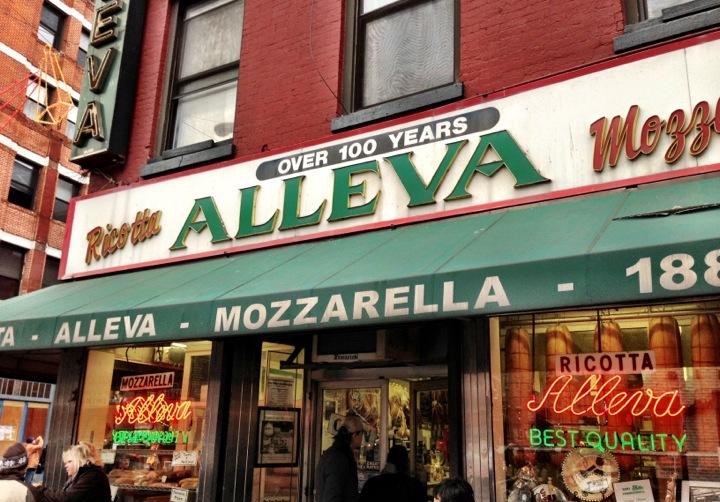 Photo Credit: Yelp/Elaine C.At the corner of Grand and Mulberry streets, the family-owned, Italian cheese shop, Alleva–which claims to be the oldest (since 1892) Italian cheese store in not just Manhattan, but America–sells fresh ricotta and mozzarella as well as various pasta varieties and accoutrements, like meats, sauces, and olive oils. Pappardelle, rigatoni, and tortellini are just a few of the pastas made fresh here, along with half a dozen varieties of homemade ravioli: cheese, pesto, broccoli rabe, mushroom, spinach, and roasted pepper. Alleva's cheeses and pastas are made in-house with original recipes from the owner's great grandmother, Pina Alleva, who opened the shop after immigrating from Benevento, Italy.
Piemonte Ravioli Co.
190 Grand Street
(212) 226-0475
Photo Credit: Haley WillardFlaunting a colorful display of pastas in its window front, Piemonte Ravioli offers 19 types of pastas made fresh daily in assorted flavors and with various fillings of meats, vegetables, cheese, and sauces. Opened in 1920, the pasta shop is a one-stop spot for a full line of pastas–more vibrant varieties including black olive tortellini, pumpkin ravioli, calamari agnolotti, and beet gnocchi–and homemade sauces, with the option of delivery to your door.
Di Palo's
200 Grand Street
(212) 226-1033
Photo Credit: Haley WillardItalian grocery store and deli Di Palo–originally established in 1910 by Italian cheesemonger Savino Di Palo, who immigrated from Montemilone, Basilicata, Italy–prepares its own pastas (gluten-free included) daily in addition to more than three dozen varieties of dry pasta available on the shelves. Complement lobster ravioli with the store's ready-made vodka sauce or a four cheese (ricotta, mozzarella, asiago, and pecorino) lasagna with fresh bolognese meat sauce. For an authentic Italian meal, the deli is stocked with nearly 50 Italian cheeses and fresh meats; and next door, Enoteca Di Palo features a full Italian wine store.
Little Italy in the Bronx–Arthur Avenue
Though much less known than Manhattan's famed Little Italy, just past the city, there's a quiet strip, hidden in a burrow of the Bronx, that is Arthur Avenue, which claims to be the "real Little Italy of New York," with historic, Italian-owned pasta shops, delis, bakeries, restaurants, and much more that make it worth the trip to the triple-digit streets above Manhattan.
Borgatti's
632 E 187th Street
(718) 367-3799
Photo Credit: Borgatti's Ravioli & Egg NoodlesFamous for its ravioli and egg noodles, Borgatti's–one of the oldest institutions in the Bronx Little Italy, since 1935, when it was opened by an Italian couple Lindo and Mario Borgatti–makes 13 types of pasta in-house daily. Try the "home style" ravioli, stuffed with either ricotta or meat and spinach; squid ink or basil pasta; or the classic egg noodles that have defined this pasta shop for more than 70 years. Borgatti's also offers several Italian pasta recipes on its website.
Terranova
691 E 187th Street
(718) 367-6985
Photo Credit: Haley WillardThis award-winning bakery, first opened in 1967, is known for baking really good bread using old world techniques from Italy. What's less known is that the famous bread shop also makes a few types of pasta–including ravioli, gnocchi, tortellini, manicotti, and stuffed shells–with the same respect for traditional pasta-making methods.
Subscribe to discover the best kept secrets in your city