For Kathryn Walt Hall, talking politics as a kid at the dinner table nightly in Berkeley and drinking "children's wine"—a couple of drops of wine with water and sugar in a wineglass—with meals at her Irish-Catholic family gatherings were as much a part of her childhood as cookies and milk with bedtime stories were for most youngsters. Such a memorable upbringing kick started her passion for politics and weakness for wine that has served this elegant art and music aficionado quite well throughout her stellar career as an attorney, United States ambassador to Austria and now, vintner.
Her striking HALL Winery in St. Helena, bursting with art from the entry path to the cellar to the offices, hosts this year's Barrel Auction during Auction Napa Valley. The cultured philanthropist also sits on the Auction's grants review committee, which helps determine which nonprofit organizations receive funding. Her green eyes well with tears when she hears that Napa Valley Vintners, which puts on its 35th Auction Napa Valley this year, has invested more than $145 million in Napa County's nonprofit organizations since the event began. Those impressive numbers are why she calls her committee position "rewarding" and "the best job in the Valley—besides being vintner at HALL Wines."
She's also vintner of WALT Wines in Sonoma and owner of the recently rebranded Senza Hotel in Napa. Plus, she boasts one of the most beautiful wineries in the Valley, HALL Rutherford Winery with its infamous Chandelier Room. The latter winery sits on the edge of the parcel that she and her second husband, entrepreneur Craig Hall, purchased in 1995 when they bought the Sacrashe Vineyard atop the hills of Rutherford. Several years passed before they began developing their wine business and moved into the stunning home they built at the summit of the rolling vineyard.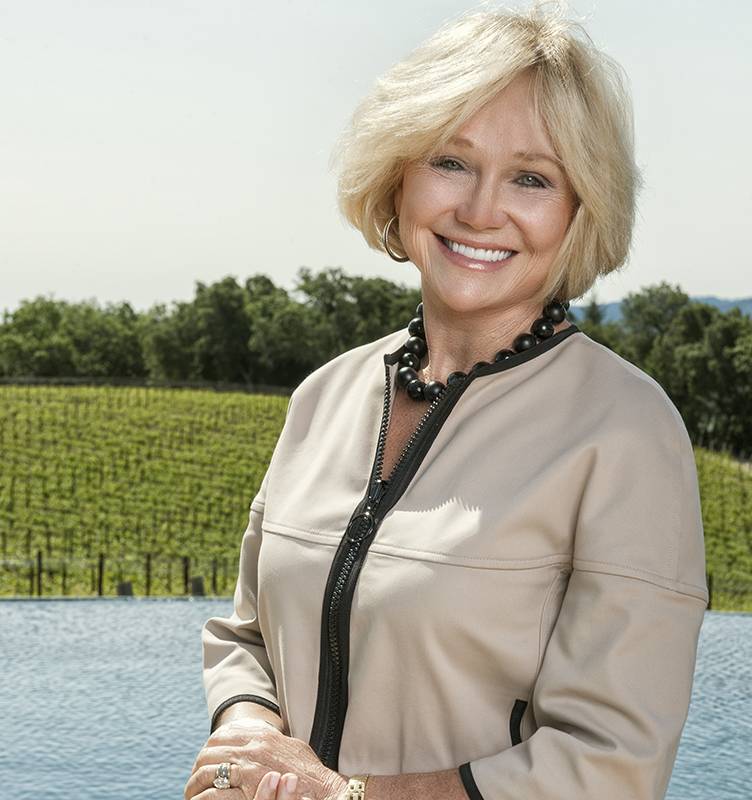 Walt Hall, stylish in a beige Akris skirt set, exudes confidence and grace as she relaxes on a couch in her home office that is filled with some of her favorite pieces of art. There is a Lichtenstein on one wall, a painting by Susan Rothenberg on another and an Eliseo Garcia sculpture of a mother cradling a baby in a corner. The Halls, avid collectors, take great pride in sharing their collection throughout their wineries and home.
"The greatest piece of art in Napa Valley is Napa Valley," she says. "But you can enhance it. You can put other art around it. It makes it interesting and fun."
Even their lush backyard, with an inviting swimming pool and breathtaking views of vineyards below and the Mayacamas Mountains off in the distance, is dotted with contemporary sculptures. Walt Hall takes in the sweeping vistas and declares, "I came here for love of this life and love of wine. [My husband] was still very new to wine. I'm very lucky."
Planting her entrepreneurial roots in California's famed wine country may not seem out of the ordinary for someone whose parents launched their grape-growing business in Mendocino County in 1972, until you realize her circuitous route.
The University of California, Hastings College of the Law graduate began her public career as an assistant city attorney in her native Berkeley then took time off to work on President Jimmy Carter's 1976 campaign. Later, she landed a job at Safeway, where she developed and administered one of the nation's first and largest affirmative action programs. The supermarket giant sent her to Dallas with the plan of staying six months so she could travel to Austin to lobby lawmakers then transfer to Washington to lobby on a national level.
However, her D.C. dreams diminished after she met David Cain, whom she married and had two children, David and Jennifer, with before divorcing the then-state senator. For a decade, beginning in 1982, she shuttled back and forth from Dallas to Mendocino every six weeks to manage the family vineyard after her parents—her father, Bob was a pharmacist; her mother Dolores was a real estate broker—died within months of each other.

"I had two little kids," she explains. "I had to make a living and support my family. You do what you need to do in order to do what you love to do."
In Dallas, she twice ran unsuccessfully for office [she finished second in the 1991 Dallas mayoral race], worked at a law firm and as a businesswoman. During her mayoral campaign she met Hall, chairman and founder of Texas-based Hall Financial Group Inc. The two wed in 1993, merged their worlds and relocated to Vienna in 1997 after their political connections rewarded her with a four-year ambassadorship during the Clinton Administration.
She confesses that when she had the "wild and crazy idea" to become an ambassador she didn't really know what the job entailed. What she did know from attending boarding school in Switzerland was how to speak German, Austria's national language, and French fluently, that she liked living overseas and that she loved politics and public policy. She researched the duties of an ambassador and wasn't about to let the fact that she had never set foot on Austrian soil stop her from jockeying for the position.
"I often think that the best lobbying I ever did was for myself to try to be an ambassador," she says with a smile, crediting her language skills for playing a key role.
"I had read about [Austria]," she recalls, "and it seemed like such a fascinating place politically and culturally. It turned out to be everything I hoped—and more."
In her office at the U.S. Embassy, Walt Hall engrossed herself in matters of substance such as those involving Holocaust survivors and their relatives.
"America, in those days, led that work in central Europe to try to develop some delivery of a measured justice," she recalls. "I loved being able to be involved in that. To me that was America at its greatest in terms of moral leadership."
Outside the workplace, she quickly became smitten with the sophisticated Viennese lifestyle centered around the romantically formal balls in the winter and music—classic in particular—year round.
"The saying in Austria is that all Austrians are born with skis on their feet," she says, adding, "and for me it's skis on their feet but music in their hearts. Here we tend to think of great music being associated with being educated or cultured; there it's associated just with living. It's in the fiber of who everyone is."
As ambassador, she also honed her entertaining skills, greeting notable U.S. Embassy visitors such as President Clinton, Austrian Chancellor Wolfgang Schüssel, Austria's late president Thomas Klestil and the country's current one Heinz Fischer, as well as U.S. senators, Nobel Prize winner Elie Wiesel and Nazi hunter Simon Wiesenthal. Naturally, she served California wines—and in Riedel stemware she purchased with her own money.
Those hosting talents come in handy in Rutherford, where she frequently throws legendary soirees. Just ask Nancy Pelosi, whom she holds a party for annually, or Hillary Clinton, Gavin Newsom or Tom Daschle, all of whom she's successfully hosted fundraisers for as well. She hopes to lure Hillary, a presidential hopeful, back for a third time. This summer a bash to celebrate Congressman Mike Thompson's 25 years in office will be thrown at the Hall's estate.
"It's important for people to support [politicians]," she says. "Politics matter and it's not easy to hold public office. I really believe in that term 'public servant.' If you are doing your job well, you are a public servant. There is a lot of sacrifice you make, and you're certainly exposing your whole life and your family's life. I'm very proud that we can help support people who I think are really making a difference."
Perhaps this Madeline Albright admirer lives vicariously through the politicians she supports while she makes her mark in other ways. Long committed to social issues and mental health—she co-founded the North Texas Food Bank in 1982, served on the U.S. House of Representatives Hunger Advisory Committee, was the director/vice president of the Texas Mental Health Association and served on the National Advisory Council for Violence Against Women—Walt Hall is an honorary board member of Napa Emergency Women's Services [NEWS], which assists domestic violence and sexual assault victims and their children. She also sits on the Legal Aid of Napa Valley's board of directors.
"It's rather ironic because we have so many great vineyards and wineries, and at the same time we have people who work here who need legal support and cannot afford it," notes the woman who also did legal aid work when she was in law school.
Not surprising considering Walt Hall's predilection for art, music and wine, she's also very involved with Festival del Sole; she hosted the festival's very first event 10 years ago. For the upcoming Festival in July, the fashion plate of Napa Valley will partner with Neiman Marcus Union Square on a Cucinelli fashion show luncheon at her estate with the designer himself in attendance.
"I love [Festival del Sole]," she enthuses. "It brings another dimension to the Valley. We've got the setting. We've got the wine. We've got the art. It's really nice to bring all of this beautiful music."
Walt Hall simply was made for Napa Valley. While her parents—WALT Wines was launched in their memory in 2009—were satisfied selling the six varietals they produced in Mendocino to wineries such as Fetzer, Parducci and Beringer, Walt Hall desired more.
"I always wanted to make wine because it seemed to me that you go through all of this effort to grow the grapes and then you never see it to fruition."
Taught by her mother to aim high, Walt Hall didn't want to make just any wine. This gutsy gal's goal was to make "great cabernet," hence the move to Napa Valley. When she arrived in 2002, she set about replanting much of the 500-plus acres of vineyards comprised of classic Bordeaux varietals and organically farmed. Today, over 30 of her wines have earned 90-point ratings or higher, including the 2008 Kathryn Hall Cabernet Sauvignon, which took the number two spot on Wine Spectactor's Top 100 Wines of 2011 list. Also, the 2010 Exzellenz received 100 points by Robert Parker of Wine Spectator in 2013.
"I always knew I'd be in [the wine business] because wine was so much a part of [my life] for as long as I can remember," she says. "It was just the logistics were in the way."
Nothing, it seems, is in Walt Hall's way now.
Subscribe to discover the best kept secrets in your city