At last it's time for the Napa Valley Vintners' 35th annual Auction Napa Valley, the American Wine Classic. From June 4-7, the entire Valley will embrace this much-anticipated event that ranks as one of the country's largest and most illustrious wine fundraisers. To date, Auction Napa Valley has invested more than $145 million in Napa County nonprofit organizations. We witnessed record-breaking years in 2013 and 2014, and the hope is that the 2015 event exceeds the $18.7 million raised last year. The lure of extraordinary wines, locally-sourced cuisine prepared by some of the world's leading chefs and the scenic beauty of America's premier wine region coupled with the thrill of bidding for inimitable experiences at the Live Auction Celebration—the heart of soul of the weekend—are simply too irresistible to pass up. Donors have once again come through with an array of exhilarating auction lots featuring coveted wine offerings, sports packages, shopping, first-class vacations and wine adventures abroad.
If you thought the Live Auction couldn't get any more exciting, think again. New this year are 10 "flash round" lots: bidding will begin at $100,000 and go down. The first paddle that goes up wins the lot. Trust us, this is going to be fast and furious! The Opus One team serves as the honorary chair of this year's Auction so you know the Chairman's Lot will be super luxe (and serve up extraordinary wines). So without further ado, here is your comprehensive insider's guide to Napa Valley's hautest event of the year.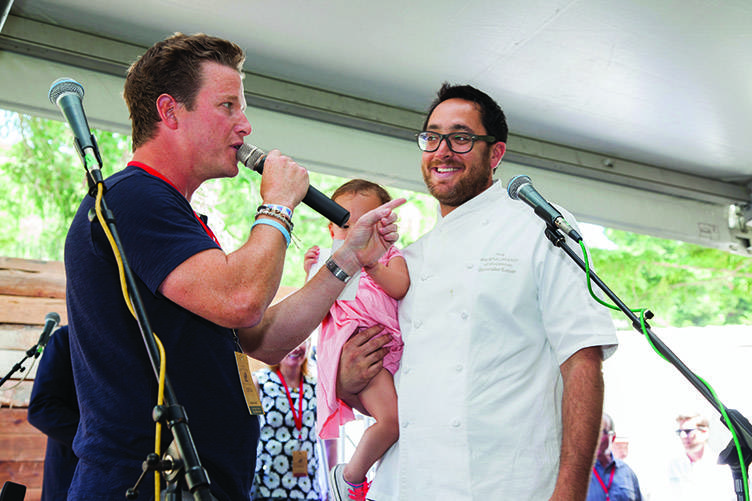 WEDNESDAY, JUNE 3rd—THURSDAY, June 4th
YOUNG WINEMAKERS' DINNER
VINTNER WELCOME PARTIES
Ease into the festivities on Wednesday with the Young Winemakers' Dinner, which features some of the Valley's newest winemakers, hosted in partnership with Chef Christopher Kostow and his eatery, the three Michelin starred The Restaurant at Meadowood. Auction Napa Valley officially kicks off Thursday with intimate dinners from Carneros to Calistoga. You'll catch up with old chums and forge new friendships as you partake in themed affairs such as St. Supéry Estate Vineyards & Winery's "Dancing in the Vines" and VGS Chateau Potelle's dreamy, all-white themed "Dîner En Blanc" evening.
FRIDAY, JUNE 5th
NAPA VALLEY BARREL AUCTION AND MARKETPLACE AT HALL ST. HELENA
Beginning at 11 a.m., vintners Kathryn Walt Hall and Craig Hall will proudly welcome oenophiles from around the world to their spectacular HALL St. Helena for the Napa Valley Barrel Auction and Marketplace. The Barrel Tasting and Auction will be held in the new and uniquely-designed, LEED-gold certified winery, while the Marketplace extravaganza will take place outdoors amid art. There will be 120 barrel lots presented at HALL and nearly 200 e-Auction lots available online starting the week of May 4th at auctionnapavalley.org. At HALL, you'll chat with winemakers and vintners while sampling their highly sought-after wines directly from the barrel. When a certain sip whets your appetite for more of a certain wine, simply place a bid with the Barrel Bidding app. The mobile technology was introduced last year as an option and nearly 400 guests used it to secure cases of Napa Valley wine, primarily from the much-heralded 2012 vintage. During the Auction, each winery offers 10 cases of wine per lot and each case is sold to one bidder. If you're one of the top 10 bidders for that lot, look forward to having a case of that wine sent to your home when it's ready for release.
With all bidding being done electronically this year, no one needs to stand guard over their offer. Step outside to enjoy the Marketplace, where more than 100 wineries will pour current releases and where dozens of the area's acclaimed restaurants, including Auberge du Soleil, Bouchon Bistro, PRESS, Solbar and Torc, will offer delicious fare. You'll also have the chance to preview the extraordinary wine lots and unique, once-in-a-lifetime experiences that will be offered during the Live Auction on Saturday. When the clock strikes 4 p.m., the revelry ends—but just temporarily. We recommend taking a nap, for there's still plenty ahead.
FRIDAY NIGHT VINTNER-HOSTED DINNERS
The merriments continue at intimate dinner parties starting at 6 p.m. at the homes and cellars of vintners throughout Napa Valley. Star chefs such as Thomas Keller [Colgin Cellars], Richard Reddington [Dalla Valle Vineyards], Jean-François Piège [Araujo Estate Wines], Mélisse's Josiah Citrin [BOND], Coi's Daniel Patterson [Bryant Family Vineyard], Masaharu Morimoto [Grgich Hill Estates] and Edward Voon [SLOAN Estate] come from near and far to team up with vintners for these one-of-a-kind dinners where very special wines are guaranteed to flow freely.
SATURDAY, JUNE 6th
LIVE AUCTION CELEBRATION AT MEADOWOOD NAPA VALLEY
The Live Auction Celebration is the weekend's hautest ticket; only 800 guests, including bidders and vintners, are lucky enough to attend this not-to-be-missed shindig. You'll want to pace yourself during the marathon that runs from noon to 8 p.m. and promises to be absolutely spectacular.
The bucolic grounds of Meadowood set the stage for the day's festivities. Start the brilliant afternoon by sipping wine and chatting with the vintners who have generously donated the 50 lots for auction later in the day. A casual, alfresco lunch on the lawn prepared by Bottega's Michael Chiarello will satiate you for the unparalleled excitement of this celebrated charity wine auction. Some of this year's highlights are Opus One's Chairman's Lot, which includes a 35-year vertical collection of Opus One magnums ranging from 1979-2013 along with first-class airfare to Paris for two couples, 14 nights lodging and private jet service between European destinations; Raymond Vineyards' lot that includes a dinner for 30 hosted by proprietor Jean-Charles Boisset and wife Gina Gallo at their Wappo Hill estate where Grammy Award winner John Legend will wow your guests with a private performance; Colgin Cellars' and Brunello Cucinelli's lot that combines Cucinelli shopping at Neiman Marcus Beverly Hills with hotel stays in Italy; and Lokoya Winery's lot, where the winner will enjoy a VIP experience at the 2016 Kentucky Derby.
After the gavel falls for the final time and the sun begins to set, step back outside for an under-the-stars feast crafted by Pierre Gagnaire, one of the world's most renowned three-Michelin-starred chefs, followed by music and dancing.
SUNDAY, JUNE 7th OPEN HOUSES
Prepare to make the rounds at Open Houses where host wineries will offer special food and wine pairings, vertical tastings, library treasures and other treats. It's the perfect way to cap an unforgettable weekend.