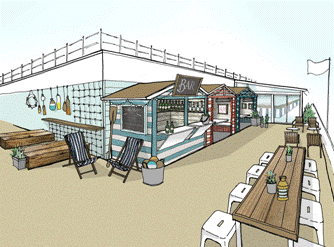 Renowned restaurateur, Des McDonald, is to launch his third pop-up restaurant at Selfridges – On the Roof with Vintage Salt. Open for five months from 1 May, Vintage Salt will kick off Selfridges' 'Great British Outdoors' campaign.  This British summer restaurant, bar and terrace is inspired by a Cornish fishing village, where diners can enjoy a unique British seaside dining experience high above the streets of London.
The Drift Bar, located on the terrace, will have a separate entrance, accessed via the Boardwalk which will be lined with nautical ropes guiding the way to the outdoor terrace.  A wooden beach hut will serve an extensive list of chilled reds, rose, white wine and champagne and the dedicated G&Tea bar will offer Gin cocktails. Guests can escape the sun in one of the two beach huts or enjoy a tipple from the special sundowners menu on the terrace deckchairs while watching the sun go down.
Starters from the Beech Oven menu will include a selection of oysters, Earl Grey smoked salmon, London particular fritters with Colman's dressing and Spiced tuna tartare served with avocado and pickled cucumber. Diners can then choose from an array of fish dishes like Lobster buttie with truffled fries, Camden Hells fish and chips and Halibut fish finger sandwich.
Looking for something lighter? Expect salads such as Salt baked beets with whipped goats cheese and sweet hazelnuts and Chopped salad with house smoked chicken and Shropshire blue cheese.  To finish, the pudding menu features some quirky twists on classic dishes like Chocolate burger, Caramel brownie sundae dip and Vintage Salt cigar.
Vintage Salt will be open for late breakfast, lunch, afternoon tea and dinner seven days a week. The all-day Beech Oven menu will offer the highest quality seasonal produce and incorporate ingredients and flavours that bring the quintessentially British seaside to London.  The daily weather report and shipping forecast for seven days will also be noted on the menu!
Accessed via a dedicated express lift, customers will be able to enjoy the sunshine during the day in the heart of central London. Sibley Grove Interiors will take inspiration for the design from traditional Cornish fishing villages with blue and white accents, drift wood, deckchairs, coloured beach huts, cut summer flowers and contemporary art. There's no need to fear the infamous British weather either as a retractable roof will protect against any sudden downpours.
''I am delighted to be opening Vintage Salt on the roof of Selfridges," says Des McDonald. "We have a top team to deliver a fresh summer menu featuring a great selection of fish dishes, paired with a lighter range of salads and grains. Vintage Salt will be a secret foodie retreat offering an escape to the hustle and bustle of London."
Nathan Herrmann, Selfridges Food and Restaurants Director adds: "The 'On the Roof' concept has been a huge success for Selfridges, and we look forward to inviting customers to a truly unique and exciting space as part of our Great British Outdoors campaign for the summer months."