Photo Credit: Moschino
Coachella is never just about the music anymore—it's all about the parties. DVF, Rachel Zoe, Moschino and Lacoste all hosted events in the Palm Desert over the weekend, fetes that were attended by everyone from Leonardo DiCaprio to Katy Perry to Robert Pattinson. Here is a recap of the hautest events of Coachella 2015.
SOHO HOUSE + GREY GOOSE CELEBRATE COACHELLA WITH A FRENCH RIVIERA BRUNCH
Photo Credit: Getty Images for Soho House 
WHAT: Grey Goose and Soho House kicked off the second day of the Soho Desert House in La Quinta during the Coachella Music and Arts Festival with a French Riviera-themed brunch on Saturday. Guests were treated to a private reception in support of the music industry which included bespoke cocktails and tunes provided by DJ Questlove.
WHO: Guests in attendance included musician Katy Perry, actress and musician Zoe Kravitz, DJ Mia Moretti, model Daisy Lowe, actress Jenna Malone, Matthew Bellamy and Dominic Howard of Muse, Isabella Summers of Florence and the Machine,  Caitlin Moe, DJ Questlove, actor Ethan Suplee (American History X) and artists Millie Brown, Lafayette Bless, Aluna George, singer songwriter Jess Glynne, actress/model Keeley Hazell and more.
NEON CARNIVAL
Photo Credit: Getty Images for Don Julio 
WHAT: Neon Carnival was once again the hottest party in the desert thanks to support from Pacsun and Tequila Don Julio.  A private airport hanger was transformed into a mini carnival, complete with a ferris wheel, Tequila Don Julio giant slide and carnival games, including a ring toss, where celebs and guests had a chance to win a selection of stuffed animals.VIPs were treated to table service where they sipped on Tequila Don Julio 1942 while enjoying music by DJs Ruckus, Politik, Jesse Marco and Kayper.  Guests were also treated to specialty cocktails served from the Airstream Speakeasy, a bespoke mobile bar
WHO: Leonardo DiCaprio, Scott Eastwood, Aaron and Lauren Paul, Jamie Chung, Bryan Greenberg, Jared Followill, Hannah Bronfman, Alessandra Ambrosio, Chanel Iman and Kellan Lutz.
THE SWIY DENIM RUNWAY SHOW
Photo Credit: Siwy
WHAT: Siwy's Spring/Summer 2015 Runway Show + Siwy/Minnetonka After Party as part of the Pandora Fashion Experience on Friday, April 10 at 5PM at The Parker Palm Spring.
WHO: Jamie Chung, Chelsea Leyland, Victoria Justice and Mia Moretti. 
THE MUSIC LOUNGE
Photo Credit: Angela Weiss/Getty Images
WHAT: The Music Lounge presented by MUDD and Ocean Pacific hosted a brunch and pool party at the Ingleside Inn in Palm Springs with ping pong, games, hearts and flowers.
WHO: Cody Simpson, Alli Simpson, Jamie Chung, Kellan Lutz,Carmen Electra, Jessica Lowndes, Noah Cyrus and costume designer Patricia Field
TINDER PRESENTS 1OAK's ONE OF A KIND PARTY
Photo Credit: Owen Kolasinski & Matt Wales 
WHAT: Tinder presented 1OAK's ONE OF A KIND Party at the 1OAK Chateau included a DJ set by Joe Jonas and styling by Hipanema and Australian hip brand nANA jUDY. 
WHO: Joe Jonas, Kendall Jenner, Muse frontman Matt Bellamy, as well as Angela and Vanessa Simmons and hip hop artist Travi$ Scott.
DANNIJO AND MERCEDES-BENZ'S #DANNIJOCHELLA PARTY
Photo Credit:Dean Isidro 
WHAT: On Saturday, April 11th, Questlove hosted a brunch at the estate for friends of the brand to get festival-ready with flowing fabrics by LOVESHACKFANCY, D.i.P Mercantile bandanas and D.i.P dyed t-shirts and flower crowns via Crowns by Christy. All of the guests received a gift bag with all of Danni + Jo's favorite things, which included Clinique, Kerastase, Bliss, Urban Decay, Skinceuticals, Lipstick Queen, Alternative Apparel and posed for photos in the Mercedes-Benz 280 SL Classic convertible,
WHO: Amber Valletta, Teddy Charles and Caroline Vreeland
MAC COSMETICS CELEBRATES THE LAUNCH OF MAC'S MIA MORETTI FESTIVAL COLLECTION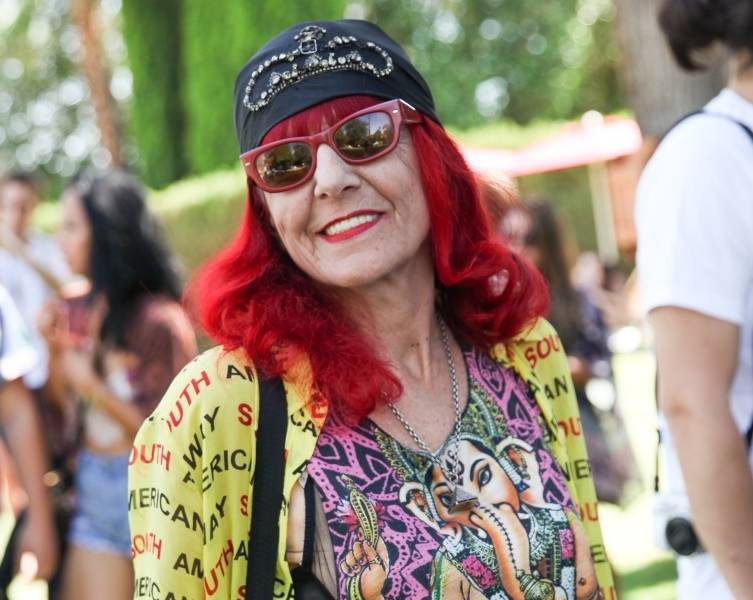 Photo Credit: BFA for MAC Cosmetics
WHAT: To kick off the summer festival season, it-girl DJ and performer Mia Moretti, together with M∙A∙C Cosmetics, celebrated the launch of their new collection of Festival Favorites at an exclusive poolside bash at the Ingleside Inn in Palm Springs. Attendees were treated to DJ sets by Mia Moretti, Myles Hendrik, Wade Crescent, Henri, DJ Equal and Marcelle Harlow, and received complimentary makeup applications to achieve the perfect festival look.
WHO: Host Mia Moretti joined by Katy Perry, Jeremy Scott, Patricia Fields, Kate Nash, Aluna George, Caitlin Moe and Cleo Wade.
COACH BACKSTAGE AT SOHO DESERT HOUSE
Photo Credit: Getty Images for Coach
WHAT: Coach arrived in the desert with a private concert by Echosmith for festivalgoers.
WHO: Rosie Huntington-Whiteley, Kate Bosworth, Michael Polish, Dylan Penn and Jennifer Morrison joined Coach Creative Director Stuart Vevers.
Coachella parties 2015 1
Jena Malone celebrates at Soho House
Photo Credit: Getty Images for Soho House
Coachella parties 2015 2
Zoe Kravitz celebrates at the Coach/Soho House party
Photo Credit: Getty Images for Soho House
Coachella parties 2015 3
Ambiance at Soho Desert House
Photo Credit: Getty Images for Soho House
Coachella parties 2015 4
Cody Simnpson attends The Music Lounge
Photo Credit: Angela Weiss / Getty Images
Coachella parties 2015 5
Jessica Lowndes attends the Music Lounge
Photo Credit: Angela Weiss / Getty Images
Coachella parties 2015 6
Jamie Chung shows off her sweet style at the Music Lounge at Coachella
Photo Credit: Angela Weiss / Getty Images
Coachella parties 2015 7
Jared Followill and wife Martha Patterson
Photo Credit: Getty Images for Don Julio
Coachella parties 2015 8
Aaron Paul peaces out at the Neon Carnival
Photo Credit: Getty Images for Don Julio
Coachella parties 2015 9
Model Chanel Iman gets her groove on at Neon Carnival
Photo Credit: Getty Images for Don Julio
Coachella parties 2015 10
Jeremy Scott at the MAC Cosmetics bash
Photo Credit: Getty Images for MAC Cosmetics
Coachella parties 2015 11
Patricia Field and Mia Moretti at the MAC Cosmetics bash
Photo Credit: Getty Images for MAC Cosmetics
Coachella parties 2015 12
The 1OAK One of a Kind party
Photo Credit: Owen Kolasinski & Matt Wales
Coachella parties 2015 13
Chris Brown surprised fans with an impromptu performance during DJ Deorro's set at New Era's LED Day Club Event at Hilton Hotel on Friday, April 10th.…
Photo Credit: LED Presents/New Era Cap Brian Doyle, Nat Lim or Zack Patino
Coachella parties 2015 14
Taryn Manning attends the Samsung Galaxy Owner's Lounge at Coachella Valley Music & Arts Festival on April 11, 2015
Photo Credit: Getty Images for Samsung
Subscribe to discover the best kept secrets in your city