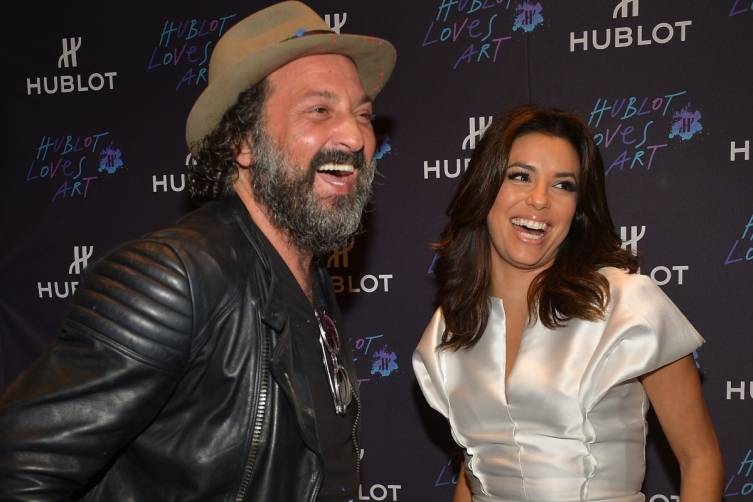 Hublot's "Time is Beautiful" event thrown with Haute Living magazine at the waterfront estate of Loren and J.R. Ridinger on Miami Beach got a bit hotter when Miley Cyrus showed up, struck some raucous poses and then took to the dance floor with boyfriend Patrick Schwarzenegger.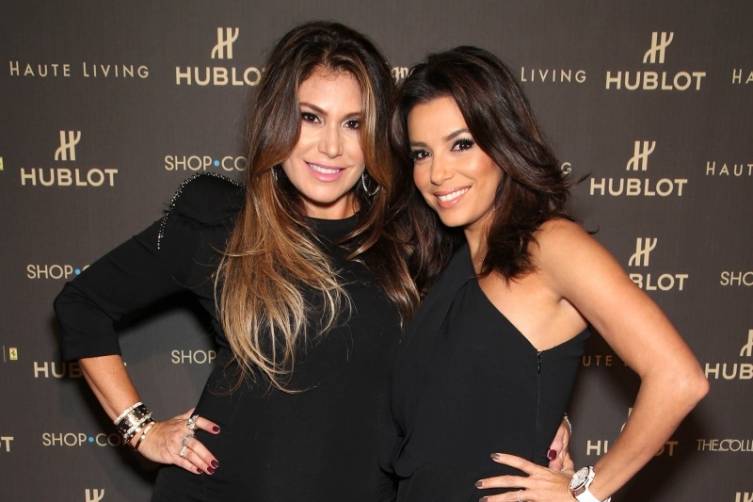 The evening was hosted by actress-turned-producer Eva Longoria, and featured a new installation by pop artist Mr. Brainwash, who took advantage of the sprawling estate's gardens to debut multiple pieces of art just for the art basel event.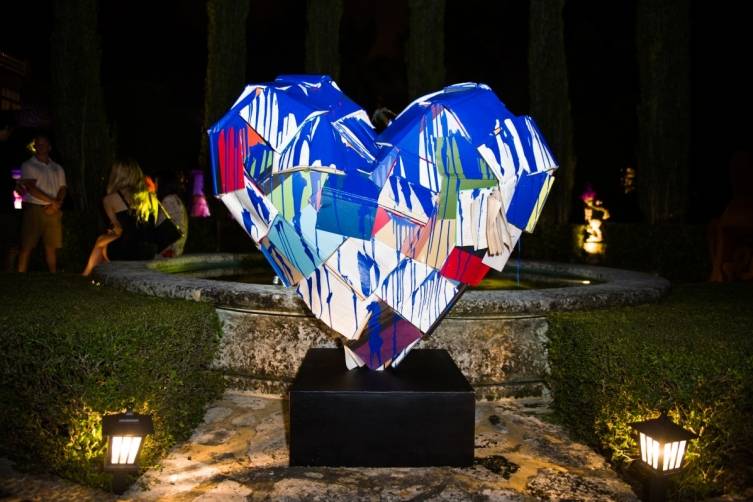 Larger-than-life sculptures were at every turn, oversized hearts, horses and his famous slogan "Life is Beautiful" were splattered with paint, as was a one-of-a-kind Brainwash-isnpired Hubot watch that was on display.
Other celebrity guests who enjoyed delicious food by Le Basque, gorgeous floral arrangements by Kalla, and a beautiful evening sponsored by The Collection for Ferrari and Shop.com, included Russell Simmons, Swizz Beatz, Kelly Bensimon, Martina Navratilova, Miami Beach Mayor Philip Levine, Michael Grieco, Alec Monopoly and Sammy Sosa.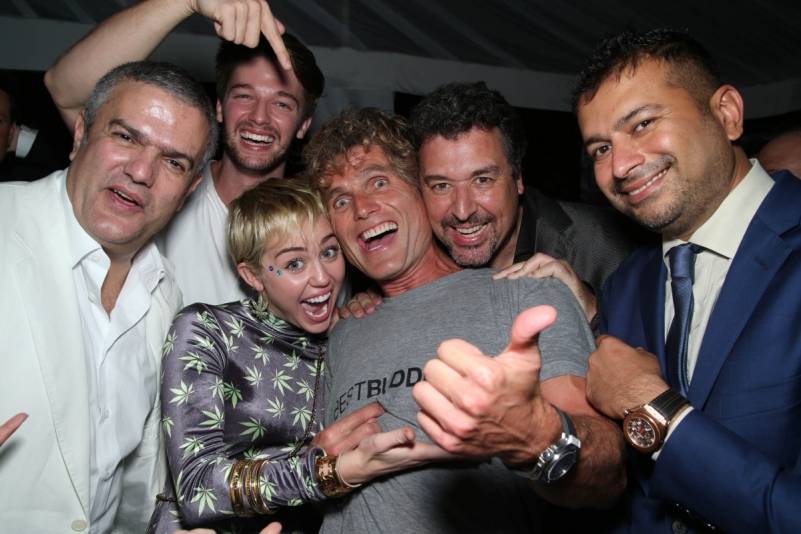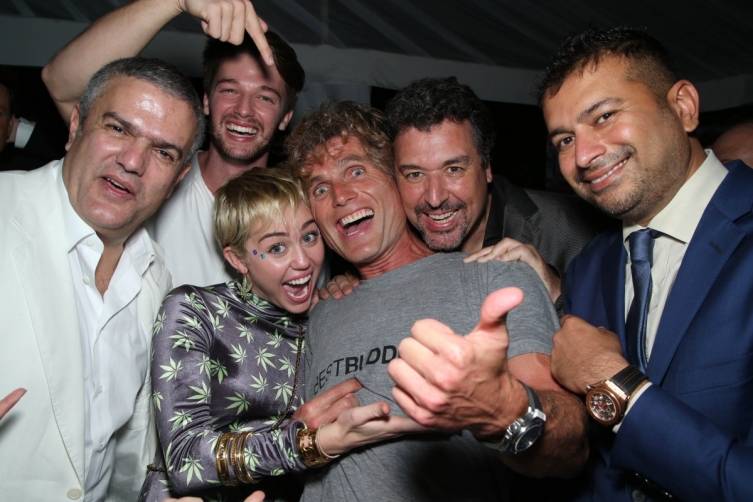 Earlier in the evening, Ricardo Guadalupe, Hublot CEO, and Rick de la Croix, Hublot's Bal Harbour Boutique Partner, hosted a gathering at the  shop where they unveiled an installation by Mr. Brainwash. Guadalupe expressed his excitement of working with the street artist, "We are thrilled to join together with our friend Eva Longoria to celebrate Mr. Brainwash here in Miami during the country's premiere contemporary art week. We are excited to continue our relationship with this great artist, and to honor him here today."
JR and Loren Ridinger, Eva Longoria and Jose Antonio Baston by Omar Vega
JR and Loren Ridinger, Eva Longoria and Jose Antonio Baston by Omar Vega
Mr Brainwash and Eva Longroia
Mr Brainwash and Eva Longroia
Rick de la Croix, Kamal Hotchandani, Mr. Brainwash, Eva Longoria and Ricardo Guadalupe by Omar Vega
Mr Brainwash and Ricardo Guadalupe
Loren Ridinger and Eva Longoria by Omar Vega
Loren RIdinger kisses Eva Longoria by Omar Vega
Loren RIdinger kisses Eva Longoria by Omar Vega
Russell Simmons by Sergi Alexander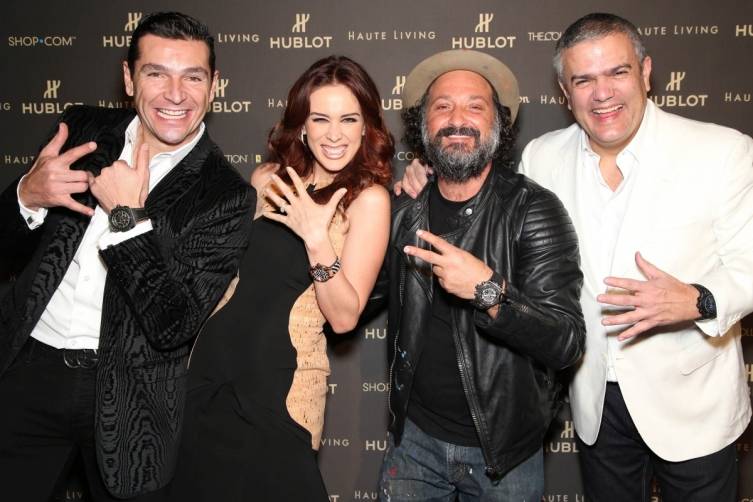 Guests with Mr. Brainwash and RIcardo Guadalupe at Haute Living event
Guests with Mr. Brainwash and RIcardo Guadalupe at Haute Living event
Phillip Levine by Sergi ALexander
Kelly Bensimon
Gil and Lorena Dezer
Alec Monopoly and Ray Mariscal
Miley Cyrus at Hublot for Haute Living
Cristina and Edgardo Defortuna
Keith Menin and Friends
Hadley Henriette and Julian Chang
Hublot and Haute Living party at Casa de Suenos
Mr Brainwash installation at JR and Loren Ridinger's
1 of a kind Hublot Big Bang UNICO by MR Brainwash
Piece by BRAINWASH
Lisa Hocstein
JR Ridinger, Eva Longoria and Swizz Beatz
Miley Cyrus and Mr BRAINWASH at Hublot by Sergi Alexander
Ferrari from The Collection
Miley Embraces Brainwash with Loren Ridinger and Eva Longroia
Miley Cyrus at Hublot by Sergi Alexander
Jonathan Cheban and pals
Jonathan Cheban, Loren Stoner, Sarah Mirmelli, Russell Simmons, Mark Birnbaum by Omar Vega
Larsa Pippen by Omar Vega
Ricardo Guadalupe and Swizz Beatz by Omar Vega
Ricardo Guadalupe, Patrick Schwarzenegger, Miley Cyrus, Anthony Shriver, Rick de la Croix and Kamal Hotchandani by Omar VEGA
Ricardo Guadalupe, Patrick Schwarzenegger, Miley Cyrus, Anthony Shriver, Rick de la Croix and Kamal Hotchandani by Omar Vega
Sammy Sosa and friends
Swizz Beatz by Omar Vega
Photos by Sergi Alexander and Joshua Norton
Subscribe to discover the best kept secrets in your city