Too often in the world of fashion, we gravitate toward what's "highbrow" and "serious." But sometimes what we need is a bit of fun.
Sarah Gross and Amanda Marx couldn't agree more. These two best friends have partnered with the folks at Fashion Rocks to create Rockin' Out, a self-proclaimed "romp" of a show that explores the intersection of music and fashion. Unlike its parent company, whose red carpet event is a Fashion Week staple, the show is geared toward anyone and everyone — not just the fashion elite.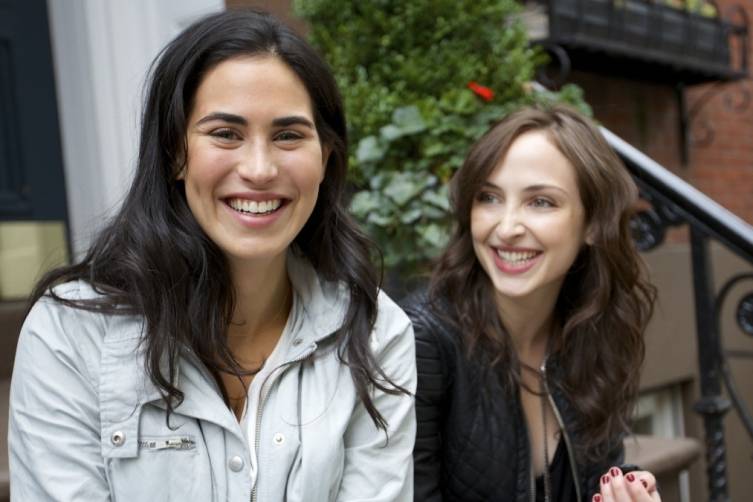 Photo Credit: Nina Van Brunt
Launching on YouTube in November, Rockin' Out profiles up and coming artists like Jay Godfrey, Coco and Breezy and Idgy Dean. The easy cantor between the pair, both on and off screen, makes viewers feel like they're hanging with friends — friends who happen to be on the brink of stardom.
Gross, the director, isthe younger sister of Fashion Rocks founders Etai and Ronnie. Marx is the host.
Haute Living sat down with the friends to discuss everything from red carpet bloopers to the trials and tribulations of working with your best pal.
How did Rockin' Out first evolve?
SG: My brothers started Fashion Rocks in 2004. Their original idea was to put on a small charity concert and invite all their friends. But they raised $150,000 the first night. So they thought, "why not do something bigger?" It really took off when Richard Beckman, who was working at Conde Nast, got involved and brought the event to London.
AM: Fashion Rocks is this really elite brand name, but Rockin' Out will look at something totally different. We wanted to make something that would give an inside, behind-the-scenes look at these up and coming artists. Each episode is a two to four minute snippet of what really inspires these people. We also plan to include different types of artists, like acapella groups, chefs and drag queens — basically anyone who is really passionate about their style.
Was Amanda an obvious choice for the host?
SG: It was natural to choose Amanda. She was so excited about the project, and about what it could mean to other girls like us. As a former ballerina, she's a real performer and knows how to take a cue. Plus people will always want to talk to Amanda because she's just a cool, normal human doing her thing.
AM: I just thought it would be so interesting to interact with all these up and coming artists. It seemed a lot more appealing than interviewing someone more established, and who has stylists trailing behind. These are just fellow fashionistas and fashionst-ers… or whatever the name for a male 'fashionista' is. Anyways, they're just people who come to the set wearing cool s*** and wanting to make art. 
SG: For sure, the beginnings of things are always the freshest.
But you did interview some A-Listers on the red carpet at Fashion Rocks. Were you nervous?
AM: Nicki Minaj was pretty cool — a very real girl. But I don't think I was ever actually nervous. I don't really get nervous… Actually, that's a lie. I never spoke to Jennifer Lopez, because… I mean… she's J.Lo. I could not physically bring myself to talk to her. So I just sat a few rows behind her the whole night, wagging my tongue and salivating.
SG: Luckily, they don't let me talk to these people. Every time I'm actually on camera, I forget how to use my mouth.
What was it like being on the red carpet?
SG: It's a literal jungle out there. You're jammed into this two foot space with all these other reporters. And you're fighting to get the attention of a few people who are running by like there's a B-lister behind them.
AM: Being on the red carpet with Sarah was too funny. At one point, she was craning her neck and pointing out all these celebrities, asking who we should interview. What she failed to notice was that Nick Jonas was standing directly next to her.
Is it ever hard working with your best friend?
AM: If anything, it's easier. Sometimes you work with people, and they're just too nervous about hurting your feelings. Sarah will straight up tell me when I'm bad. She'll cut the film and yell, "Amanda, that absolutely sucked." I don't take offense, because it gets good results.
SG: I agree. We're not celebrities — we're just normal people. We really wanted this show to feel like you're talking to a friend. Our dynamic off-camera has really helped give the show its personality.
What have been your favorite moments so far?
AM: I really liked meeting Coco and Breezy. The way they spoke about how music influences their work — and just their whole perspective of style – was really fascinating. They're twins, and they bounce off each other in a really incredible way. It actually reminds me of Sarah and me. When we left, the crew and I were just in awe of how much we'd learned.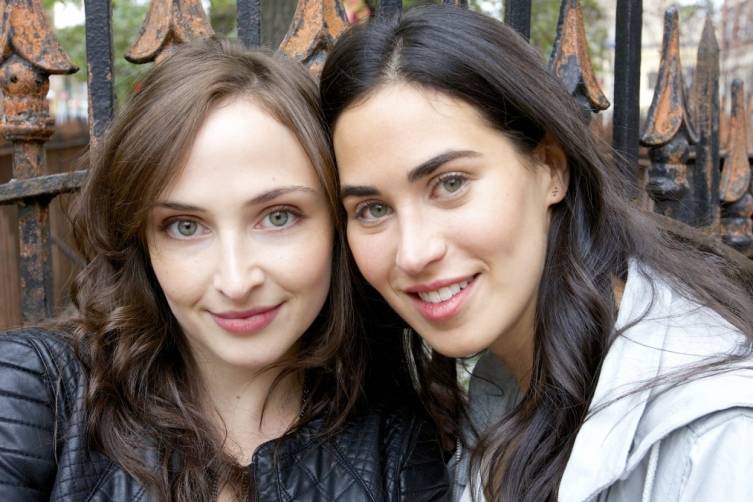 Photo Credit: Nina Van Brunt
SG: Apologies in advance to Amanda, but my favorite moment was this total blooper while she was interviewing Laura Wass from WXYZ Jewelry. So Amanda's talking, and Laura is showing her how to saw brass. Amanda is just completely losing breath from the physical exertion, but is too embarrassed to pause the interview. So she's just sawing, and gasping. Sawing, and gasping. Everyone off-camera was in stitches. Laura must have thought she was having a seizure.
AM: And then you made me re-shoot it!
SG: (laughs) I thought you liked when I was critical!
AM: Do you want me to tell them about that time you fell into a bucket while filming in Chinatown?
SG: Yeah… That happened. And I spent the rest of the shoot smelling like fish. Whatever, we're bound to make mistakes. 
When friends like this get hold of a camera, you're in for a good time. Mix in a major fashion brand and some rising stars? Well, then you've got a romp.
Tune in this November to watch Sarah and Amanda rollick through their first solo project.
Subscribe to discover the best kept secrets in your city