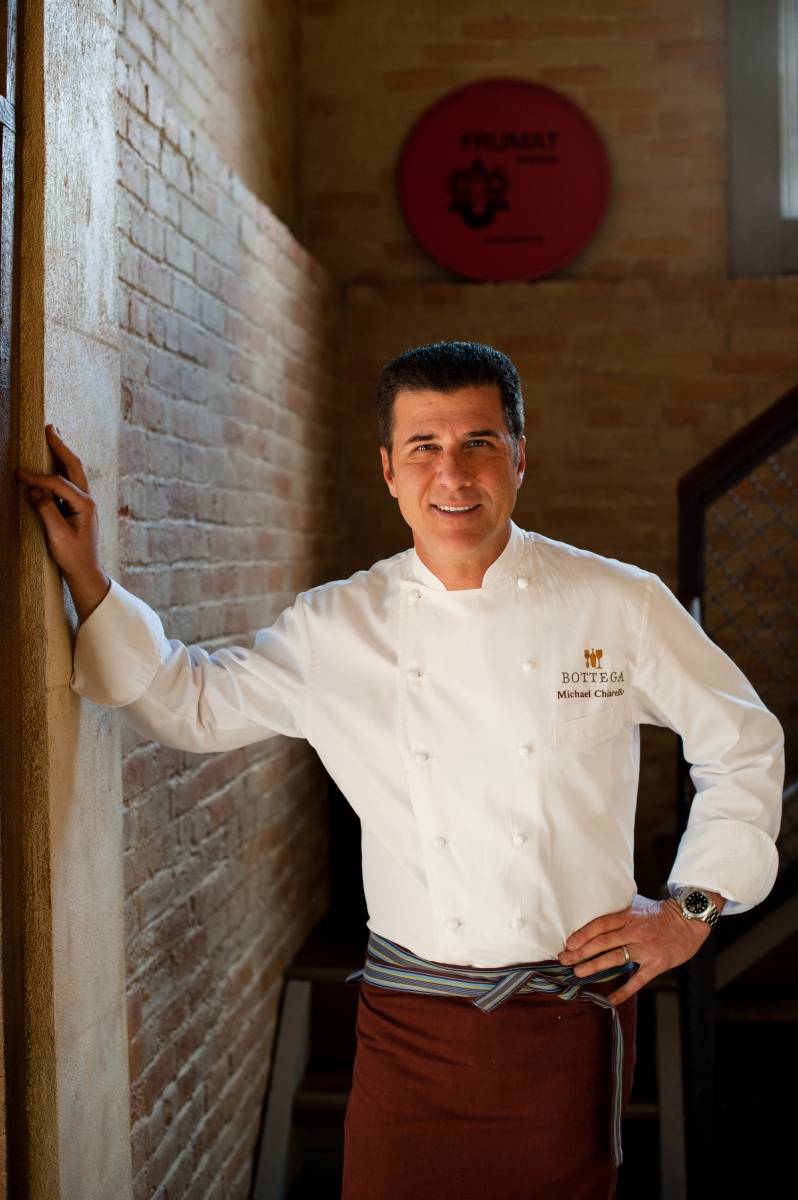 Photo Credit: PHOTO CREDIT FRANKIE FRANKENY
Credit Celebrity Chef Michael Chiarello for helping turn Yountville into the culinary capital of California's wine country. His southern Italian roots are on full display at his critically acclaimed restaurant Bottega, where for nearly six years he has used his ingenuity to whip up creative, palate-pleasing, farm-to-table cuisine. However, conquering Italian fare in Napa Valley wasn't enough for Chiarello, who, as a kid, spent much of his time hanging out in his mother's California kitchen with his extended Italian family of butchers, cheesemakers and ranchers. Though he branched out with the opening of Coqueta, a stylish Spanish eatery on San Francisco's Pier 5 last year, this past July he returned to the culture he knows best by  teaming up with dear friend Piero Selvaggio to orchestrate a tribute dinner for Italy's reigning queen of cinema, Sophia Loren, at Napa Valley's Festival Del Sole. "Bella Italia" indeed.
Tell me about the meal you cooked for Sophia Loren, and if we'll see any of the dishes on the menu at Bottega. This was an event designed to be a celebration of her life and the music of her son, Carlo Ponti, Jr. There was a film called L'Oro di Napoli, where Sophia is making pizza that is fried and then baked; we recreated that scene. She loves simple tomato basil pasta. Yes, I can make a tomato basil pasta, but I wanted to be able to celebrate her. We took a bunch of hyper-ripe tomatoes and made tomato water. We soaked the pasta first to hydrate, then cooked it in this tomato water, and we finished the water with some of the tomato leaves. It was very, very simple, but it was an explosion of Naples in your mouth. That pasta is on the menu at Bottega right now as Spaghetti Grangano a la Sophia Loren.
How do you handle the expectations of Yountville being the culinary capital of wine country?  I say all the time that it's both easier and harder in Napa than it is in San Francisco. In Napa, they've already had five amazing courses before they walk into my front door. They've driven up from San Francisco; they put the top down on their car; they took their tie off; they went wine tasting; they made love in the afternoon; they took a little red wine nap; they woke up hungry. The sun is setting; they walk into Bottega. So yes, the expectations are high. Our job isn't to start. Our job is to continue the experience they've already started.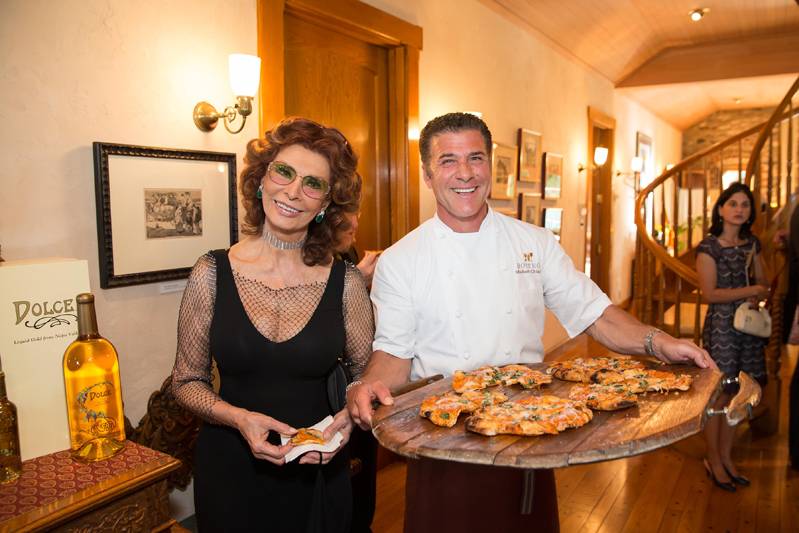 Photo Credit: MICHAEL CHIARELLO AND SOPHIA LOREN,PHOTO CREDIT DREW ALTIZER
Why step outside of your Italian comfort zone and go Spanish with Coqueta? At 50, some people go back to university and get a degree in something they've always wanted to learn. I wanted to make sure that I was staying a student. It was a humble start from knowing nothing—and it makes my Italian food better. Coquetta is more authentically Spanish than Bottega is Italian because I haven't earned the right to create in that cuisine yet.
Why have you put such an emphasis on your cocktails at Coqueta? I wanted to make sure the same attention and discipline to how a chef would create a dish is how we're creating our drinks. The cocktail culture, especially in the north of Spain, is very potent right now.
What's next for you? Are you going to do Thai? No. It about killed me doing Spanish [laughs]. We may do another thing or two, but I enjoy cooking. I want to be sure we're spending the time working on menus like I worked on for Sophia. Sophia's pasta was three weeks of work; I need that. That's my hidden paycheck.