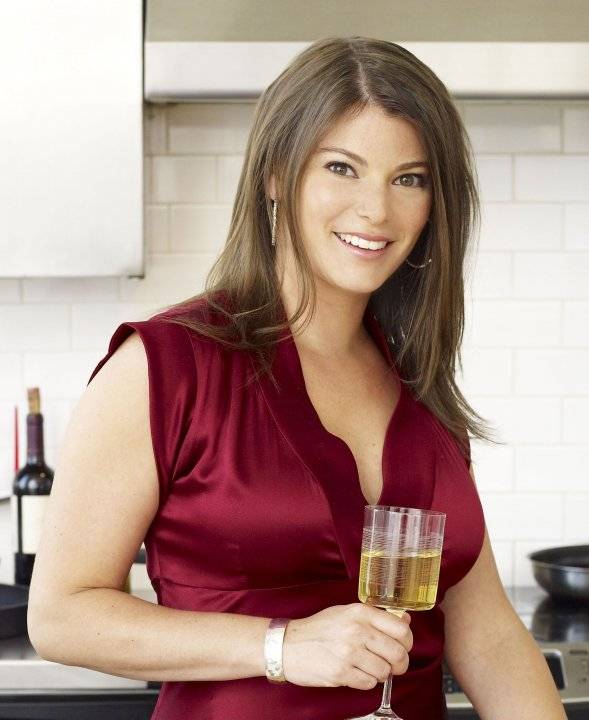 Chefs enjoy a good BBQ as much as the rest of us, and luckily, Labor Day is right around the corner. To help you host the ultimate backyard soiree, Haute Living asked Top Chef judge Gail Simmons to share a few of her favorite summer recipes featuring seasonal ingredients. Even better—they pair perfectly with wine.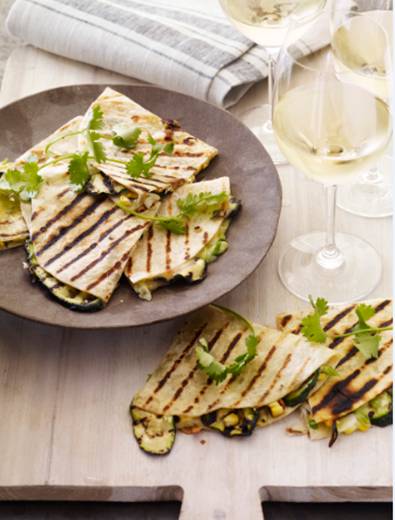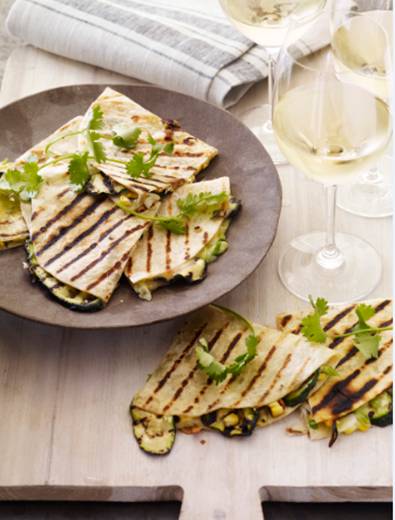 Grilled Corn & Zucchini Quesadillas with Scallions, Cilantro and Pepperjack Cheese 
(serves four)
Ingredients:
· 1 ear of corn, shucked
· Canola oil
· Salt
· Freshly ground black pepper
· 1 medium zucchini, sliced on the sharp diagonal 1/8-inch thick (16 slices)
· 8 (8-inch) flour tortillas
· 1 cup shredded Pepperjack cheese
· 4 scallions, white and green parts, thinly sliced on diagonal (1/2 cup)
· 3 tablespoons finely chopped cilantro, plus more for garnish
Directions:
Preheat a grill to medium-high. Rub corn with oil and season with salt and pepper; grill, turning, until lightly charred all over, six to eight minutes total. Let cool slightly, then cut the kernels off cob.
Brush zucchini with oil; season with salt and pepper. Grill until tender, about three minutes per side. Lay tortillas on a work surface. Leaving a 3/4-inch border, top evenly with cheese, corn, zucchini, scallions and cilantro then fold each tortilla over to form half moons. Grill quesadillas until cheese is melted, turning once, five minutes total. Transfer to a cutting board; cut into wedges. Garnish with cilantro. Serve hot.
(Pairs with Estancia Monterey County Chardonnay)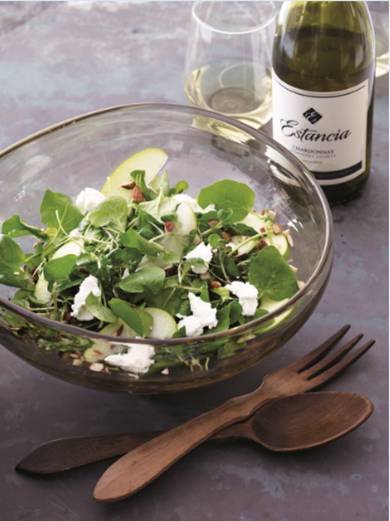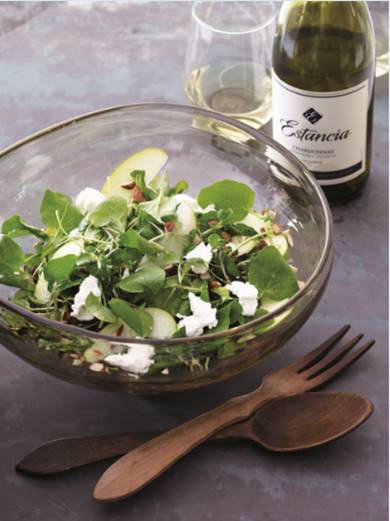 Watercress & Goat Cheese Salad with Green Apple and Toasted Nuts and Honey Vinaigrette
(Serves four)
Ingredients:
· 1/3 cup almonds or hazelnuts, coarsely chopped
· 3 tablespoons fresh lemon juice
· 1 tablespoon honey
· 2 tablespoons extra-virgin olive oil
· Salt
· Freshly ground black pepper
· 2 bunches watercress, tough stems removed
· 1 Granny Smith apple, cored and thinly sliced
· 3 ounces mild goat cheese, crumbled
Directions:
In a small skillet, toast nuts over medium heat, watching closely and shaking pan evenly, until lightly golden, about three minutes. Set aside to cool.
In a large bowl, whisk together lemon juice and honey; in a slow and steady stream, whisk in oil. Season with generous pinch salt and pepper. Add watercress, apple and nuts; toss to coat.
(Pairs with Estancia Monterey County Chardonnay)
Subscribe to discover the best kept secrets in your city